Akai Professional MPD218 Pad Controller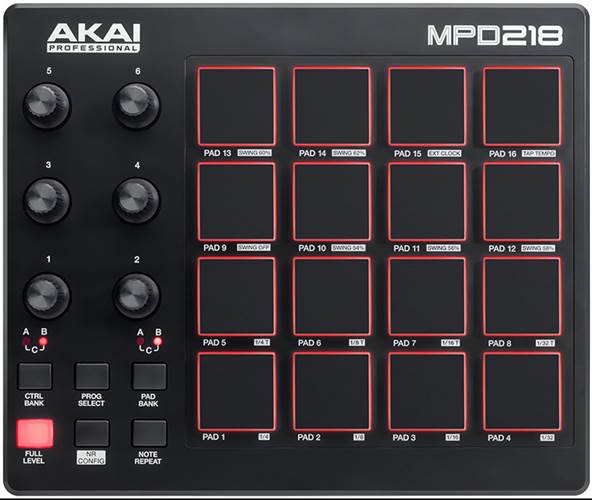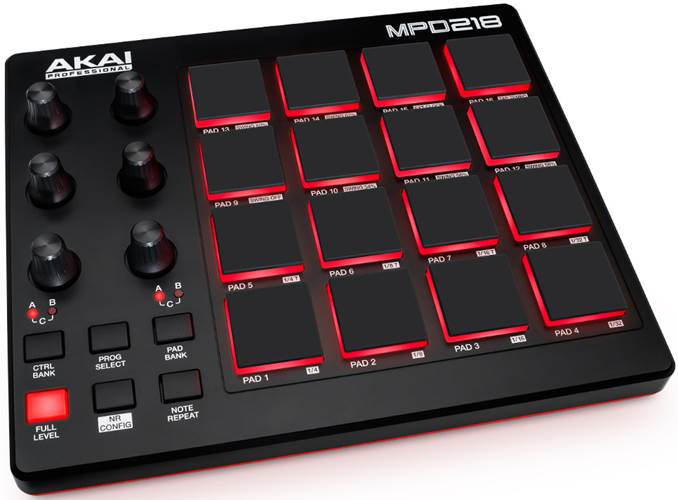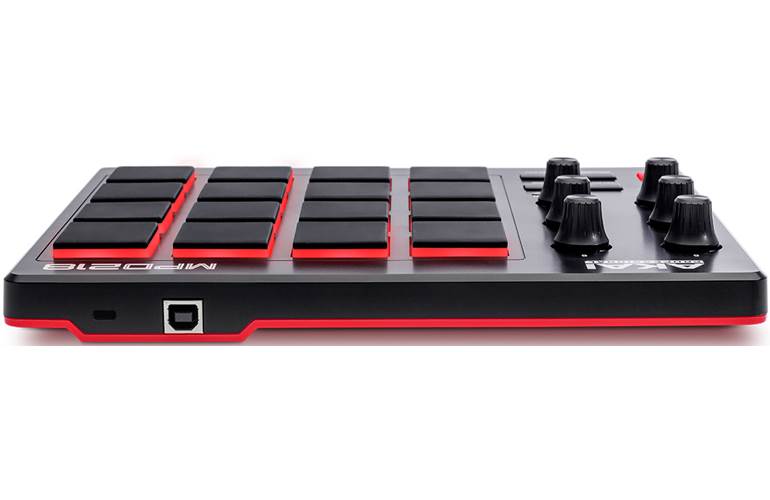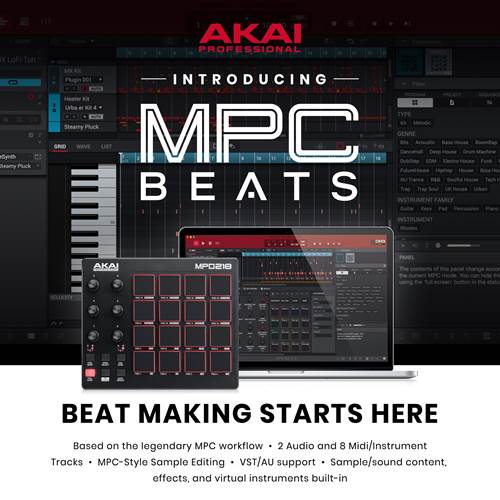 £75.00
Order now for Delivery on Saturday
Manufacturer's ID: MPD218
Choose Your Weapon: Building on the success of the original, the feature-packed MPD2 Series gives you amazing creative musical ammo with Thick Fat backlit MPC pads, improved controls and new bundled software.
Specification
OK, it was a tall order. We admit it. People loved the original MPDs so much that we didn't want to mess with success.
But we did.
The MPD2 Series is a product of over six years of detailed customer research and user feedback. We asked what you wanted and we listened closely. We took what you told us and turned it into the most capable and user-friendly line of pad controllers Akai Professional has developed to date.
Nitty-Gritty
The MPD218 is a MIDI-over-USB pad controller perfect for producers, programmers, musicians and DJs alike. Its intuitive blend of MPC controls and technologies mesh with easy USB connectivity to bring the feel of classic beat making into the world of computer music production.
Experience the Difference
First, we stepped up our game by adding new, ultra sensitive Thick Fat MPC pads, creating an amazingly responsive user experience. The MPD218 also has an expanded control set of six knobs in three banks versus one control on the previous MPD18 model. This will enable you to maximize your sound and give you increased control over effects.
MIDI information is sent over its plug-and-play USB interface for use on Mac or PC, eliminating the need to install any drivers. The USB connection powers the MPD218 so the included USB cable is all you need.
Goodies
Along with the improved functionality we've added iOS compatibility using the Camera Connection Kit (sold separately) and included over $400 of free software. Titles include: Akai Pro MPC Essentials, Big Bang Drums and Big Bang Cinema from Sonivox, Ableton Live Lite, and Software Preset Editor.
Our MPD2 Series marks an important evolution of the pad controller. Many years of research and customer feedback has led directly to some of the most capable pad controllers we've ever developed. These MPDs are the perfect bridge between your creativity and your computer-based studio.
Features
16 Thick Fat backlit MPC pads
48 assignable pads accessible via 3 banks
18 assignable 360-dgree potentiometers accessible via 3 banks
MPC Note Repeat and Full Level
iOS compatible using the Camera Connection Kit (sold separately)
16 configurable presets
USB powered, no AC adapter required
Includes Ableton Live Lite, Akai Pro MPC Essentials, Sonivox Big Bang Cinematic Percussion and Big Bang Universal Drums
System Requirements
Macintosh: 1.25 GHz G4/G5 or faster (Intel Mac recommended), 1 GB RAM (2 GB recommended), Mac OS X 10.4.11 (10.5 or later recommended)
PC: 1.5 GHz Pentium 4 Celeron-compatible CPU or faster (multicore CPU recommended); 1 GB RAM (2GB recommended); Windows 8, Windows 7, Windows Vista, or Windows XP; Windows-compatible sound card (ASIO driver support recommended); QuickTime recommended
Available USB port
MPC BEATS : Beat Making Starts Here
Great Sounding Beats
Presenting MPC Beats, the fully featured, beat-making software based on the legendary MPC workflow to quickly makegreat sounding beats.
Everything You Need
From the moment you install MPC Beats, you're ready to start creating. Remix one of the included songs, or start off witha genre template like Trap, Dance, Pop and more. Start fresh and select from 2GB worth of content, including samples,loops and built-in virtual instrument plugins to craft your sound.
Intuitive MPC Workflow
Aspiring beat makers ready to delve into a world of music production will find MPC Beats an ultra-intuitive, inspiring entry-point for producing professional sounding music. Underpinned by the renowned MPC workflow, MPC Beats offersan easily accessible 4 x 4 drum sample grid, a piano roll, sample library browser and sample edit window. Users canseamlessly switch between these workspaces to discover, create, and edit their beats to perfection.
You're In Control
With MPC Beats, you're in full control of your sound. Experience plug and play compatibility with all class-compliantUSB controllers. From MPK Mini to M-Audio Oxygen, Alesis V-Mini and much more, get connected with a large list of premappedcontrollers to get completely hands-on with your beat making.
More Power
MPC Beats has plenty of power for ambitious creators. Over 80 audio FX plugins to warp, manipulate and transformaudio into whatever you can think of. Plus, VST/AU compatibility mean there's room to expand your sonic palette withcompatible third-party virtual instrument plugins and audio processing plugins. You can even record instruments orvocals with 2 stereo audio tracks to add live elements to your music.
MPC Beats Expansions
Introducing the MPC Beats MPC Expansion Pack Editions featuring the best of our top-selling sample collections fromthe music industry's premier sound designers. From Araab Muzik & Motif Alumni to MSX Audio and F9 Instruments, beefup your sample library with premium sound content to take your production to the next level.
Free software based on the legendary MPC workflow
2 Audio, 8 Midi/Instrument Tracks
 16 Pads, Sample Editing, VST/AU support
 Ready to create right away - sample/sound content, effects, and virtual instruments built-in
 Can be mapped to any Controller, including MPC
 Unified Installer