Gallien Krueger MB 210-II 500W 2x10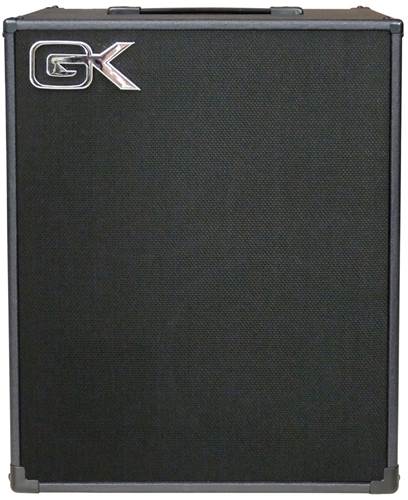 Manufacturer's ID: 303-0551-B
The Gallien-Krueger MB210 500W 2x10 Ultralight Bass Combo Amp is an addition to GK's legendary MicroBass Series. It delivers a big sound from a light, compact package
Specification
At 350W the MB210 has the power to be heard in any situation. It's designed with preamp tone-shaping circuitry that feeds into a lightweight Class-D power amp. The preamp uses GK's 4-band active tone control section with a Contour preset feature. There are both Passive and Active bass inputs and a defeatable Limiter for controlling your sound. 2 x 10" neodymium speakers are extremely sensitive and help reduce the overall weight of this combo. The horn tweeter can be engaged or not to suit different playing environments or to further shape your sound. An 1/8" Aux. input and headphone jack allow for silent practice along with an MP3 player or other sound source. An XLR DI output is included for recording or live sound reinforcement.
Equalization
Standard tone controls and graphic equalizers give you plenty of variation, but they don't provide what the instrument really needs. The fact is, graphic equalizers are intended for room equalization. The equalization in Gallien-Krueger amplifiers reflects 40 years of continuous development and refinement. The GK equalizer is unique to the industry, it's not just a normal four band equalizer, each section is a special circuit optimized to perform a Bass specific job in its range of operation.
These sections are wired in series, adding to one another, to create a tremendously flexible equalizer that sounds natural at any setting. Now it is possible to obtain the sound you desire.
Contour
The Contour is used to complely revoice the amplifier by tuning between two different shaping circuits, with greatly different responses. With the control engaged, the low end is slightly boosted, the mids are dropped and the high end is pushed up.
Limiter
The limiter is designed to detect signal levels at the input of the power amp that cause unwanted distortion. It attenuates extreme peaks to allow high volume output while maintaining signal integrity.
"G.I.V.E." Technology
The MB210 pre-amp incorporates G.I.V.E (Gate Induced Valve Effect) Technology. Field effect devices are used with the gate biased in a way that emphasizes the optimum harmonic content of the signal. Working in conjunction with the unique four band active equalizer and contour, G.I.V.E. technology produces a consistently pleasing bass tone.
FEATURES
500W Digital power amp
2x10" Paragon neodymium drivers
Class D power supply and power amp
Active 4 band EQ with contour
Balanced direct output eliminates the need for a direct box
Speakon speaker output
1/8" aux input
Headphone jack
Defeatable limiter
XLR output
Cloth grille
Durable spray-on cabinet coating
Recessed handle
Compact design with reduced weight for easy transport
Exceptionally smooth and evenly balanced sound
£745.00
Order before 3PM for FREE Delivery Tomorrow