£849.00
Available to Order
Place your order today and we will email you when we have an estimated delivery date.
Includes extended exchange
Buy with confidence: Items bought 1st October 2021 to 24th December 2021 are eligible for our Extended Christmas Exchange & can be exchanged until Monday 31st January 2022. Learn More
Frequently Bought Together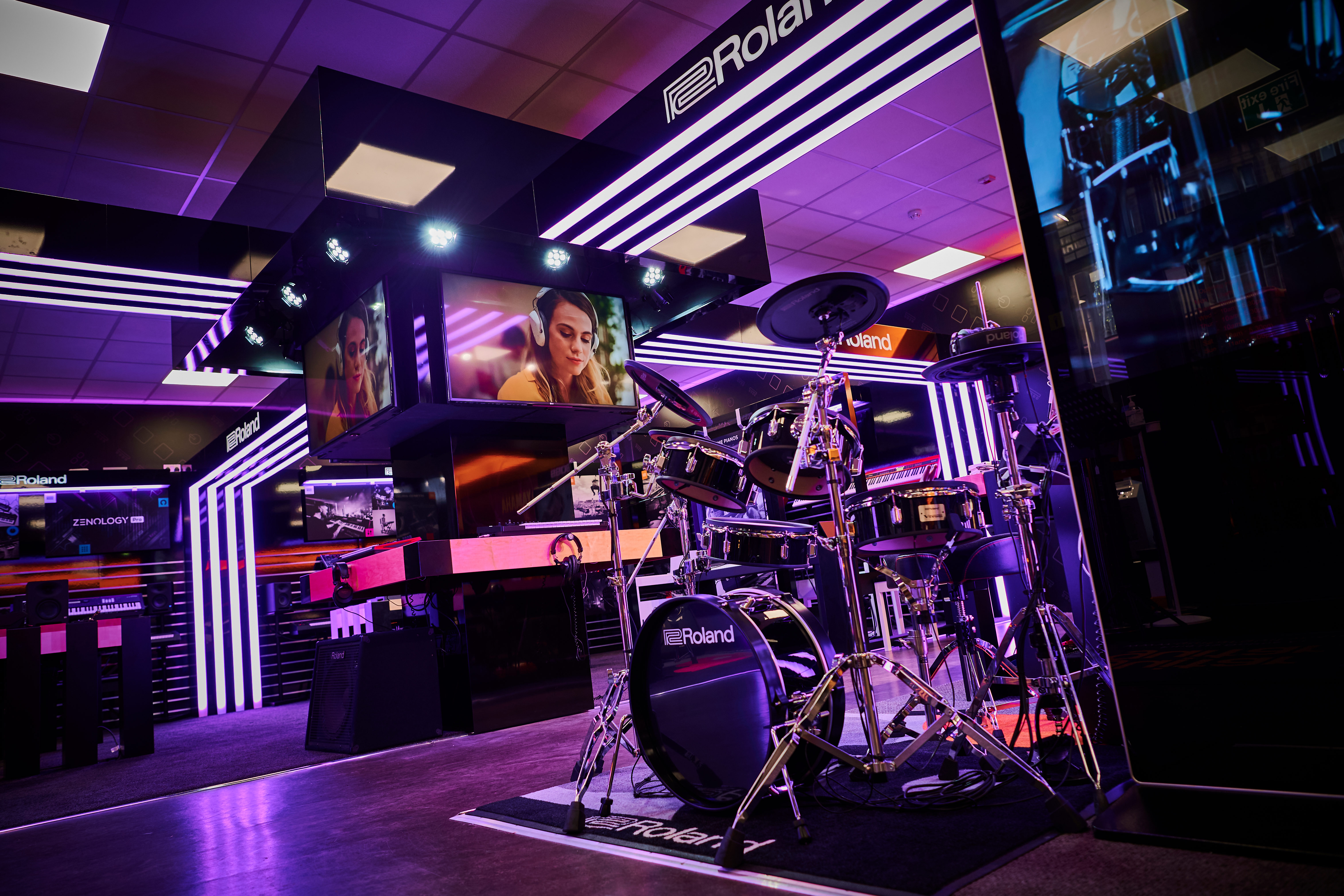 Try it now in our Glasgow Roland Store
This item is set up and ready to try at the only Roland Store in Scotland. Based in our Glasgow premises, you will find a huge selection of Roland and Boss gear that's ready to demo. Plus, you can get the expert advice you need from our in house Roland Senior Product Specialist.
Manufacturer's ID: JUNODS88
What we say:
At A Glance:
The Juno-DS series from Roland offers some of our most popular stage keyboards, with the Juno-DS88 being the largest option in the range. This option is perfect if you need a quality stage piano with fully weighted keys. Featuring hundreds of different sounds and great performance tools, it is an absolute knockout. Not to mention it is extremely affordable, considering just how much it has to offer.
Features We Love:
Juno Legacy
Since the 1980s, Roland's Juno series has been aimed at offering a quality instrument at an affordable price. Their legendary synths such as the Juno-106 and Juno-60 are considered to be affordable, yet fantastic instruments. So much so that they are still sought after to this day. In today's world, the Juno line offers high quality stage keyboards with a ton of sounds and performance tools. Features you wouldn't normally get at this price.
Hundreds of Sounds
The Juno-DS88 features hundreds upon hundreds of on board sounds. You'll find everything from pianos and organs to EDM synth leads and SFX. The sounds can all be customised and up to 16 voices can be split and layered across the keyboard. In addition to this, there is a great FX engine on board that features delays, reverbs, modulation and more.
Sample Playback
In addition to the fantastic sound engine, Juno-DS allows you to use your own audio samples. When using the menu system you are able to spread a single sample across the keyboard, however, if you use the free Juno-DS Tone Manager software, you can easily create your own multi-sampled instruments.
Phrase Pads
The phrase pads on the Juno-DS88 are a great modern feature. They allow you to trigger built in rhythm patterns, or your own samples from USB memory. This is a great feature that will let you create phrases across 8 instruments, play one-shots, loops or full tracks.
Highlights:
Lightweight and portable
Fully-weighted 88-note keyboard
Solid construction
High quality sound engine
Features a microphone input for use with the vocoder
Battery powered to take anywhere
Hundreds of sounds covering every genre
Can be used as an audio interface
Phrase pads for triggering samples and loops
What's Included:
Juno-DS88
Owner's manual
Leaflet "USING THE UNIT SAFELY"
AC adaptor
Power cord
Specification
| | |
| --- | --- |
| Keyboard | 88 keys (Ivory Feel-G Keyboard with Escapement) |
| Maximum Polyphony | 128 voices |
| Parts | 16 parts |
| Preset Memory | Patches: Over 1200 |
|   | Drum kits: Over 30 |
|   | Performances: 64 |
|   | * GM2 compatible sounds are included. |
| User Memory | Patches: 256 |
|   | Drum kits: 8 |
|   | Performances: 128 |
|   | Favorites: 100 |
| Wave Expansion Slots | 1 slot |
|   | * The wave expansion slot is rewritable internal waveform memory. You can download data from the Axial sound library site and write it via a USB flash drive into the JUNO-DS's internal wave memory (slot). |
| Sample File Format | Audio file: WAV (44.1 kHz, 16 bits) |
| Sample Effects | Multi-effects: 3 systems, 80 types |
|   | Chorus: 3 types |
|   | Reverb: 5 types |
|   | Mic input reverb: 8 types |
| Audio Player File Format | Audio file: WAV, AIFF, MP3 |
| Rhythm Pattern | Preset: 30 groups x 8 |
| Arpeggio | Preset: 128 |
| Controllers | Pitch bend/Modulation lever |
|   | Control knob x 4 |
|   | Level slider x 4 |
|   | Multicolor pad x 8 |
| Display | Graphic LCD 256 x 80 dots |
| External Storage Device | USB flash drive (supports USB 2.0 Hi-Speed flash memory) |
| Connectors | PEDAL HOLD jack |
|   | PEDALCONTROL jack |
|   | MIC INPUT jack: 1/4-inch phone type |
|   | EXT INPUT jack: stereo miniature phone type |
|   | OUTPUT jacks (L/MONO, R): 1/4-inch phone type |
|   | PHONES jack: stereo 1/4-inch phone type |
|   | MIDI connectors (IN, OUT) |
|   | USB MEMORY port |
|   | USB COMPUTER port (supports USB MIDI/AUDIO) |
|   | DC IN jack |
| Power Supply | DC 9 V: AC adaptor or rechargeable Ni-MH battery (AA, HR6) (sold separately) x 8 |
| Current Draw | 600 mA |
| Accessories | Owner's manual |
|   | Leaflet "USING THE UNIT SAFELY" |
|   | AC adaptor |
|   | Power cord |
| Width | 1,415 mm / 55-3/4 inches |
| Depth | 341 mm / 13-7/16 inches |
| Height | 144 mm / 5-11/16 inches |
| Weight (excluding AC adaptor) | 16.2 kg / 35 lbs. 12 oz. |
Firmware Update Ver.2.11 introduces the following features
When recalling a Favorite, Program Change and Bank Select MIDI messages are now sent.
MIDI note messages can now be output using phrase pads.
In the Wave Group parameter for patch or drum-kit editing, user-samples and multi-samples are now selectable.
Octave shift is now available when in the DAW control mode.
The pad level-meter display conditions have been changed.
The user memory space has been enlarged.
The screen display when accessing Favorites was changed.
File names of up to 32 characters are supported for BACKUP data.
File names of up to 32 characters are supported by SMF IMPORT.
The "PATCH LIST (CAT) screen" has been added.
You can use favorites even when the AUDIO PLAYER screen is displayed.
The "Sample Cleanup (SAMPLE CLEANUP)" has been added to the SAMPLE MENU screen.
By long-pressing the [ARPEGGIO] button, you can move to the ARPEGGIO screen from any screen without changing the arpeggio status.
The "Part Level" parameter has been added to the VOCODER/AUTO-PITCH screen.
In the VOCODER/AUTO-PITCH screen, moving the [UPPER] slider adjusts the Part Level.
In the VOCODER/AUTO-PITCH screen, moving the [LOWER] slider adjusts the vocoder/auto pitch's Level.
In the PATTERN SEQUENCER screen you can now edit the patch that is used to play or record the track.
The "Patch Remain" parameter has been added to the "SOUND" tab of the SYSTEM screen.
The shortcuts have been added.
The "COMMON" tab and "SAMPLE WAVE" tab have been added to the SAMPLE EDIT screen.