ZVEX Vexter Double Rock Distortion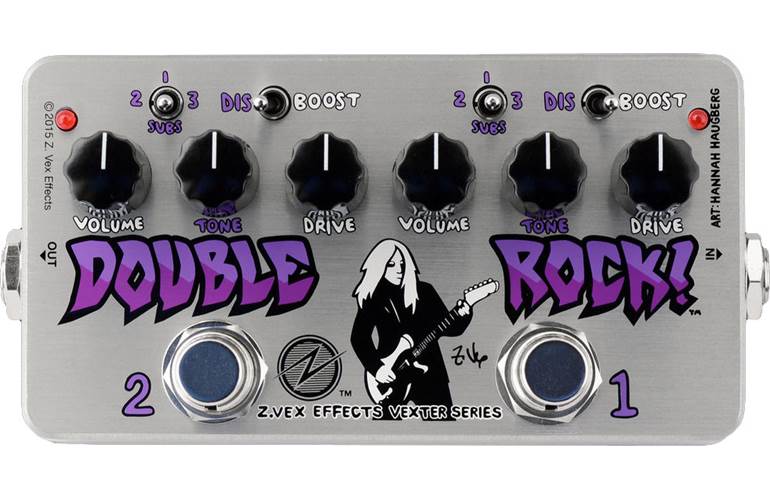 £229.99
Available to Order
Place your order today and we will email you when we have an estimated delivery date.
Includes extended exchange
Buy with confidence: Items bought 1st October 2021 to 24th December 2021 are eligible for our Extended Christmas Exchange & can be exchanged until Monday 31st January 2022. Learn More
Frequently Bought Together
Manufacturer's ID: VexterDoubleRock
This pedal was originally designed for J.Mascis of Dinosaur Jr. He requested two Box of Rock pedals in one box with two stomp switches. He uses that regularly on stage now, but we did one (or two) better with the one we're releas- ing to the public... we made it so you can adjust the sub frequencies (like the Distortron), and you can convert either channel to a Super Hard-On. In this way, you can config- ure the pedal to be two Distortrons cascaded, two Super Hard-Ons cascaded (like a Super Duper 2-in-1), or a Box of Rock with boost, or a Super Hard-On (SHO) going into a Box of Rock. Distortion/boost heaven! Whee!!!
Controls
Drive : Sets the amount of distortion in Distortron mode, and sets the amount of boost in SHO mode. It may crackle when turned. This is perfectly normal.
Tone : Adjust for treble content. Start around 2:00 o'clock. This knob only does stuff in Distortron mode.
Volume : Adjust for output volume level.
Dis / Boost Switch : Changes the circuit from a Distortron to Super Hard-On boost.
Subs Switch: "2-1-3" lets you choose the full "Box of Rock" sub amount (3) or two different lower levels of subs depending on your amp's needs. Only works in Distortron mode.
Pedal Dimensions (LxWxH):  4.70" x 2.38" x 1.82"