Bogner Goldfinger 54 Phi Head 6L6/6V6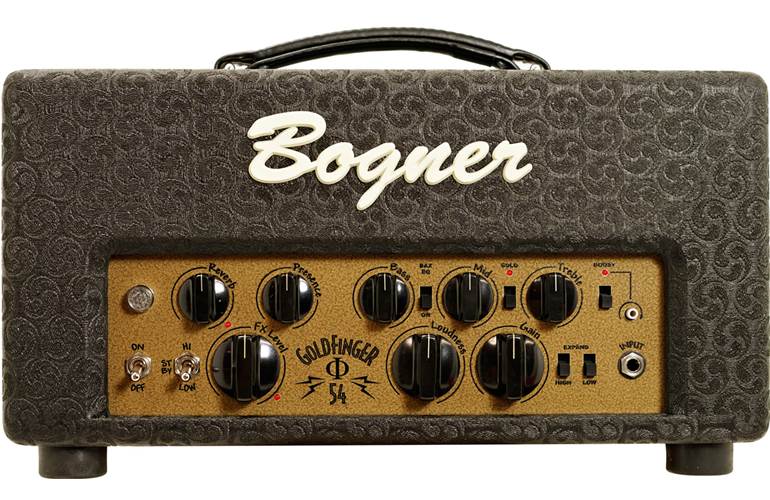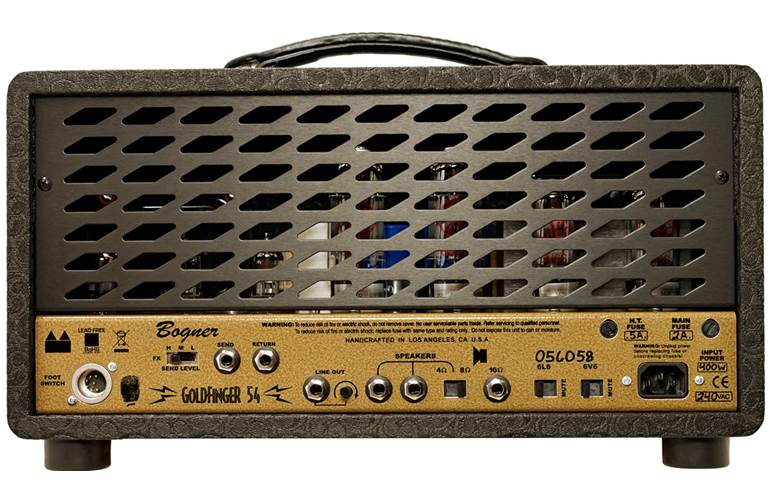 £2,299.00
Order before 1PM for FREE Delivery Tomorrow
3-Year Warranty Included
We're the 1st, and only, UK guitar retailer to offer a 3-year warranty as standard. Buy with confidence today. Learn More
Frequently Bought Together
Manufacturer's ID: GOLDFINGERPHI
What we say:
At A Glance:
The Bogner Goldfinger 54 Phi Head is a relatively lightweight, but powerful little amp. The front end being loosely based on the Goldfinger 45 which gained popularity for it's incredible versatility, from the clean Alpha channel to the 60's-70's style Omega second channel, the 54 Phi takes that platform and really builds off of it with the added BAX, vintage style EQ and pairing of both 6V6 and 6L6 power amp valves. The valve choices allow for some interesting power scaling options through the Hi/Low settings found on the standby switch. The amp can be run at 66, 58, 33, 27, 19 or 9 watts which will change the feel of the amp at varying volumes. You want the natural compression of a fully dimed stack at a reasonable volume? No problem. It's the arena tour and you need some more oomph, we got your back.
Features We Love:
Small Size
Who says you need a monster head for monster sounds? This fairly compact, 66 watt amplifier is smaller than most of the competition and of course is made using only the highest quality components, synonymous with Reinhold Bogner.
6V6/6L6 Tubes
The user is given the option to either engage or mute either valves. This plus running the amp at either Hi/Low gives a plethora of tone and power options!
Excellent Clean Sound
One of the most detailed clean sounds out of many modern amplifiers. If you have a serious pedal board, this platform is going to allow you to be as FX heavy as you like, whilst maintaining clarity and clean headroom.
BAX EQ. This switch takes out a lot of the boomy bottom end enhancing the shimmering high ends similar to old 50's department store amps. This unique EQ is great for the more vintage inspired tones that will cut through any mix.
Highlights:
Lightweight and portable.
Built to the highest quality inside and out.
Versatility is everything! Perfect for the guitarist in need of all the tones on tap.
What's Included:
Bogner Goldfinger 54 Phi Head 6L6/6V6
Footswitch
Specification
Two individual boost circuits let you either add more preamp push, a trim pot helps dialing in your personal preferred level, or a fatter tone with singing mids for solos with a more overall British voiced tone, both accessible via the foot controller. 
Phi also includes lush spring reverb and a tube buffered effects loop. A single 16 and selectable dual 8 or 4 ohm speaker outputs as well as an adjustable flat frequency Line Out for routing IR speaker simulation software or running post effects for stereo bi-amping setups.
The flexible tube array with two 6V6's plus two 6L6's combined as well as the option to mute either pair and run it on high or low power setting via the three position Standby switch makes the Goldfinger 54 Phi a multitude of different single channel amplifiers in one. It can be a 66, 58, 33, 27, 19 or 9 watt amplifier each with a different feel, compression and volume.
The head version with a 17 by 9.5 inch footprint at a height of only 8.25 inch is among the very smallest all tube 66 watt amplifiers on the market and consider all the features and you will find no competition left.
The 1x12 combo constructed of solid pine with a screwed on birch baffle is loaded with a Celestion 65 cream back and comes in at a mere 54 pounds (24.5Kg)