Audient iD4 Audio Interface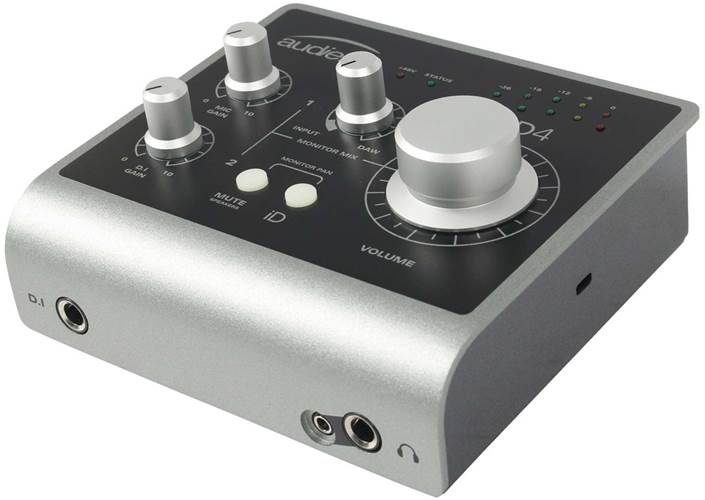 £119.00
Available to Order
This product is temporarily out of stock
We currently have it on order with our supplier. Place your order and we will email you when we have an estimated delivery date.
Frequently Bought Together
Recommended Bundles
Manufacturer's ID: APACAU17iD4

iD4 delivers the audio performance of a large format console in a portable desktop package. Providing one renowned Audient console mic pre, class-leading converter technology, two headphone inputs, console style monitor control, JFET D.I and our virtual scroll wheel technology 'ScrollControl', iD4 is a professional but affordable solution for your home studio or for when you're on the road.
Specification
WORLD CLASS MIC PRES
We are the only company that use the same Class-A mic pre design throughout our entire product range, whether you're in the studio with an Audient console or on the road with iD4, you're always guaranteed the same world class Audient sound.
PRISTINE CONVERTER TECHNOLOGY
iD4 provides you with high performance AD-DA converters. Quality in the analogue stages of design comes from years of experience as analogue console designers, and when coupled with outstanding converter technology it enables you to hear audio as it's supposed to sound. The importance of converters should never be underestimated. Experience audio the Audient way.
THE REVOLUTIONARY 'SCROLLCONTROL'
With a touch of a button iD4's volume encoder becomes a virtual scroll wheel, enabling you to adjust DAW hosts, plug-in parameters and even scroll through your iTunes library - just like you're adjusting a piece of hardware. Wherever your mouse pointer hovers, the iD knob can scroll to control! And when your not using ScrollControl, pressing iD4's volume encoder activates DIM, enabling you to quickly reduce the playback volume.
PLUG AND PLAY
iD4 has a harmonically rich JFET D.I input. Designed to replicate the input stage of a classic valve amplifier, you can plug your guitar, bass, keyboard or drum machine straight in and start recording instantly. Get professional quality recordings from the start and take your track to the next level.
MONITOR PAN
Recording an acoustic guitar and vocal? iD4's Monitor Pan feature enables you to pan both the mic pre input and D.I input from left to right, making it easy for you to create a balanced headphone mix that suits you. Quickly plug in, set up a headphone mix and starting tracking instantly, perfect for singer songwriters & producers on the go!
MONITOR MIX
iD4's Monitor Mix feature lets you monitor a blend of both iD4's inputs and your DAW playback, providing near zero latency monitoring while recording. Designed with creativity in mind, Monitor Mix allows you to quickly blend in your DAW playback and start recording along to your multitrack instantly, enabling you to focus on the music and lay down your track effortlessly.
DUAL HEADPHONE OUTPUTS
Featuring a dual headphone output, iD4 enables you to collaborate with your friends and other artists. Whether you're recording a guitar and a vocal, or just listening to music together, iD4 lets you plug in two sets of headphones, making it the perfect tool for jamming with your friends and capturing creativity as it happens. The dual headphone output also has both a jack and mini jack output, so no more need to carry around a pesky headphone adaptor!
BUILT TO LAST
iD4 has been designed to last, from its all-metal construction, hand finished aluminium knobs and high grade component selection, iD4 will stand up to countless late nights in the studio and days on the road.
Audient iD4 Audio Interface
Inputs
1x Class-A Audient Console Mic Preamplifier
1x Discrete JFET Instrument Input
Outputs
4x Outputs
Included Software
ARC Creative Hub, including:

Cubase LE
Waldorf PPG Wave 2.2V
Waldorf Attack
Waldorf D-Pole
Two Notes Torpedo Wall of Sound
COMPATIBILITY:
iD4 supports the following operating systems:
macOS 10.7.5 and later
Windows 7 and later
iOS 6 and later
*To use iD4 with an iOS device a camera adapter kit and a powered USB 2.0 hub is required.