Roland GP607-PE Gloss Black Di ...
£4,499.00 In Stock
Delivery on Saturday
Click and Collect available
Manufacturer's ID: GP607-PE
If you've longed to own a grand piano but were discouraged by the cost or weight, then the Roland GP607 could be the perfect addition to your home.
Specification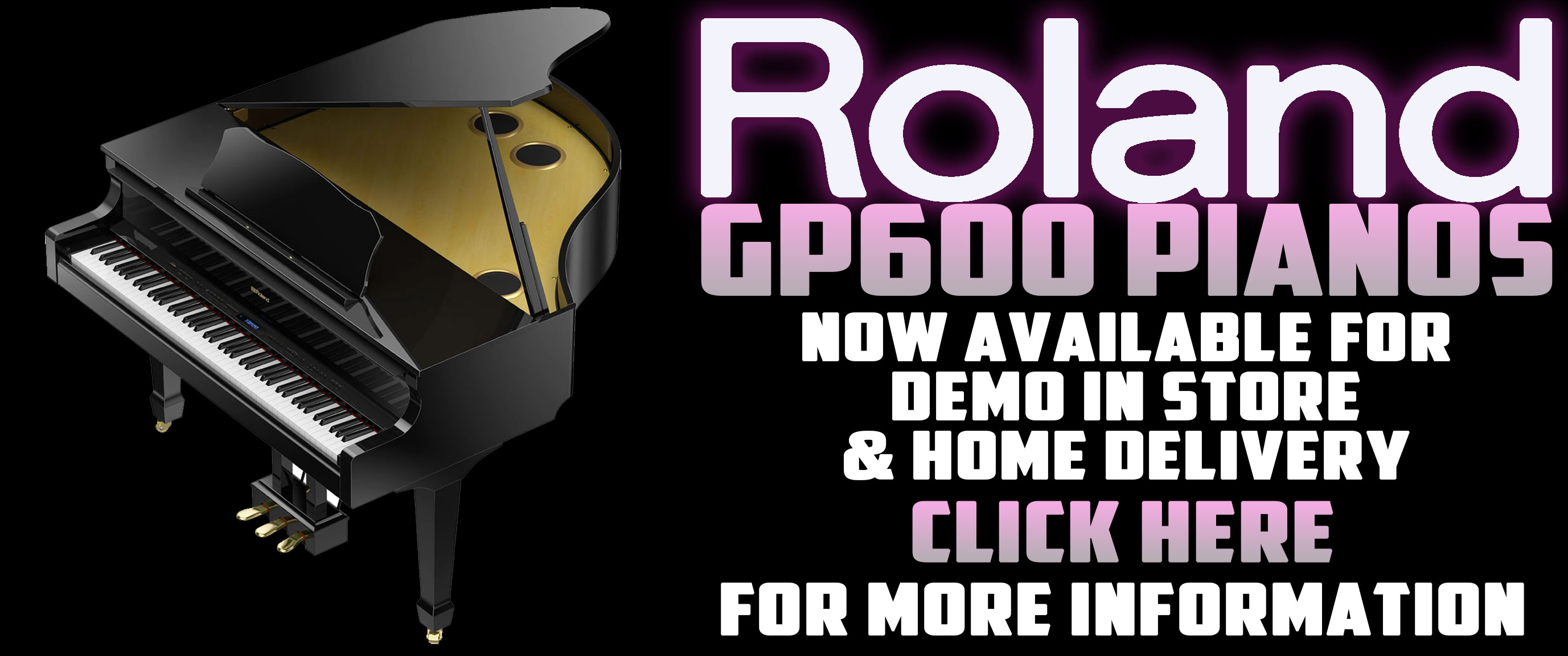 A mini grand piano that sparks creativity and complements your living space
A stylish digital mini grand piano in polished ebony or white, the GP607 pays homage to the classic grand piano form with an imposing-yet-graceful design. And although its appearance is traditional, explore a little deeper and you'll discover the very latest technology. Bluetooth® connectivity lets you wirelessly stream songs from your tablet/phone through the GP607's powerful 4.1 multi-channel speakers, filling your room with rich, clear sound. SuperNATURAL Piano Modeling technology offers supremely realistic piano sound and, along with the expressive touch of the new PHA-50 keyboard, provides a playing experience that will satisfy the connoisseur. And a host of onboard learning features—including connection to piano education apps—will ensure that you'll stay motivated and your piano skills will constantly improve. Whether you want a strikingly beautiful addition to your living space or a sophisticated mini grand piano that supports your family as they learn to play, the GP607 brings beauty, elegance, and evocative piano performance into your home.
Classic mini grand digital piano, designed for the living room
Latest SuperNATURAL Piano Modeling technology for a rich, living sound
Authentic grand piano touch from the new PHA-50 Progressive Hammer Action Keyboard with Escapement, which combines the look and feel of wood with the durability of modern materials
Built-in 4.1-channel multi-speaker system (four speakers/one woofer) for powerful sound projection, as well as music playback from a smartphone or tablet via Bluetooth
Headphones 3D Ambience technology for natural, realistic sound when practicing privately
MIDI over Bluetooth for connecting to a world of exciting apps such as Roland's Piano Partner 2, which encourages daily piano learning and makes practice fun
Lightweight and maintenance-free
Two elegant finishes to complement your living room: polished ebony or polished white
The Look and Feel of a Traditional Mini Grand Piano, Without the Cost and Hassle
There's no doubt that a traditional grand piano makes a statement in a living room, but the maintenance and back-breaking weight can make owning one a labor of love. Available in polished ebony or polished white finishes, the Roland GP607 gives you the classic appearance and feel of a mini grand piano, and you can even start playing by simply opening the lid and hitting the keys. But this digital model spares you the expense of regular tune-ups, thanks to the reliable onboard sound processor. And the lightweight cabinet is easy to move around your home to find the perfect position.
Houses a Premium Sound System for Enjoying Your Favorite Music
Sometimes you want to create music. At other times, you just want to sit back and enjoy it. Either way, the Roland GP607's high-quality speaker system is ready to fill your home with exceptional sound. When you're playing piano, it provides full-bodied, volume-controllable sound through the 4.1 multi-channel speakers. When you're entertaining friends, Bluetooth audio functionality allows the piano to replace your hi-fi, wirelessly connecting to your tablet or smartphone and playing your favorite songs and playlists through the speakers. And when you're just relaxing, the dedicated app for Apple Watch lets you control the GP607's internal song library remotely from the comfort of your sofa.
Onboard Educational Features and Apps Help Developing Players Improve
Learning the piano is incredibly rewarding, but it takes time, effort and dedication. The Roland GP607 gives players an alternative to the conventional book-learning method, kick-starting development with its onboard educational features. Jamming with onboard songs prepares you for joining a band or orchestra, while the Twin Piano mode allows a learner and teacher to sit side-by-side and play in the same key range. The built-in metronome promotes accurate timing, while the onboard recorder lets you capture what you've been working on to instantly evaluate your progress. There's audio and MIDI playback from USB memory, plus integrated Bluetooth MIDI functionality that lets you wirelessly connect to apps like Roland's Piano Partner 2, and also access digital sheet music, song libraries, and more. The Roland GP607 makes practice a pleasure, not a chore.


Standout Features
Songs—browse and select music from your Roland digital piano's built in song library
DigiScore Lite—displays music notation for the built in songs
Rhythm—develop your sense of rhythm with accompaniment that follows the chords you play
Flash Card game—fun challenges to develop ear-training and note-reading skills
Remote Controller—control Roland digital piano functions from your mobile device
Recorder—capture daily performances and listen back instantly
Diary—track your daily activities and share progress statistics on social media such as Twitter
Profiles—multiple users can track individual Diary data on one device
Size + Weight
Dimensions: 1,407 mm, 949 mm, 1,521 mm
Weight: 86 kg
£4,499.00
Order now for Delivery on Saturday