Roland RUBIX 24 USB Audio Interface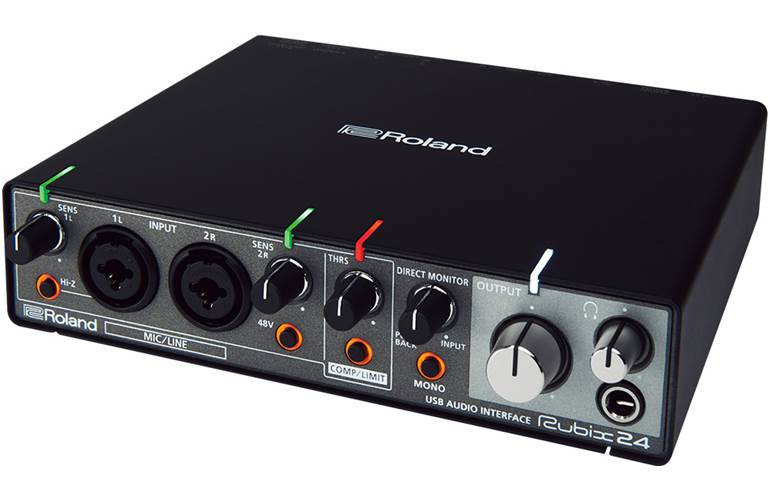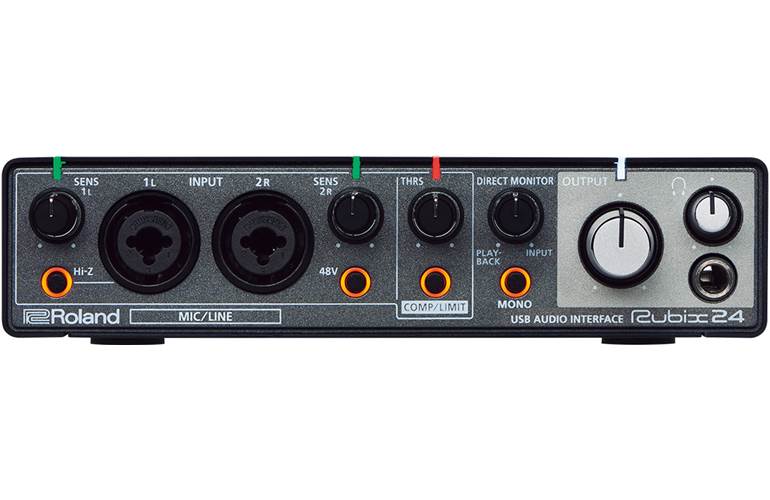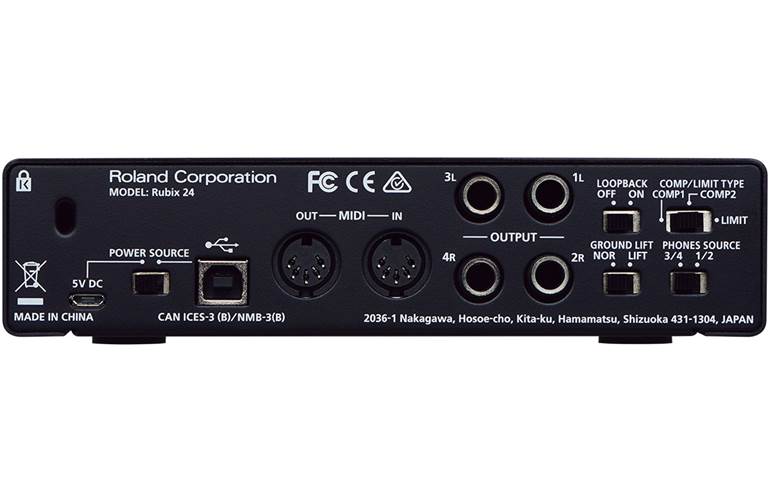 £149.00
Order before 3PM for Delivery Tomorrow
Make 3 payments of £49.67

No fees.
Learn more
Frequently Bought Together
Manufacturer's ID: RUBIX24
What we say:
At A Glance:
Roland's RUBIX24 is a fantastic, portable audio interface with some great features. It has 2 high quality preamps, 4 balanced monitor outputs with a convenient Mono/Stereo button, and a compressor/limiter. It also features an extremely sturdy construction. Whether it's for studio use or for live performances, the RUBIX24 is a great piece of equipment that you can rely on.
Features We Love:
Studio Quality Sound
The RUBIX24 provides studio-grade recording quality. The preamps are quiet and clean sounding, and the converters support audio resolutions up to 192kHz. The built-in compressor is a great feature, allowing you to tame peaking dynamics and balance signals on the way in. There is also a ground lift switch on board, eliminating any unwanted ground noise that may occur in certain venues. This means you can record professional level audio anywhere you go.
Robust Build Quality
The RUBIX24 features a metal construction, meaning it can survive bumps and scrapes with ease. The controls also feel very sturdy and will hold up even with constant use. Audio Interfaces are more and more making their way into live performances, and knowing that your equipment is reliable is key. Thankfully, the RUBIX24 can withstand the rigors of the road.
 Control and Connectivity
On the RUBIX24 you will find two XLR / Jack Combo inputs, 5-Pin MIDI IN/OUT and four Monitor outputs. There is also a button that lets you monitor in Mono. While stereo playback systems are much more common these days, certain systems still run in Mono. This could be certain club PA systems, mobile phones or car speaker systems. Ensuring your mix translates well in both Mono and Stereo is crucial, and it's very easy to listen to both, thanks to this feature.
Highlights:
High quality sound
Solid metal construction
5-Pin MIDI IN/OUT
Mono/Stereo monitor switch
Ground Lift
Supports Mac, PC and iPad
What's Included:
RUBIX24 Audio Interface
Setup Guide
Leaflet "USING THE UNIT SAFELY"
USB cable
Ableton Live Lite Serial Number Card
Specification
| | |
| --- | --- |
| Number of Audio Record/Playback Channels | Record: 2 channels |
|   | Playback: 4 channels |
| Signal Processing | PC interface: 24 bits |
|   | AD/DA conversion: 24 bits |
| Sampling Frequency | AD/DA conversion: 44.1 kHz, 48 kHz, 96 kHz, 192 kHz |
| Interface | Hi-Speed USB |
|   | MIDI IN, OUT |
| Connectors | INPUT (1L, 2R) connectors: XLR type (balanced, phantom power: +48 V, 6 mA Max *1) |
|   | INPUT (1L, 2R) jacks *2: 1/4-inch TRS phone type (balanced) |
|   | PHONES jack: Stereo 1/4-inch phone type |
|   | OUTPUT (1L, 2R, 3L, 4R) jacks: 1/4-inch TRS phone type (impedance balanced) |
|   | MIDI (IN, OUT) connectors |
|   | USB port: USB Type B |
|   | DC 5V port: USB Type micro B |
|   | *1 Current value per channel. |
|   | *2 INPUT 1L supports high impedance |
| Controllers | SENS 1L, 2R knobs |
|   | Hi-Z switch |
|   | 48V switch |
|   | THRS knob |
|   | COMP/LIMIT switch |
|   | DIRECT MONITOR knob |
|   | MONO switch |
|   | OUTPUT knob |
|   | PHONES knob |
|   | POWER SOURCE switch |
|   | LOOPBACK switch |
|   | COMP/LIMIT TYPE switch |
|   | GROUND LIFT switch |
|   | PHONES SOURCE switch |
| Indicator | Level indicators (1L, 2R) |
|   | Level indicator (COMP/LIMIT) |
|   | POWER indicator |
|   | Hi-Z indicator |
|   | 48V indicator |
|   | COMP/LIMIT indicator |
|   |   |
| CHARACTERISTICS |   |
| Nominal Input Level | INPUT (1L, 2R) connectors (XLR type): -60-- -12 dBu |
|   | INPUT (1L, 2R) jacks (1/4-inch TRS phone type): -44--+4 dBu |
| Maximum Input Level | INPUT (1L, 2R) connectors (XLR type): +2 dBu |
|   | INPUT (1L, 2R) jacks (1/4-inch TRS phone type): +18 dBu |
| Nominal Output Level | OUTPUT (1L, 2R, 3L, 4R) jacks: -6 dBu (impedance balanced) |
| Maximum Output Level | OUTPUT (1L, 2R, 3L, 4R) jacks: +8 dBu (impedance balanced) |
| PHONES Maximum Output Power | 20 mW + 20 mW (L + R, 47 ohms load) |
| Headroom | 14 dB |
| Input Impedance | INPUT (1L, 2R) connectors (XLR type): 4 k ohms or greater (balanced) |
|   | INPUT (1L, 2R) jacks (1/4-inch TRS phone type): 15 k ohms or greater (balanced) |
|   | INPUT (1L) jack (1/4-inch phone type *3): 500 k ohms or greater |
|   | *3 When the Hi-Z is turned on |
| Output Impedance | OUTPUT (1L, 2R, 3L, 4R) jacks: 2 k ohms (balanced) |
|   | PHONES jack: 47 ohms |
| Residual Noise Level | INPUT (1L, 2R) --> OUTPUT (1L, 2R): -94 dBu typ. (SENS 1L, SENS 2R knobs: min., input terminated with 600 ohms, IHF-A, typ.) |
| Dynamic Range | AD block INPUT (1L, 2R) jacks: 104 dB typ. (SENS 1L, SENS 2R knobs: min.) |
|   | DA block OUTPUT (1L, 2R, 3L, 4R) jacks: 109 dB typ. |
|   |   |
| Power Supply | Supplied from the computer via USB, DC 5V |
| Current Draw | 500 mA |
| Operating System | Microsoft(R) Windows(R) 7, Windows(R) 8, Windows(R) 8.1, Windows(R) 10 |
|   | Apple Mac OS X 10.10 or later |
|   | Apple iOS 9 or later |
| Dimensions | 183 (W) x 165 (D) x 46 (H) mm |
|   | 7-3/16 (W) x 6-1/2 (D) x 1-13/16 (H) inches |
| Weight (main unit only) | 1.2 kg / 2 lbs 11 oz |