Roland RUBIX 24 USB Audio Interface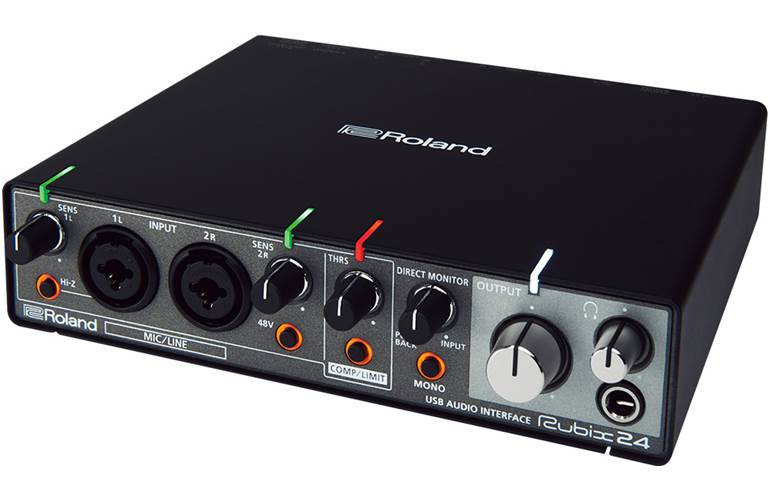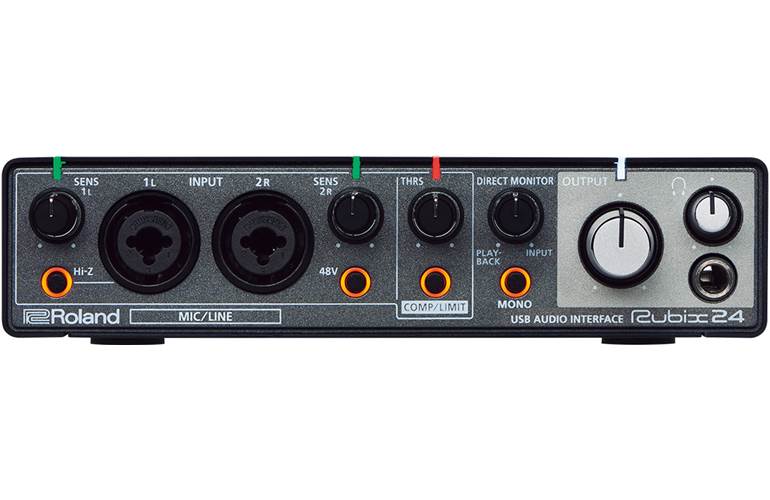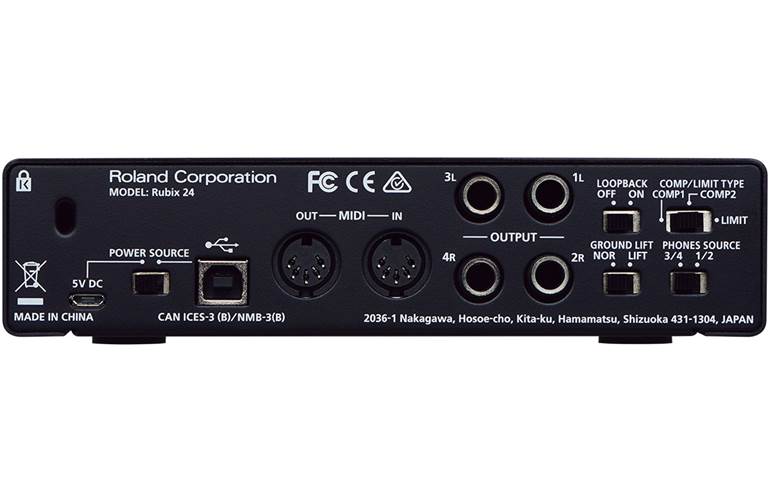 £149.00
Order now for Delivery on Wednesday
Make 3 payments of £49.67

No fees.
Learn more
Frequently Bought Together
Manufacturer's ID: RUBIX24
What we say:
At A Glance:
Roland's RUBIX24 is a fantastic, portable audio interface with some great features. It has 2 high quality preamps, 4 balanced monitor outputs with a convenient Mono/Stereo button, and a compressor/limiter. It also features an extremely sturdy construction. Whether it's for studio use or for live performances, the RUBIX24 is a great piece of equipment that you can rely on.
Features We Love:
Studio Quality Sound
The RUBIX24 provides studio-grade recording quality. The preamps are quiet and clean sounding, and the converters support audio resolutions up to 192kHz. The built-in compressor is a great feature, allowing you to tame peaking dynamics and balance signals on the way in. There is also a ground lift switch on board, eliminating any unwanted ground noise that may occur in certain venues. This means you can record professional level audio anywhere you go.
Robust Build Quality
The RUBIX24 features a metal construction, meaning it can survive bumps and scrapes with ease. The controls also feel very sturdy and will hold up even with constant use. Audio Interfaces are more and more making their way into live performances, and knowing that your equipment is reliable is key. Thankfully, the RUBIX24 can withstand the rigors of the road.
 Control and Connectivity
On the RUBIX24 you will find two XLR / Jack Combo inputs, 5-Pin MIDI IN/OUT and four Monitor outputs. There is also a button that lets you monitor in Mono. While stereo playback systems are much more common these days, certain systems still run in Mono. This could be certain club PA systems, mobile phones or car speaker systems. Ensuring your mix translates well in both Mono and Stereo is crucial, and it's very easy to listen to both, thanks to this feature.
Highlights:
High quality sound
Solid metal construction
5-Pin MIDI IN/OUT
Mono/Stereo monitor switch
Ground Lift
Supports Mac, PC and iPad
What's Included:
RUBIX24 Audio Interface
Setup Guide
Leaflet "USING THE UNIT SAFELY"
USB cable
Ableton Live Lite Serial Number Card
Specification
Studio-grade sound you can take anywhere
Nothing is more important than sound quality when it comes to audio interfaces. And you shouldn't have to sacrifice sound quality to have an affordable interface that you can take with you. Rubix 24 sounds clean and detailed with transparent, low noise mic preamps and supports audio resolutions up 24-bit/192kHz. It's made of durable metal, and a lot went into its compact, low-noise design. With all the places Rubix 24 can go, you'll appreciate its extensive shielding and ground lifts, making sure you get good clean audio just about anywhere.
2 high quality mic preamps and 4 separate outputs
Rubix 24's dual microphone preamps are designed for low noise and high definition. They sound clean and transparent with plenty of headroom for capturing all the impact and detail of whatever you're recording. And the flexible combo jacks mean you can easily connect a wide variety of sources without the need for adapters or special cables. Four individual outputs mean you can create more sophisticated routing and monitoring setups. This is useful for sending a click track to a performer, setting up a stage monitor, or routing audio to external gear.
Hardware compressor/limiter
Highly dynamic sources like vocalists and percussion instruments often need taming, especially when recording on location. Dynamics processors help ensure a good hot signal without clipping and causing unwanted distortion. Rubix 24's built-on compressor/limiter provides peace of mind in the heat of a recording session.
Big, clear level indicators
Studios and stages can be dark places, and getting proper levels is critical. You want to focus on the performance, not on small, hard-to-see clip and level indicators from across the room. Rubix 24 has highly visible indicators that are an integral part of its design. They clearly show if a channel has incoming signal, or if you're going to overload, even from a distance.
Built for Mac, PC and iPad
Rubix 24 is ultra-portable and ultra-flexible. It has low latency class compliant drivers for Mac and PC, so it's simple to get up and running with smooth, reliable audio performance. And it also supports iPad giving you an extremely compact system for on-location recording, on-the-go production, or live performance. It even includes Ableton Live Lite, powerful studio production and live performance software that works perfectly with Rubix 24, right out of the box.
Roland Rubix24
Inputs
2x XLR/TRS Combination Jacks (XLR +48v featuring phantom power)
Outputs
4x TRS Jacks
Headphone Jack
Digital Connections
Included Software