Suhr Badger 18 Amplifier Head, 18W, 240V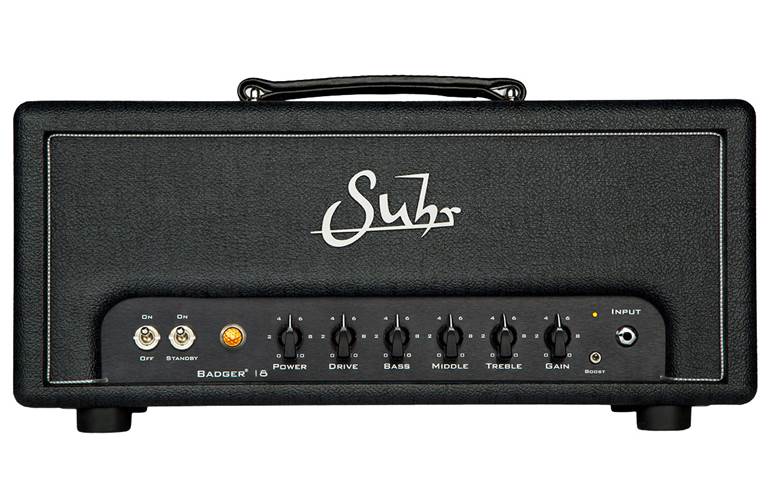 £1,849.00
Order now for FREE Delivery on Monday
Manufacturer's ID: 02-B18-0025
What we say:
John Suhr has engaged his obsession with tube amps and delved into his past experiences working with industry giants like Bob Bradshaw to design and produce a series of world-class valve amp ranges. Suhr amps represent the very best of hand made, and wired tube amp technology to give players a varied palette of the finest guitar sounds available.
The Badger 18 is a flexible 18 watt head that uses EL84 power amp valves and has a 5Y3GT for it's valve rectifier stage. This single channel tone machine has two cascading gain stages and a three channel EQ to get great results fast! This amp is transparent in the sense that it will be very reactive to changes in guitars, pickup selections and volume control dials.
The 'Power' control affects how much voltage reaches the output section. This allows you to work the gain control and get some blissful overdriven tones at reasonable volume! Experimentation with the 'Power' and 'Drive' controls will result in a myriad of gain stage saturations and 'master volume'-type sounds, too.
The badger 18 is a high quality, portable head that makes achieving beautiful sounds easy. It also works very well with pedals and has a buffered effects loop for all of your ambient effects. This amp is an instrument in its own right.
Specification
SINGLE CHANNEL – CATHODE BIASED
The Suhr Badger is a single channel amp that dynamically interacts with your guitar's volume control and responds to your playing style. The cathode biased power section lends itself to dynamic, spongey tones and requires no bias adjustment when replacing power tubes.
POWER SCALING EXPLAINED
The 2017 Badger features an optimized Power Control to reduce unnatural sound artifacts at lower settings
POWER: Power Scaling emulates the tonal response of a high wattage amp on 10, at manageable volumes. Power controls the voltage that feeds the output section and in turn, the wattage. As you lower the voltage of the power section you are reducing the amount of signal it can handle before clipping the output section. To compensate for this we use the "Drive" control so you can easily scale down to 1 watt without losing tone & feel.
DRIVE: Feeds the input to the power section. With Power at 10 it acts as a master volume. As a rule of thumb, when you turn down the Power always set the Drive control within 2 numbers of the Power setting. If you set the drive lower than the power it will sound brighter, like a "master volume" amp.
FLEXIBLE CONTROL
GAIN: Controls the amount of preamp gain by controlling 2 cascading gain stages simultaneously to drive the input stage.
TONE CONTROLS: Bass, Middle and Treble tone controls for each channel are post-gain and passive cut-style. We recommend starting around 5 and dialing to taste. As you increase Gain and/or Drive we recommend dialing back the Bass to retain clarity and definition in the low-end.
EFFECTS LOOP: Every Suhr Badger includes a buffered all tube effects loop that works equally well with pedals or line level rack gear..
| | |
| --- | --- |
| Output: | 18 Watts RMS |
| Preamp Tubes: | 3x 12AX7 |
| Power Tubes: | 2x EL84 |
| Rectifier: | 5Y3GT Tube Rectifier |
| Effects Loop: | Tube driven, buffered, series effects loop |
| Panel Controls: | On/Off, Standby, Power, Drive, Bass, Middle, Treble |
| Speaker Outputs: | Dual speaker outputs: Selectable between 4Ω, 8Ω & 16Ω impedance |
| Included Accessories: | Slip Cover, Footswitch |
| Dimensions: | 20.5" (W) x 8.25" (D) x 9.25" (H) |
| Weight: | 31lbs |