JHS Pedals Charlie Brown V4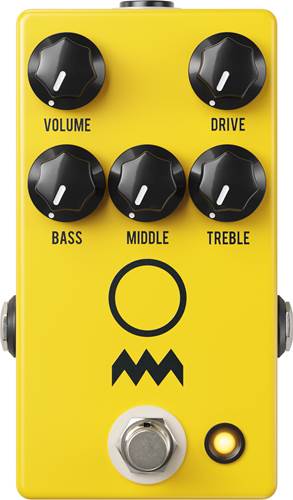 £195.00
Order before 1PM for Delivery Tomorrow
Recommended Bundles
What we say:
At A Glance:
Marshall's JTM45 is the sound of classic rock & roll, the amp that defined an era. The Crazy Charlie V4 from JHS is purpose designed to let you turn any decent amp into a stunning approximation of this ancient beast, giving you tone that would please Jimi himself!
Features We Love:
Vintage Crunch
As a superb approximation of the JTM45, authentic old school crunch is just a step away. A twist of the Drive knob takes you from 60's-style sizzle to thick rock rock tones.
Responds To Your Playing
Just like a real, full size amp, the Crazy Charlie V4 reacts to your playing attack and guitar volume, letting you clean up the sound as required or really dig in for some classic grit.
Super Versatile
Since it emulates an amp's gain structure, the Crazy Charlie V4 works superbly well with any physical amp to give you a range of clean and dirty tones, but also interacts wonderfully with other drive and gain pedals - just like a classic tube amp!
Pros:
Stunning, classic sound
JTM45 in a box!
Reacts to your playing just like a real tube amp
What's Included:
JHS Pedals Charlie Brown V4
Specification
VINTAGE BRITISH CRUNCH FOR YOUR PEDALBOARD
More and more, guitarists like you are leaning on pedals to supply their overdriven tones. They need stompboxes that will completely change the character of their amplifiers on a dime. For vintage crunch and British attitude, there simply isn't a better pedal than our Charlie Brown V4.
Turns any amp into a gritty JTM45 stack
Go from '60s-style crunch to thick and liquid rock tones with a twist of the Drive knob
Drive and Volume control interact the same as a master volume amp head
Back off your guitar's volume to control your gain levels without losing clarity
MARSHALL-STYLE TONE STACK
To really nail the ultimate JTM45 tone, we added Marshall-style control to the Charlie Brown V4 overdrive. Now, not only will this pedal mate perfectly with your current clean amp tone, but you'll be able to find the exact JTM45 sound you need for your application. And because the Charlie Brown reacts just like a classic tube amp, it's even a perfect candidate for stacking with another overdrive.
Fine-tune your tone with controls for Bass, Middle, and Treble
Active controls boost and cut their selected frequencies
Stacks beautifully with overdrive pedals for even more shades of grit
THIS PEDAL REQUIRES STANDARD 9V DC NEGATIVE POWER, CONSUMES 9MA, AND MEASURES 2.6"X4.8"X1.6"