Fender FE405 Electric Guitar Gig Bag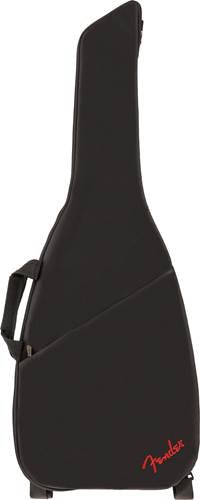 £23.00
Available to Order
Stock expected 15th October 2021
Notify me when in stock
The personal details you entered will only be used to notify you about that stock status of this item. To see the full details of how your data is managed, as well as your rights, please view our full privacy policy.


Frequently Bought Together
Manufacturer's ID: 0991312406
Fender's F405 Series gig bag is a stylish and affordable way to keep your electric guitar safe while traveling. Its durable outer layer is constructed of tough 400 Denier polyester that protects against impacts and also avoids ripping and tearing. Its interior is filled with 5mm padding lined with soft touch velour that keeps your instrument snug and secure while preventing potential finish damage. The F405 gig bag also comes with a comfortable two-piece handle and ergonomic backpack straps, so you can comfortably carry your instrument without any unnecessary physical strain. Plus, the front slip pocket offers additional storage for small accessories.
Specification
400 Denier polyester; 5mm padding with soft touch velour lining
Comfortable two-piece handle
Ergonomic backpack straps
ID tag holder; front slip pocket
Customer reviews
Overall Rating 4.6 (

76

reviews)
Great value for a premium brand
Nice case, and offers good protection for the guitar
Does the job nicely keeps my guitar dust free
The gig bag was an unexpected bonus but is not a quality bag. It has the name Fender but I would not have believed it if it were not for the name as it is very basic. That said, it does what it needs to do...transport a guitar. Could do with padding even as a basic model.
Nice looking item, not as padded as some
Great for carrying my guitar in
Does the job well, neat and tidy
Nicely padded gig bag with pockets for accessories.
Has excellent storage capacity and useful straps for carrying the guitar
Perfect bag for guitar not bulky but offers good protection
As good as a guitar bag can get
This is great for storing the guitar in
Was a bit small for my new guitar but fits another guitar perfectly so worked out in the end!
Does what it says on the tin, expected amount of padding for a gig bag at this price p
Well priced- a must have item- great calue
A little bit pricey for my tastes but a solid gig bag
Great service as ever. Will be shopping with you again.
Standard Fender gigbag. Does protect guitar to extent,but you have to make sure you don't bang it around too much as it hasn't got crazy amount of padding inside..
Perfect for purpose and excellent value.
Nice cheap bag just for getting the guitar home.
Nice cheap bag just for getting the guitar home.
It?s a gig bag. Nice, but nothing special.
Excellent service and pleased with quality.
Perfect soft case to protect your guitar
Good value for money,and good customer information.
It just does what is should and that's protect the guitar so thumbs up
Good branded product reasonable price
My son loves the colour. His tutor also approved it for him. Great trusted brand for the price.
Really good bag, easy to carry and easy to store when not using
This fender guitar bag has an amazing quality and design to it! It is very slim, well padded, very flexible and easy to carry!
Reasonable light weight gig bag but could do with more padding to protect the guitar.
Nice quality gig bag at a fair price.
Does what it says on the tin
It was free so no brainer
A very good quality item and an accurate update on delivery.
very good quality bag with plenty space
Great service will use again.
Show more reviews
You might also be interested in...
Keep up with our latest offers, news & events