TOURTECH TTB-20EG Deluxe Electric Guitar Gig Bag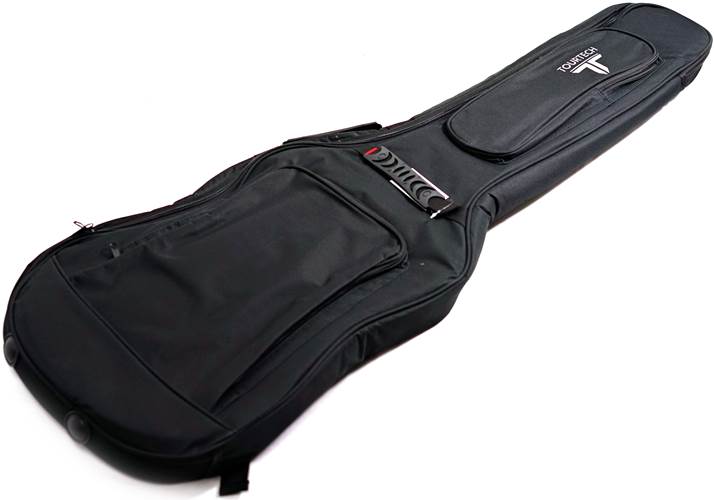 £29.99
Available to Order
Stock expected 1st October 2021
3-Year Warranty Included
We're the 1st, and only, UK guitar retailer to offer a 3-year warranty as standard. Buy with confidence today. Learn More
Notify me when in stock
The personal details you entered will only be used to notify you about that stock status of this item. To see the full details of how your data is managed, as well as your rights, please view our full privacy policy.


Frequently Bought Together
Manufacturer's ID: TTB-20EG
Tourtech is a new brand of solid, rugged and reliable accessories designed by musicians for musicians. Each product has been made to offer a specific solution for the gigging musician at an affordable price. Whether it's a tough-wearing gig bag, a robust keyboard stand or high quality cable, Tourtech has what you need at a price that represents great value.
Specification
Padding: 20 mm (0.79") foam
Material: Water repellent nylon
Grips: 2 adjustable reinforced shoulder straps and 1 reinforced handle
Fastener: 1 zipper
Special features: 1 pouch for effects pedals and 1 pouch for scores and small accessories
Colour: Black
Customer reviews
Overall Rating 4.8 (

70

reviews)
Excellent service great deals. Massive choice of products.Great online services...
Nice strong bag , good padding to protect your guitar
Does the job well, well made.
Perfect for carrying his guitar to lessons in
Great quality and reasonable pruce
Great bag, fit for purpose
Bag seems good quality only time will tell
Great padded gig-bag for the price. Would definitely recommend. Good alternative to the pricier Rock Bags. Would buy again if needed.
Good quality , good value
Nice thick padding. Adequate for what i need.
Good quality and does its job.
Price was good .... Staff (Andrew) very knowledgable and helpful. Purchase of a new guitar and pedal for my 11 year old son when I have no Idea about guitars or pedals ....... Really, really helpful and understanding,- I will be back. Basic bag .... Average price
Bought on more than one occassion' padded for the safety of the guitar 'but not cumbersome like an hard case for storage purposes
Does exactly what you would expect
Ideal for me not to large well padded
I initially wanted to hold onto my old bag but Stuart advised that as the new guitar was smaller than my acoustic, it would move about inside the old bag and possibly cause damage, he then demonstrated this and I am glad I listened to him and bought the new bag, made perfect sense.
Very nice bag. Plenty of pockets and comfy straps.
Great amp and really good advice from staff who ensured I got the best equipment for my needs
Good sturdy bag. Two good sized pockets
It's a gig bag. The guy sold it to me so I could carry the guitar home. Thought it would've been chucked in free of charge seeing as I was spending what I felt was quite a bit of money but it is what it is.
Good quality gig bag , nicely padded. Built to last and a good price
It is a good bag but think ill buya guitar case next time
Fine for getting the guitar home and storage around the house. Decent vfm.
It's a good stop gap till I can afford a Hiscox case!
Robust spacious and fits Yamaha Pacifica well
nice and neat to store guitar away
It?s the best Guitarbag - is the best and most sturdy ever encountered. Is well made
Not used yet but ideal if you want to go somewhere with it
What else can you say other than it?s perfect for getting your guitar around. Perfect size for the guitar and keeps it every safe. Plus it?s waterproof which is a godsend in the UK.
Great quality gig bag. Good level of padding. Thick materiel. Fits my yamaha pacifica perfectly. 2 handy pockets. Sturdy enough handles. Would buy again.
Perfect fit, as suggested by staff
The bag provides adequate protection for the guitar. I would rather have a hard case but for the price tag, the bag performs well.
Good gear, protects the instrument and also a 'space' saver
I have two tour tech gig bags and both are rugged and protect my guitars. Especially during transport in the car.
Fell in love with this guitar within 5 minutes of picking it up, and bought it in the shop the nex day
Great for the money. :) .
Show more reviews
You might also be interested in...
Keep up with our latest offers, news & events