Universal Audio UAD-2 Satellit ...
£715.00 In Stock
FREE Delivery on Thursday
Click and Collect available
Universal Audio UAD-2 Satellite TB3 - QUAD Core
Image Gallery



Manufacturer's ID: TB3SATQ-C
The rich analog sound of UAD plug-ins over Thunderbolt. The UAD-2 Satellite Thunderbolt QUAD Core is a powerhouse DSP accelerator that gives Mac and Windows 10 users complete access to the world's most detailed and authentic analog emulation plug-ins, available exclusively on the UAD platform.
Specification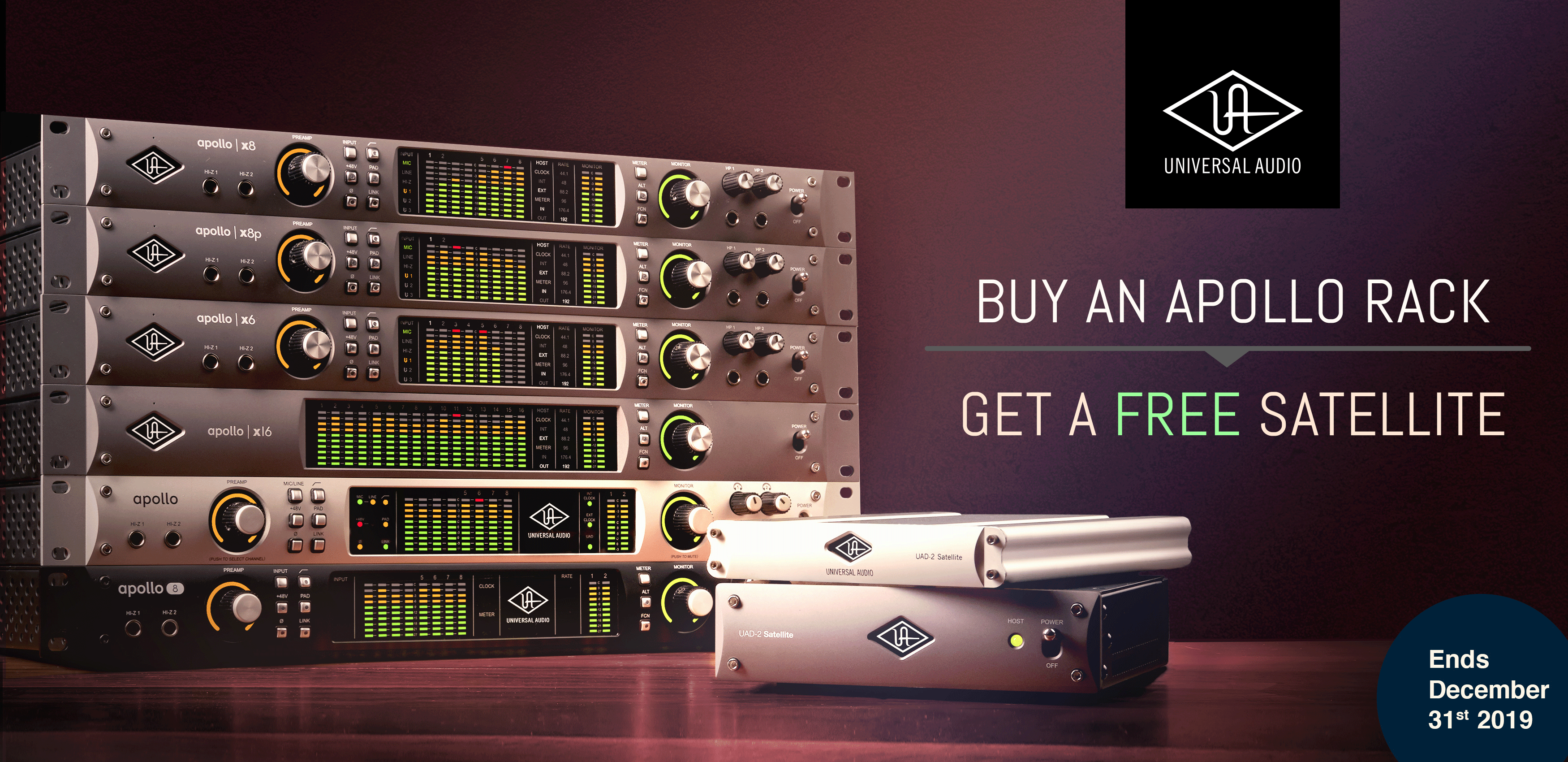 Bolstered by next-generation connectivity — and backward-compatible with Thunderbolt 1 and 2 UA devices — UAD-2 Satellite Thunderbolt 3 lets users run large professional mixes with the rich analog character of award-winning UA-developed plug-ins, including exclusive titles from Neve, Fender, Lexicon, Studer, and many more.
Standout Features
Run UAD Powered Plug-Ins via Thunderbolt 3 on modern Mac and Windows 10 systems (backwards compatible with Thunderbolt 1 and 2 devices)
4 (QUAD) or 8 (OCTO) SHARC processors provide a massive DSP boost for running large professional mixes
Access over 100 plug-ins from Ampex, Lexicon, Studer, Neve, Manley, SSL, EMT, Helios, and more
Includes Analog Classics Plus bundle featuring Legacy editions of LA-2A Classic Audio Leveler, 1176 Classic Limiting Amplifiers, Pultec EQP-1A, Pultec Pro, and Fairchild 670 plug-ins, plus 610-B Tube Preamp & EQ, and more
Compatible with Pro Tools, Logic Pro X, Cubase, Live, and more
Combine with other Thunderbolt-equipped UAD-2 devices including PCIe card(s), UA Audio Interfaces, and additional Satellites
Dual Thunderbolt 3 ports for daisy-chaining of Thunderbolt peripherals
Also available with Custom software packages featuring user-selectable plug-ins
Included Software
Includes the Analog Classics Plus bundle
System Requirements
Mac

Available Thunderbolt 1, 2, or 3 port
macOS 10.12 Sierra, 10.13 High Sierra, or 10.14 Mojave
Thunderbolt 1 and 2 connections require an Apple Thunderbolt 3 to Thunderbolt 2 Adapter (not included)

Windows

Available Thunderbolt 3 port
Windows 10 (64-Bit Edition)

All

Thunderbolt 3 cable (not included)
Internet connection to download software and authorize UAD plug-ins
6GB available storage
£715.00
Order now for FREE Delivery on Thursday
Includes extended exchange
Buy with confidence: Items bought 1st October 2019 to 24th December 2019 are eligible for our Extended Christmas Exchange and can be exchanged until Friday 31st January 2020. Learn More