M-Audio Oxygen Pro Mini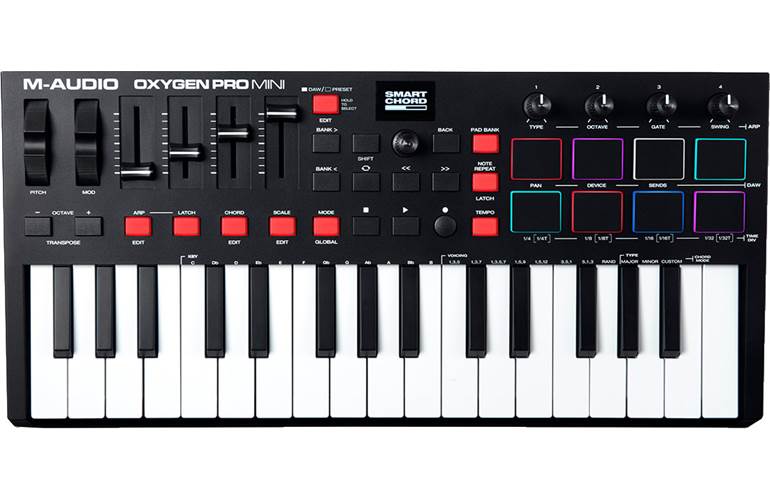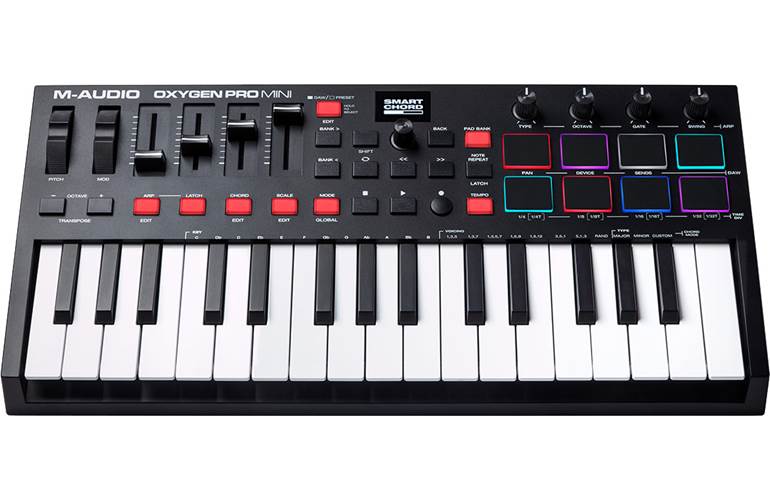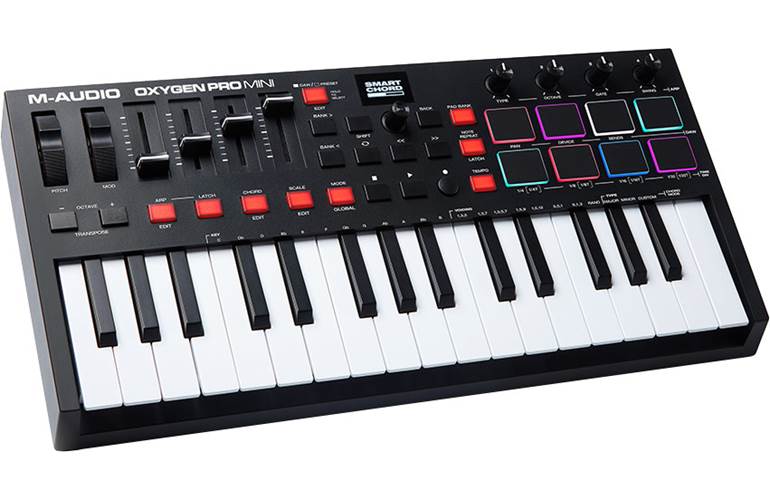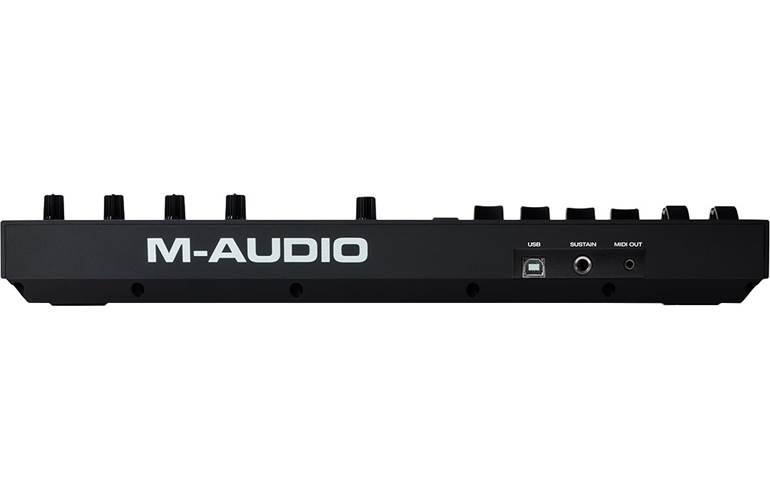 £99.00
Order before 3PM for Delivery Tomorrow
Manufacturer's ID: OXYGENPROMINI
M-Audio's Oxygen Pro Mini is a portable and powerful, 32 mini-key USB powered MIDI controller complete with an arsenal of must-have production tools to streamline your creative process. Delve into worlds of unchartered expression and creativity, effortlessly bring your production ideas to life. Root your focus on creating music – not programming your software. Everything the modern music creator demands is here, engineered to put your creativity firmly in the driving seat. It doesn't matter if you want to create music on the go or in the studio, the M-Audio Oxygen Pro series is perfectly flexible for any workflow.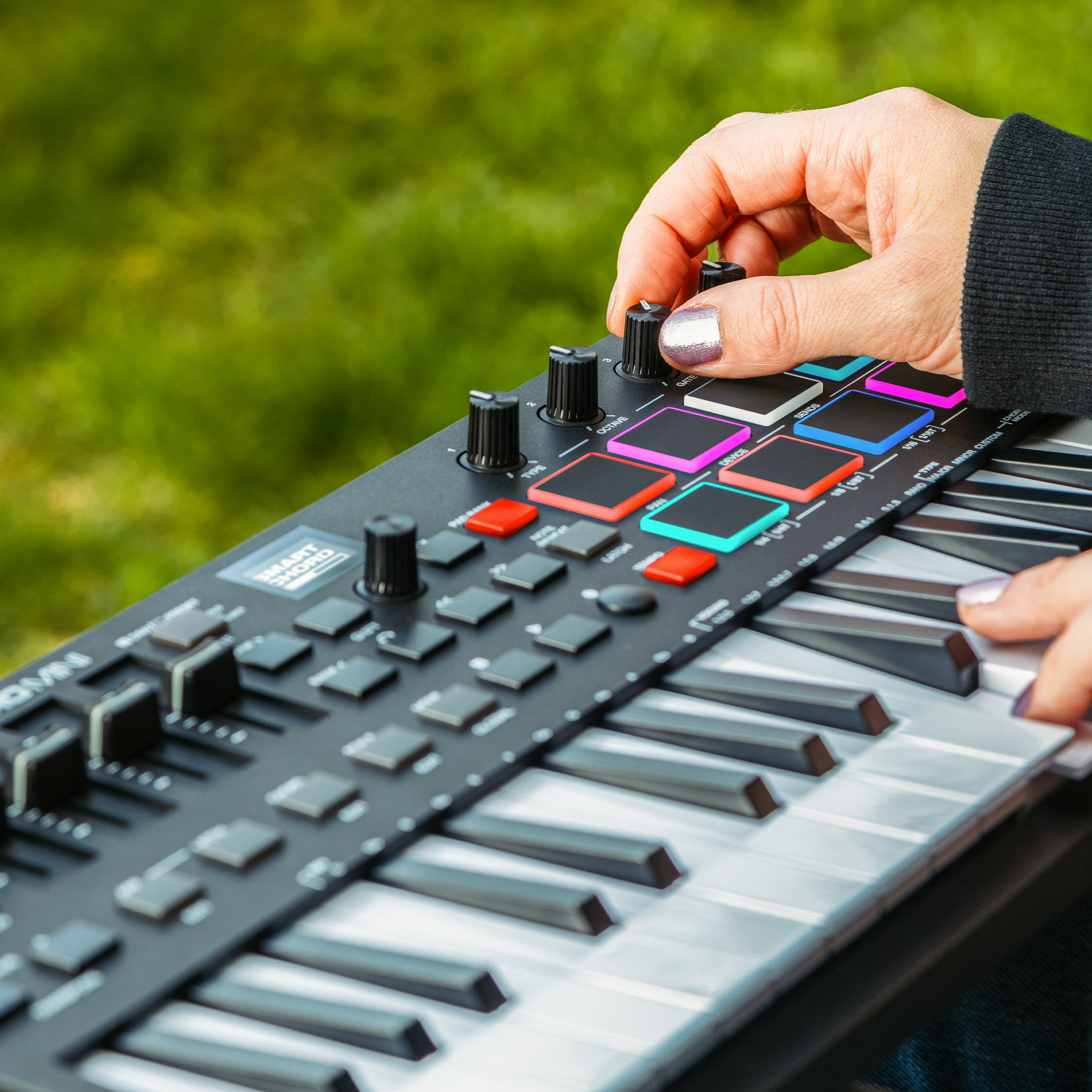 Premium Response, Hands-on Control
Fusing 32 best-in-class, velocity-sensitive, semi-weighted mini-keys with a built in arpeggiator, 8 RGB, backlit, assignable, velocity-sensitive pads with Note Repeat and 4 assignable knobs, buttons and faders, Oxygen Pro Mini comes complete with everything you need to get the most out of your virtual instrument collection and DAW.
Seamless DAW & Performance Control with Auto-Mapping
With the easy to read OLED screen, configuring the Oxygen Pro Mini with any mainstream DAW couldn't be simpler. Whether you use Pro Tools, MPC Beats, Ableton Live, Cubase, Logic, Studio One or any other music making platform, simply select the map and Auto-Mapping will take care of the rest. Unleash complete tactile control of your DAW with automatically mapped core functions including Transport, Faders, Pan controls and more, directly to the hardware controls on the Oxygen Pro Mini. What's more, Oxygen Pro Mini instantly maps to all world-class Air Music Tech virtual instruments included with the Oxygen Pro Series (Hybrid 3, Velvet, Mini Grand, Vacuum, Boom, DB-33) for an unprecedented degree of real-time tactile control as you create and mix your music.
Smart Controls
With Smart Chord and Smart Scale technology, Oxygen Pro Mini removes any and all barriers to your production. With Smart Chord activated, pressing a single key or pad will play a full chord with easy-to-use options to set chord properties and customised progressions across the keybed. With Smart Scale, Oxygen Pro Mini's keybed can be configured to one of 16 scale variations, so only notes in the selected scale are played. The result? You spend less time hitting techniquebased roadblocks and more time realising your creative vision.
Next-Gen Playability
The M-Audio PrecisionTouch mini keybed combines professional semi-weighted action with advanced high-speed scanning technology for an ultra-expressive, unrivalled playing experience. This all-new custom keybed also features Assignable Aftertouch, giving users added expression and control to affect the sound of a virtual instrument plugin by continuously scanning how much pressure is applied to any key after initially pressing it. Creating the mood, dynamics and emotion you want to deliver in your music has never been this natural.
Premium Software Suite
Whatever your production discipline, Oxygen Pro Mini includes everything for immediate creative potential from the get-go. Record, sequence, arrange and mixdown your tracks with a choice of three professional DAWs including Pro Tools | First M-Audio Edition, MPC Beats and Ableton Live Lite. Find and create any sound imaginable with a virtual instrument collection from legendary developer AIR Music Tech, including Hybrid 3, Velvet, Mini Grand, Vacuum, Boom and DB-33. Finally, dive into a world of cutting-edge sound content with a collection of Expansion Packs from Akai Professional's legendary MPC Series – from hard hitting kicks to snares that snap, everything you need to add that professional polish to your production is here.
Firmware Update Ver.2.15 Introduces the Following Features
Deeper integration with Ableton Live, with Automatic Mapping
Preset Editor Improvements
Improves Pitch and Mod wheel performance
Improved Time Clock
Additional fixes and features added
Automatic Ableton Mapping adds great new features, with pads controlling clips, faders controlling volume knobs, fader buttons controlling Ableton track functions, and many more features.
*Please make sure that you've installed the latest updates from Ableton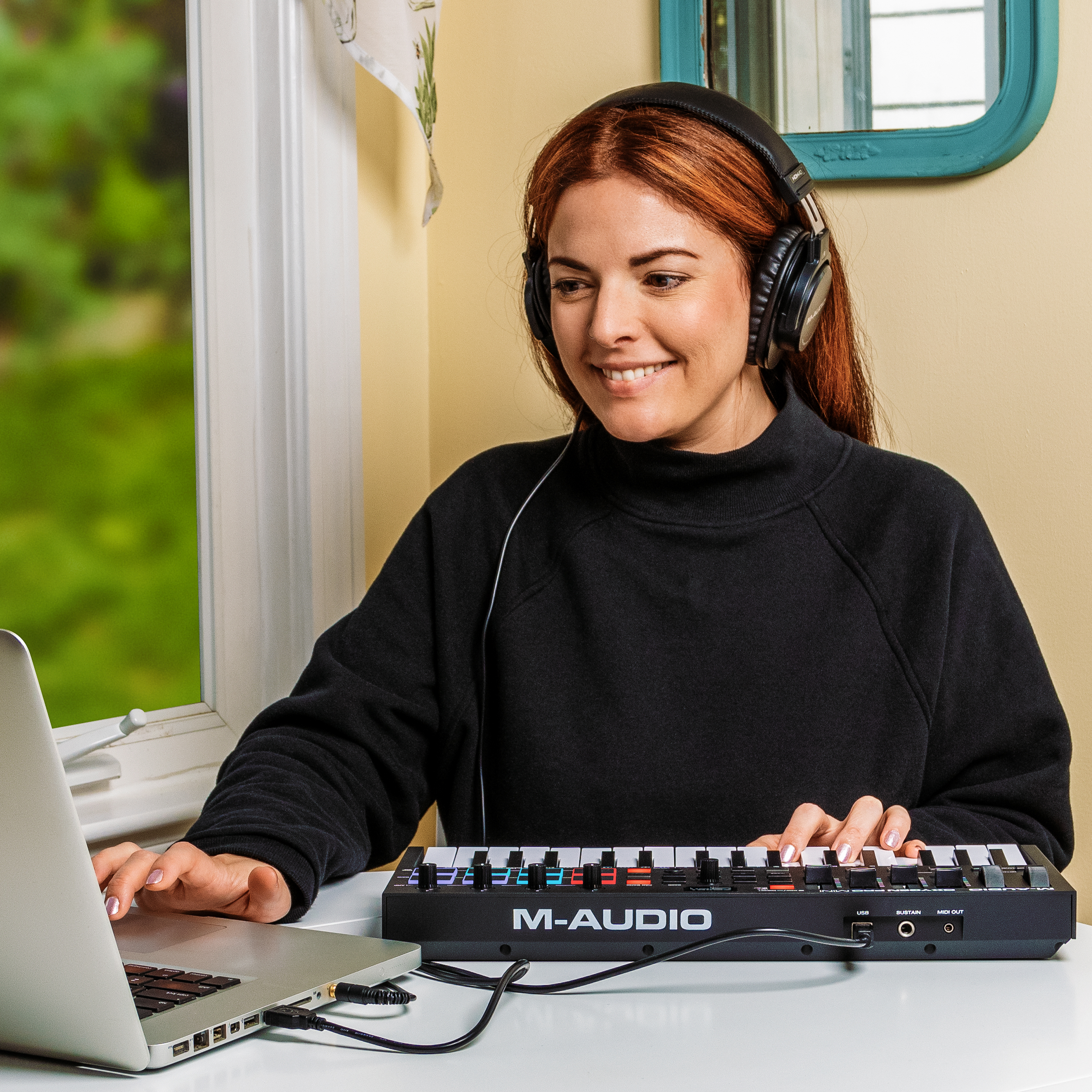 32 best-in-class, velocity-sensitive, semi-weighted mini-keys
(8) RGB, backlit, assignable, velocity-sensitive pads with Note Repeat for beat production, clip launching and more
(4) assignable faders, knobs & buttons for controlling virtual instruments, mix plugins, DAW controls and more
Preset and DAW button for auto-mapped DAW controls & plugin parameters
Smart Chord mode enables playing of enharmonic or custom chord voicings
Smart Scale mode eliminates wrong notes making it easy to craft a perfect song
Arpeggiator with Type, Octave, Gate and Swing controls
Ergonomically designed pitch and modulation wheels; ¼-inch sustain pedal input
USB-MIDI connection and MIDI Output for controlling external MIDI gear
Intuitive layout featuring an OLED screen for quick control edits
Includes MIDI editor software and a complete software production package:

3 DAWs
Pro Tools | First M-Audio Edition
MPC Beats
Ableton Live Lite
Virtual Instruments
Multi-oscillator synthesiser - Hybrid 3
Electric Piano - Velvet
Acoustic Piano - Mini Grand
Analogue synth - Vacuum
Vintage drum machine - Boom
Classic Organ - DB-33
MPC Expansion Packs
MPC Beats Producer Kits - Multi-Genre Beat Production Pack
F9 Instruments Beats Edition - 25 High Quality Instrument Samples
LANIAKEA Sounds – TrapSoul & LoFi Production Pack
MSX Audio - Soulful Drums Collection
ADSR - LoFi Producer Collection
MVP Urban Roulette Beats Edition - Urban Kits & Samples Expansion Pack
Cr2 Deep House Beats Edition - Deep House Expansion Pack
Specification
Power
USB bus-powered
Dimensions (depth x width x height)
15.8" x 7.52" x 2.56"
401mm x 191mm x 65mm
Weight
2.65 lbs.
1.2kg