J.Rockett Audio Clockwork Analog Stereo Echo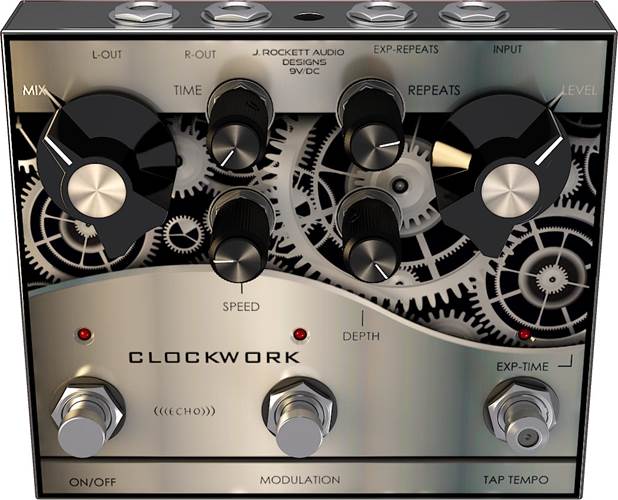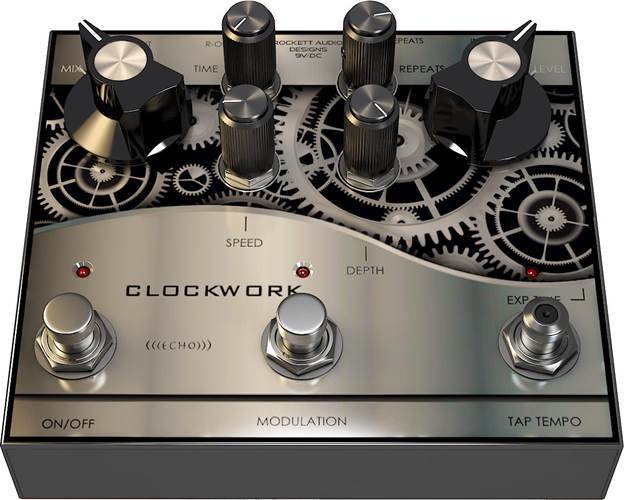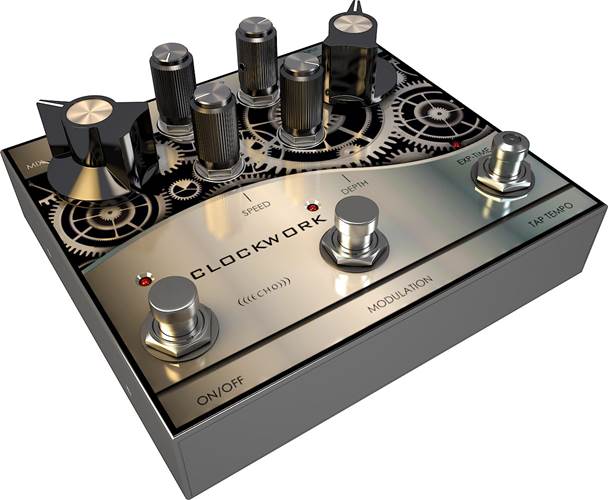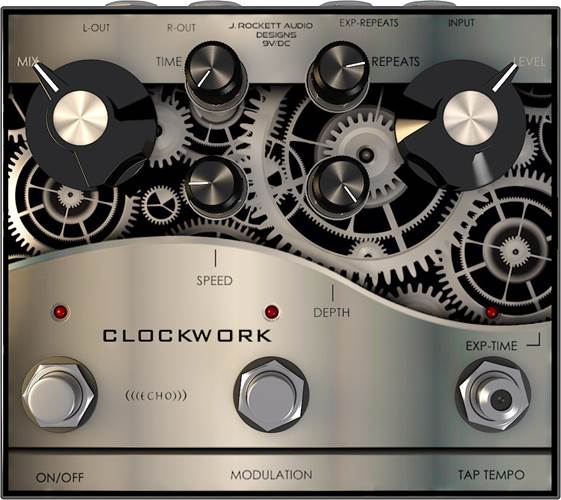 £385.00
Order before 3PM for FREE Delivery Tomorrow
Make 3 payments of £128.33

No fees.
Learn more
Manufacturer's ID: 58664
Designed in conjunction with Howard Davis (Creator of the original Deluxe Memory Man) we have created a long awaited solution. It seems that guitarists are starting to forget about the magic of old school designs in favour of modern digital products. Such a change is probably due to convenience. Just like the original "Deluxe Memory Man" or the classic Tape Echoes nothing has ever replaced them in terms of musicality and inspiration. The problem with these older designs is that those did not have modern controllability.
The Clockwork Echo re-creates the old school magic but with modern functionality. Classic BBD delay chips that are digitally controlled for tap tempo only. True stereo output, with one side out of phase. Two Expression pedal inputs to control Time and Repeats. Foot switchable modulation with speed and depth. "Always On" boost which can be used whether the delay is engaged or not. Experimenting with the modulation controls will get you chorus, rotating speaker and flange sounds. This is as musical as an echo can get, go from lush long delays to amazing room like slap back echoes. Time can be set short enough to achieve chorus/flange sounds and Repeats long enough for crazy long repeats into oscillation if you so desire.
Parameter Overview
MIX - Use this to blend your dry signal with your wet signal. The wetter the mix the more apparent all functions are. You will find the perfect blend for your needs but don't be afraid to go over the top.
LEVEL - Use this to control the pedal's output level. This function works even if the delay is not engaged giving you a very nice push. The delay will always stay relative to the volume output so you will not have an out of balance mix between the two
TIME - Use this to control the delay time from almost imperceptible (which creates chorus and Leslie sounds) all the way to 600ms of delay for the long lush sounds.
REPEATS - Use this to control the amount of repeats. Go from one repeat all the way to crazy oscillation.
MODULATION - This is a very powerful feature that can achieve pretty amazing sounds. Set the repeats to the shortest (All the way left) set the delay time as well to its shortest setting (all the way left) and then start playing with the speed and depth. You can find some amazing chorus sounds, Leslie sounds and a bunch of craziness in between. If you use this feature in its typical fashion you can achieve the lush wow and flutter of an old tape echo or remove the modulation altogether. We made this feature foot switchable so you can bring it in on the fly and take it out just as fast.
SPEED - Use this to control the speed of the vibrato
DEPTH - Use this to control the depth of the vibrato
Specification
Analog Stereo Delay with Tap Tempo and switchable Modulation
Designed in conjunction with Howard Davis (creator of original "Deluxe Memory Man")
Old-school magic with modern functionality
Classic analog design featuring BBD Delay Chips
Digital Tap Tempo control
Up to 600ms of Delay Time
Switchable Modulation with Speed- and Depth-control
Create inspiring Chorus- and Leslie-type sounds or the lush flutter of an old tape echo
True Stereo Output with one side out of phase
Two Expression Pedal Inputs to control Time and Repeats
Top mounted Input & Stereo Output
Controls: Mix, Time, Repeats, Speed, Depth, Level, Bypass, Modulation, Tap Tempo
Internal voltage conversion from 24V to ensure standard 9V power-supply usage
9-volt DC, Center Negative, 100mA minimum
Made in the USA