RME Digiface USB Interface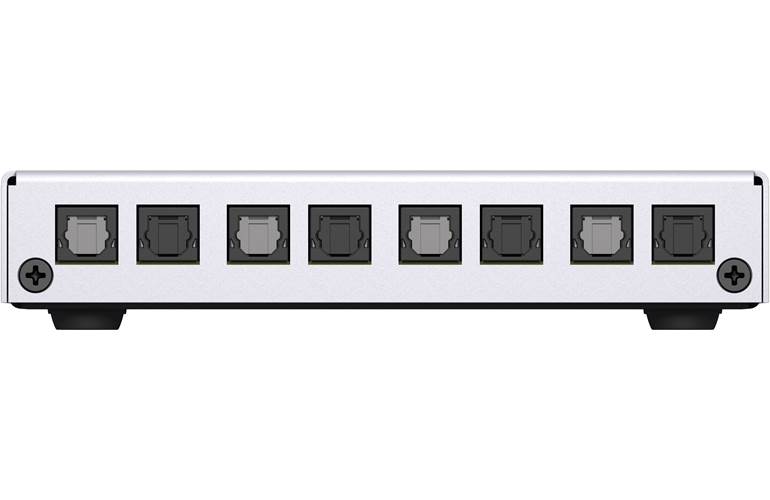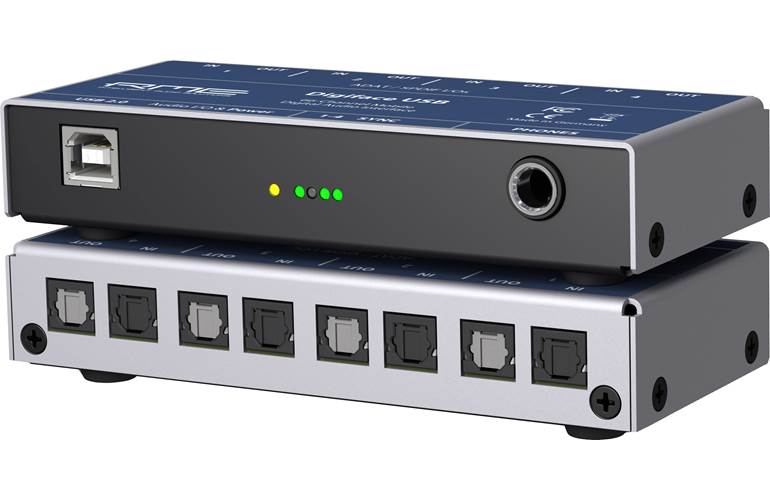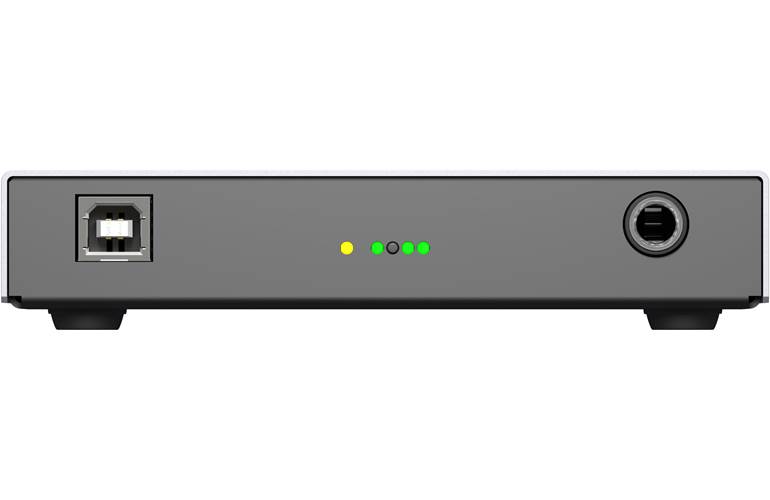 £329.00
Order now for FREE Delivery on Friday
Includes extended exchange
Buy with confidence: Items bought 1st October 2021 to 24th December 2021 are eligible for our Extended Christmas Exchange & can be exchanged until Monday 31st January 2022. Learn More
Make 3 payments of £109.67

No fees.
Learn more
Manufacturer's ID: DIGIFACE-USB
What we say:
At A Glance:
RME Digiface USB is a compact hub for connecting ADAT equipment to your computer. This unique interface features four ADAT inputs and outputs, plus a headphone output for a total of 64 channels. Making this an excellent starting point for constructing your own high-quality studio that can fit in a flight case.
Features We Love:
Design
The Digiface USB allows you to connect 4 different ADAT sources. Running on bus power, Digiface is an ideal solution for older studios, switching from ADAT tape machines over to a DAW, or even for constructing a new professional studio. The ability to use a combination of different ADAT preamps means you can mix and match new and old gear for desired sound, create a professional level studio on a budget, or even construct a mobile recording studio that fits in a single rack.
Digiface also features a headphone output, so you can monitor a session without taking up a headphone channel from your ADAT interface, or even mix on headphones without being connected to your console.
The Ins and Outs
The 4 inputs when used with ADAT interfaces amounts to a total of 32 channels, more than enough to record a live band. Digiface also offers 32 outputs via ADAT, this gives a lot of freedom for creating headphone mixes, FX sends and even allows you to send your full mix to an analog desk.
TotalMix FX
RME's proprietary TotalMix software gives you full control over your ins and outs. Sum multiple channels to a single output, create up to 17 independent stereo headphone mixes, or control insert placements from external hardware FX, plus create mute groups, fader groups and talkback channels. Essentially, complicated patches that are normally only possible in a professional studio can be done with a few mouse clicks.
Highlights:
An effective hub for creating a professional studio around
Mix old and new hardware for the ultimate combination of preamps
Total Mix FX negates the need for a desk and patchbay
Specification
| | |
| --- | --- |
| Input Optical ADAT / SPDIF | 4 x TOSLINK, format according to Alesis specification |
|   | SPDIF compatible (IEC 60958) |
|   | Standard: 32 channels 24 bit, up to 48 kHz |
|   | Double Speed (S/MUX): 16 channels 24 bit 96 kHz |
|   | Quad Speed (S/MUX4): 8 channels 24 bit 192 kHz |
|   | Bitclock PLL ensures perfect synchronisation even in varispeed operation |
|   | Lock range: 31.5 kHz – 50 kHz |
|   | Jitter when synced to input signal: <1 ns |
| Output Optical ADAT / SPDIF | 4 x TOSLINK, format according to Alesis specification |
|   | SPDIF compatible (IEC 60958) |
|   | Standard: 32 channels 24 bit, up to 48 kHz |
|   | Double Speed (S/MUX): 16 channels 24 bit 96 kHz |
|   | Quad Speed (S/MUX4): 8 channels 24 bit 192 kHz |
| Output Analog Phones 33/34 | Dynamic range (DR): 110 dB RMS unweighted, 113 dBA |
|   | Frequency response @ 44.1 kHz, -0.5 dB: 0 Hz – 20.8 kHz |
|   | Frequency response @ 96 kHz, -0.5 dB: 0 Hz – 45 kHz |
|   | Frequency response @ 192 kHz, -1 dB: 0 Hz - 89 kHz |
|   | THD@-1dBFS:-96dB,0.0016% |
|   | THD+N @ -1 dBFS: -95 dB, 0.0017 % |
|   | Channel separation: > 100 dB |
| Output: 6.3 mm TRS jack, unbalanced | Output impedance: 2 Ohm |
|   | Output level at 0 dBFS, 1 kOhm load: +9.5 dBu |
|   | Max power @ 0.1% THD: 50 mW |
| Digital | Clocks: Internal, ADAT In, SPDIF In |
|   | Low Jitter Design: < 1 ns in PLL mode, all inputs |
|   | Internal clock: 800 ps Jitter, Random Spread Spectrum |
|   | Jitter suppression of external clocks: > 30 dB (2.4 kHz) |
|   | Effective clock jitter influence on AD and DA conversion: near zero |
|   | PLL ensures zero dropout, even at more than 100 ns jitter |
|   | Supported sample rates: 28 kHz up to 200 kHz |
| General | Power supply: USB bus power |
|   | Typical power consumption: 1.2 Watts |
|   | Current at 5 V bus power operation: 230 mA |
|   | Max power consumption: below 2 Watts |
|   | Temperature range: +5° up to +50° Celsius (41° F up to 122°F) |
|   | Relative humidity: < 75%, non condensing |
| Dimensions (WxHxD) | 128 x 22 x 55 mm (5.04" x 0.87" x 2.2") |
| Weight | 220 g (0.49 lbs) |