£159.00
Order before 3PM for Delivery Tomorrow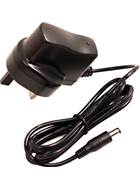 Frequently Bought Together
Hot Deals
Manufacturer's ID: RC30
What we say:
Boss have for a long time championed the use of loopers as an effective way for solo artists to self-accompany by building up layers of music. Loopers have taken off in ways nobody really expected: beatboxers play entire sets using only their RC-30; guitarists build up walls of sound layer by layer; classical musicians harmonise with themselves. There really is no prescribed way to apply a looper to your music, it's as open a device as your imagination.
Boss were really the first to own the scene with their RC20 and this update gives you everything it had and more! Each memory bank (there are 99) now has two independent tracks for you to fill with loops and A/B with each other using the physical faders on the unit's control panel. There are now a host of special effects to add to your loops like Step Phaser and Tempo Delay which will help open up and expand your sound.
The same familiar two-footswitch design is used here, making loop creation and layering a simple and hands-free affair. Even doing previous mistakes can be achieved without reaching down to press buttons. There is an inbuilt kick drum rhythm for using either as a guide or as part of your composition. The unit has separate instrument and XLR mic inputs for meeting the needs of various diverse musical approaches.
Looping is great for fun, practice, inspiration and legitimate music creation. Try this out and see where your imagination takes you.
Specification
Twin Pedal multitrack looper with true stereo I/O
Two synchronized stereo tracks with dedicated volume faders and track-select buttons
Massive internal memory with up to three hours of stereo recording time
99 onboard memory phrases for storing loops
Built-in effects for processing loops
Multiple inputs: 1/4" A and B input jacks, stereo 1/8" mini AUX input jack, XLR input jack with phantom power
USB 2.0 port allows you to connect to a PC and import/export WAV audio
Rhythm guide with real drums
What is BOSS TONE CENTRAL?
BOSS TONE CENTRAL
is a library service offering additional contents for BOSS products. By simply launching the dedicated BOSS TONE STUDIO application and connecting to the internet, you can download any of the free contents from this growing collection.
What is BOSS TONE STUDIO?
BOSS TONE STUDIO
offers automatic downloading of additional contents. This is easily available by downloading and installing the application on your PC/Mac.

We are pleased to announce a new version of Boss Tone Studio software, exclusively for RC Loopstations! This offers free loop downloads, spanning many genres, for practice and performance, which can be filed, sorted and loaded directly to the pedal. Download
here
.
Compatible models: