£469.00
Available to Order
This product is temporarily out of stock
We currently have it on order with our supplier. Place your order and we will email you when we have an estimated delivery date.
Frequently Bought Together
Manufacturer's ID: DUET-IOS
Apogee Duet is an award-winning audio interface, headphone amp and MIDI interface making it easy to create professional recordings anywhere on your iPod touch, iPhone, iPad or Mac. With Apogee's legendary digital audio conversion and world-class mic preamps, Duet is the best way to capture your music with incredible dimension and detail.
Specification

Meet Duet
The new Duet for iPad and Mac features special circuitry designed to deliver professional performance for iPad use along with low latency USB 2.0 performance for Mac. And with the addition of MIDI I/O you can connect and power a Core MID compatible keyboard/controller while using Duet with your iPad or iOS device.
First professional stereo audio interface for iPad
Direct digital connection to iPod touch, iPhone, iPad
(Apple's Lighting to 30-pin adapter required - Sold separately)
Works with GarageBand, Auria, MultiTrack; Any Core Audio compatible app on iOS
Works with GarageBand, Logic, Pro Tools, Ableton; Any Core Audio compatible app on Mac
Low latency monitoring, complete input/output control with Apogee's Maestro software (iOS & Mac)
MIDI input/output (USB-A type connector)
DC power supplies charge to iPod touch, iPhone or iPad
USB 2.0 audio with 24-bit/192kHz A/D and D/A conversion
2 Analog inputs with world-class mic preamps and selectable 48v phantom power
2 Balanced analog line outputs
1 Independent 1/4" stereo headphone output
Legendary Apogee sound quality
Designed in California - Made in the U.S.A.
Sound Quality
The Apogee Advantage
A difference you will hear.
From the mic preamps to the AD/DA converters and the clocking, Duet is best-in-class and cutting-edge Apogee technology. With components carefully selected in critical listening tests and a highly efficient circuit design, Duet was built by Apogee engineers to make a difference you can hear.
Pristine, next generation AD/DA converters
Duet's AD/DA converters are designed to deliver the purest recordings and best listening experience possible. Duet's efficient circuitry and state-of-the-art components provide a simplified signal path resulting in incredibly transparent recordings.
Smooth, detailed world-class mic preamps
Much like the AD/DA converters, Duet's mic preamps feature the latest components and offer seamless click-free transitions as the gain increases and decreases throughout the incredible range of 0-75dB. This unprecedented feature allows you to dial in the perfect level, either with the controller knob or from within software, while delivering ultra-low noise and smooth, crisp detail. Duet's mic pres are suitable for all dynamic, condenser or ribbon microphones, allowing you to capture any sound without compromise.
Soft Limit
An Apogee technology first introduced in 1992 on Apogee's AD-500 converter, Soft Limit can be heard on countless platinum selling records around the world. Once a technology exclusively reserved for Apogee's most advanced audio converters, Soft Limit is included in Duet and can be enabled in Apogee Maestro software.
This superior analog design prevents the digital clipping that causes distortion by instantaneously rounding off transient peaks before they hit the analog-to-digital converter. Soft Limit allows several more decibels of apparent level to be recorded while subtly providing an analog-like warmth to the sound.
Music creation on iPad
A revolution in personal & professional recording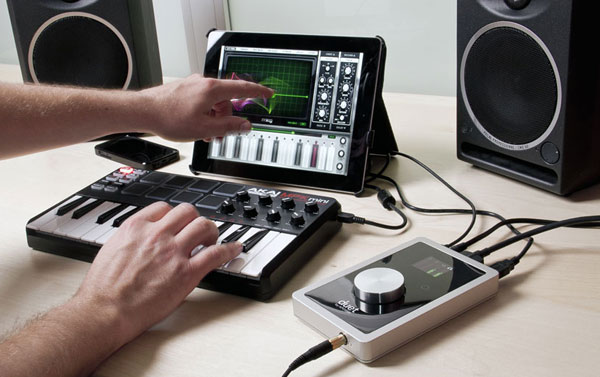 iPad puts you in touch with your creativity
Interacting with iPad to make music is like playing an instrument. In fact, some apps like Apple's GarageBand turn your iPad into a guitar or virtual instrument. Whether you are moving faders on a mixer, adjusting software parameters, or editing a waveform, iPad's multi-touch interface is a more hands on environment and superior to mouse clicks or track pad swipes.
There's a music app for everything
There are hundreds of music apps for iOS and iPad. With multi-track recording DAWs like GarageBand and Auria, synths and drum machines like Animoog and DM1, utilities and guitar effects like Audiobus and JamUp Pro, the music creation offering for iPad is vast and varied. And most apps are more affordable than their Mac based counterparts.
Setting up your studio has never been easier
iPad makes everything easier with a simplified user interface and plug and play connectivity for accessories like Apogee audio interfaces. You'll be amazed by how simple it is to set up your studio.
Share your music
Sharing functionality is built-in to most apps, making it easier then ever to move files and collaborate on different devices including iPad to Mac.
Connections and Specifications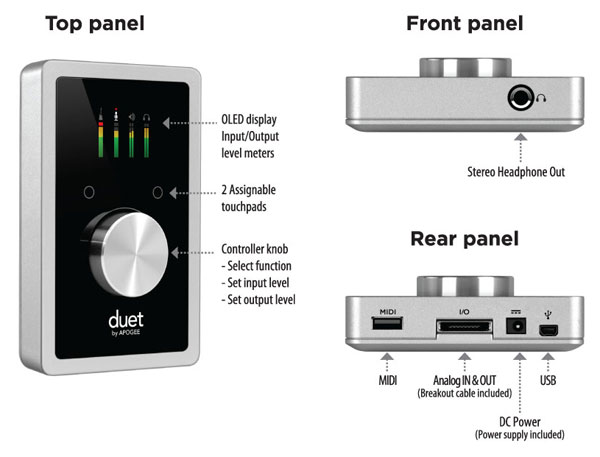 Breakout Cable
Duet's breakout cable includes 2 combination mic/instrument connectors (XLR and 1/4" built into a single connector) and 2 balanced 1/4" connectors for speakers. The elegant single cable-to-junction design allows for easy cable management and the locking connection to Duet is robust and stylish.
2 Analog Inputs
Duet's 2 combination input connectors (XLR and 1/4") allow you to connect microphones, guitars and keyboards or your favorite external mic preamps, compressors and EQs.
4 Analog Outputs
Duet includes 4 analog outputs. 2 1/4" balanced outputs for connection to speakers or outboard equipment and a separate, independently controlled 1/4" stereo headphone output.
With these 4 outputs it's possible for a DJ to monitor a separate mix in headphones while sending a house mix to the club, a live performer to send a click track to in-ear monitors while sending a backing track to front-of-house, and a recording engineer to send a headphone mix to the performer while dedicating the main outputs to studio monitors.
MIDI
Duet provides a single USB MIDI connection for your CoreMIDI compatible keyboard, synth, or DJ controller. This eliminates the need for an external MIDI interface and promotes an all-in-one music creation solution where Duet and Maestro manage all audio and MIDI. On iPad, Duet's MIDI connection allows both Duet and a keyboard or DJ controller to be connected at the same time to the iPad's single 30-pin dock port.
Breakout Box Accessory
Available as a separate accessory for Duet is a solidly built, aluminum breakout box with 2 1/4" inputs, 2 XLR inputs (for 2 simultaneous channels of input) and 2 balanced XLR outputs. The Duet breakout box features studio-quality I/O connectors and includes a 2 meter cable allowing you to extend your input and output connections away from your desktop and minimize cable clutter.
Please note the breakout box does not enable extra inputs or outputs. Whether you are using the breakout cable or breakout box Duet is capable of 2 channels of analog input (mic, line, or instrument) and 4 channels of analog output (left/right headphones and left/right monitor outputs).
Specifications
System Requirements:

Mac OS:

Computer: Intel Mac 1.5GHz or faster
Memory: 2 GB RAM minimum, 4 GB recommended
OS: 10.6.8, 10.7.5 or greater
Connection and power: Any available USB port on a Mac
USB bus powered; DC power optional
(DC power supply included)

iOS:

iOS version: 5.1.1 or greater
Connection: 30-pin dock connector
DC power required (DC power supply included)

iOS device compatibility (Lightning connector)

iPhone 7, iPhone 7 Plus, iPhone SE, iPhone 6s Plus, iPhone 6s, iPhone 6 Plus, iPhone 6, iPhone 5s, iPhone 5c, iPhone 5
iPad Pro (9.7-inch), iPad Pro (12.9-inch), iPad Air 2, iPad Air, iPad (4th generation), iPad mini 4, iPad mini 3, iPad mini 2, iPad mini, iPad (4th generation), iPod touch (6th generation), iPod touch (5th generation)
* Requires Apple's Lightning to 30-pin adapter. Sold separately.

iOS device compatibility (30-pin connector)

iPod touch (4th generation)
iPhone 4s
iPhone 4
iPad (3rd generation)
iPad 2
iPad

Compatible Software:

Mac: Any Mac Core Audio compatible application
iOS: Any iOS Core Audio compatible app. Recommended apps: GarageBand, Auria

Features:

USB 2.0 Mac and iOS audio interface
2 analog inputs:

Combination Line (balanced +20dBu max)
Mic/Instrument (+20dBu/+14dBu max)
2 Microphone preamps with up to 75dB of gain
Selectable 48v phantom power, Soft Limit and phase invert

4 analog outputs:

2 Balanced line outputs, +20 dBu maximum output level
1 Independent 1/4" stereo headphone output

MIDI connection (Core MIDI compatible; USB-A type connector)
A/D and D/A conversion at 24-bit/192kHz
Controller knob selects function, sets input and output level
Top panel high resolution OLED display
Two assignable top panel touch pads to control:

Mute speakers, headphones or all outputs
Dim speakers, headphones or all outputs
Sum to mono speakers, headphones or all outputs
Assign headphones to outputs 1-2, 3-4 or low latency mixer
Clear Meters

Apogee's Maestro (Mac & iOS) app for advanced control

Mic Pre:

EIN: 128dB (un-weighted) @ 60dB, 150Ohm input
Max input level: +20dBu
Input impedance: 3KOhm

Hi-Z:

Max input level 14 dBu
Input impedance: >2MOhm

A/D conversion:

Max input level (+4dBu ref): +20dBu
Max input level (-10dBV ref): +6dBV
Input impedance: 5KOhm
Freq resp 20 Hz -20Khz: > +/-0.2dB (@44.1Khz)
Rel. THD + N: -106dB (@ 96Khz)
Dyn. Range: 114dB (A-weighted)

D/A conversion:

Max output level (+4dBu ref): +20dBu
Max output level (-10dBV ref): +6dBV
Line output impedance: 90 Ohm
Max output level headphones: 19dBu
HPH output impedance 30 Ohm.
Freq resp 20Hz -20 Khz: > +/- 0.05dB (@44.1Khz)
Rel. THD+N : -113dB (@96Khz)
Dyn Range: 123dB (A-weighted)

In the box:

Duet
Breakout Cable with:

2 Combination Line/Mic/Instrument Inputs
2 Balanced Line Outputs

USB Cable
30-pin iOS cable
Universal Power Adapter for US, UK and EU
Quick Start Guide