TC Electronic Grand Magus Distortion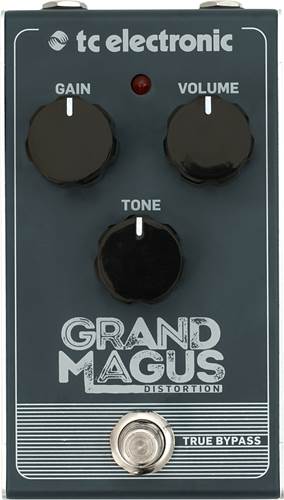 £39.00
Order before 3PM for Delivery Tomorrow
Manufacturer's ID: 000-CAU00-00010
Overflowing with organic amp-like distortion tones, natural tube compression and a tight but rich tonal character, Grand Magus Distortion IS the sound of Rock N Roll. Now put all of that in a compact metal enclosure with true bypass, and served to you at a price that'll make your endorphin-levels shoot through the roof, and you got a shiny one-way ticket to rock heaven!
Specification
Natural tube-like distortion
Wide gain range - with a rich and tight tonal character
True Bypass and Top-mounted jacks
Raw Rock Power
Nothing has shaped the musical landscape more than a roaring tube amp set to 11. From the past to the present, it remains the soul of rock! Grand Magus Distortion manages to distill the heavenly rich harmonic content and organic tube sag that defines a great fire-breathing amplifier, making it an inspiring experience to play every single time. So if your riffs need of a whole lotta love, Grand Magus Distortion is sure to deliver the goods.
50 Shades Of Gain
Grand Magus Distortion isn't just a one-trick tone pony. Its wide gain range and smooth tonal character, mixed with a super-tight low-end response, lets you go from a Hendrix crunch to beefy Blackmore distortion and all the way to super-saturated Slash-like solo tones in seconds flat. From dark vintage distortion to crisp modern drive tones, you'll find it all here in this super-versatile distortion pedal.
You Shall Pass!
We know that the battle for a place on your pedalboard is fierce, hence we've prepped Grand Magus Distortion exceptionally well for the test. A compact but ultra-roadworthy enclosure, mixed with top-mounted jacks and a true bypass design will see you and your pedalboard welcome this pedal into the tone-fold with open arms.
Main Features:
Natural tube-like distortion
Super-wide gain range 
Rich and tight tonal character
True Bypass
Top-mounted I/O
Compact and roadworthy enclosure
Highly affordable - Extreme value for the money
Runs on 9V batteries or optional 9V PSU
Power consumption: 9V DC and 12mA