Victory Amps V130 The Super Countess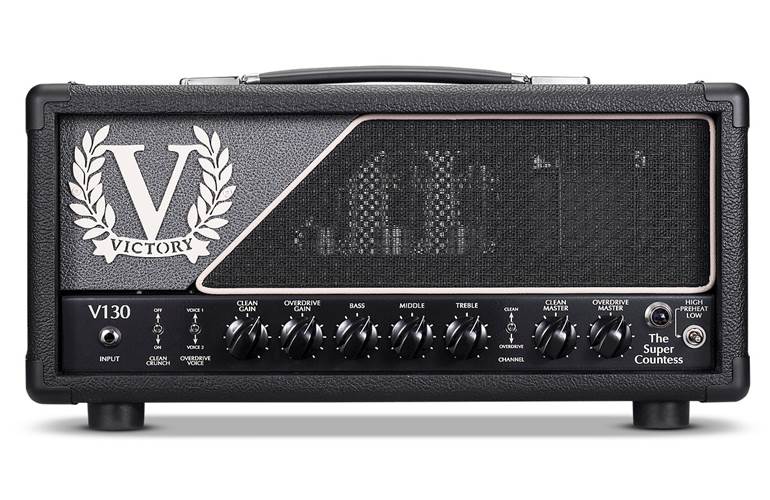 £1,499.00
Order before 1PM for Delivery Tomorrow
Frequently Bought Together
Manufacturer's ID: V130 Super Countess
100 watts and four footswitchable all-valve modes. Staggering versatility with power aplenty for any stage
Specification
Four Channel Modes​
V30 The Countess has two channels: very high headroom clean and very heavy overdrive (just as Guthrie Govan wanted it). In V130 we've added two modes in between. The Clean channel gets a 'crunch' mode for light breakup and classic overdrive that's reminiscent of sounds in V40 and The Sheriff 44. The Overdrive channel's extra mode is Voice I, derived from channel 1 of VX The Kraken with the input of Rabea Massaad. They're all footswitchable.
Masters For Each Channel
Balancing your cleaner and gained sounds is often a challenge, especially in a band context. With V130's massive headroom, the channel masters give you the control you need to make sure all your tones are heard loud and clear. People have asked why the tone controls are common to all modes: our answer is that the EQ is optimised to work across the range. Get it balanced to your chosen cab – not too much, not too little – and V130 stays poised across all modes.
Series Effects Loop
A series effects loop sits between pre and power sections for whatever pedals you want to put in there. We find that modern digital delays and reverbs can sound cleaner in the loop, while more traditional analogue delays, modualtions and so on sound great straight into the front of the amp. The only 'right' way is the one that sounds best to you.
100 Or 30 Watts
100 watts of 6L6 power section can be eye-poppingly loud if you want it. But it's not just about volume: V130's high-headroom abilities give you clarity and massive dynamic range right across the loudness spectrum. It's a feel and response that many players love. You can also switch down to 30 watts for a less bold feel, lower volume and more power-stage 'give'.
External Bias Adjustment
Take all the hassle out of replacing output valves with the V130's external bias measurement points and adjustment. All you need is a new set of power valves and a multimeter. It's fast, safe and reliable – you can find full instructions are in the amp's manual
Format: Two-channel, four-mode head
Power: 100 Watts high power / 30 watts low power
Valves: 4 x 12AX7, 4 x 6L6
Size (mm): 480(w) x 235(h) x 235(d) including handle, feet & controls
(sits perfectly on Victory V212VV cabinet)
Weight: 12.5kg / 27.5lbs
Extra features:
Clean channel with footswitchable 'clean' and 'crunch' modes
Overdrive channel with footswitchable Voice 1 and Voice 2 modes
High- and low-power modes
Series effects loop
External bias test points and adjustment
Slip cover included
Footswitches for channel/mode change included