TOURTECH TTA-T02 Clip tuner for Chromatic/Guitar/Bass/Violin/Ukulele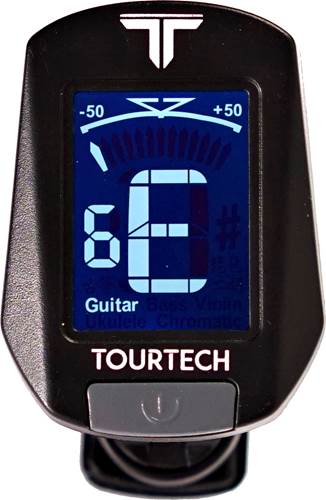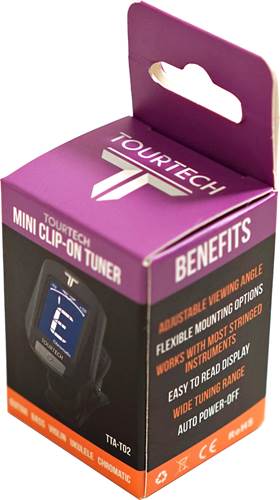 Image Gallery


£4.99
Order now for Delivery on Saturday
Delivery on Saturday
With 1 hour Delivery slot
Frequently Bought Together
Manufacturer's ID: TTA-T02
Fast, Easy, and Accurate Tuning
Specification
Adjustable Viewing Angle - Rotates 360 Degrees
Flexible Mounting Options
Bright Backlit Display - Easy to Read
Works With Most Stringed Instruments - Guitar, Bass, Violin, Ukulele and Chromatic Tuning Modes
Wide Tuning Range - A0-C8 Range with ± 1 Cent Precision, 440Hz Pitch
Auto Power Off
CR2032 Battery included
Customer reviews
Overall Rating 4.7 (

87

reviews)
Easy to use and accurate tuning.
nothing to say, I'm happy with it
This is a great tuner. It works quickly and is very effective not to mention user friendly. Having previously used an app I find this to be an excellent replacement for an excellent price
Works as its should. Good value.
Aleksandra A. - 28/8/2020
Amazingly easy product to use at a great price.
I thought the sounds of my microfreak were wonderful on my maudio speakers the sounds of my drum brute and cort guitar are fantastic
Item as described. Very fast shipping. I recommend
Does the job. A bit fiddly to set up but ok.
First time I have bought a musical instrument, hence nothing to compare it with.
Christopher P. - 25/7/2020
Easy to read and to use simple and cheap
Does what i wanted' nice size.
Works excellent every time to help provide the right tuned sound for my guitar, never fails to work an tie easy to Clip on
Does the job. Easy to use.
Easily set up and even easier to use
well made item that actually works,easy to use
It's a bit shoddy and it's made cheaply, but it was cheap, so there you go. It does what it says on the box, but sometimes it struggles to pick up the notes on guitars with thin gauges.
Not the best but ay the price I wasn't expecting it to be, only purchased as I had mislaid my better one.
Quick and easy to use. Cheap as well.
Great tuner at a great price
Neat and sleak. The tuner works perfectly well.
Small cheap and works perfectly, what more can you say or want nice one ?
Super cheap and pretty accurate. Feels solid enough for the price and clips to the guitar with confidence, without risking any damage.
Perfect. Does the job well.
This is a great product but feel if I?d spent the £5 on the better model it would be better. I find the chromatic tuner the best setting but can be difficult to get it pitch perfect
Really good value for money
Works fine for in the house. Nice and compact and good value
Easy to use tuner with a tiny price tag. Not completely sure about it`s accuracy though.
Very easy to use, nice and small
Works perfectly, great fun.
Very easy to attach and use
It's a tuner it tunes that's what I need it for
Super easy to use, even for a complete beginner.
Great wee tuner. Great value for money and works really well.
Excellent product next day delivery
Easy to use, excellent quality
Great tuner, so quick and easy to use.
Works well and I have used this on several guitars since purchase
does exactly what it supposed to do and easily
A nice "do it myself" kit as opposed to the pre-made ones consisting of things I don't need. Good value and good products.
For a ridiculously low price this tuner is accurate, easy to apply, and easy to see. It takes one of the most commonly used coin cell batteries around, so they are freely available just about anywhere, but they last for ages anyway.
fantastic wee tuner , makes tuning easy
Tunes very quickly and good for its price.
Show more reviews
You might also be interested in...
Keep up with our latest offers, news & events