Way Huge JD-WM31 Smalls Supa-Lead Overdrive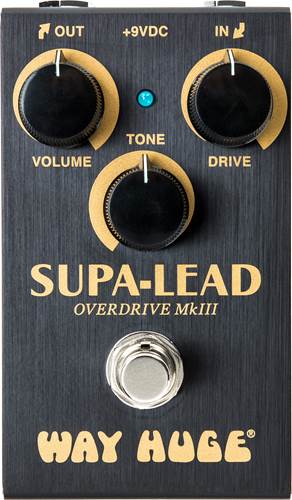 £99.00
Order now for Delivery on Monday
Includes extended exchange
Buy with confidence: Items bought 1st October 2021 to 24th December 2021 are eligible for our Extended Christmas Exchange & can be exchanged until Monday 31st January 2022. Learn More
Recommended Bundles
Manufacturer's ID: JD-WM31
What we say:
At A Glance:
Way Huge have dipped into the halcyon days of Britain in the 1960s and the tone that was created by a guy called Jim in a certain shop in Hanwell, London and have came up with The Supa-Lead!
Channelling the hallowed sound of the Marshall Super Lead, they have created a small black box of grind that has the iconic noise from countless amazing records and shows from a golden age!
Features We Love:
Iconic sound!
The classic tone of a cooking British stack is something as guitar players we can all relate to, whatever genre you play. The Way Huge Supa-Lead brings the crunch in barrel loads with focussed mids, cleans up nicely when you back of the guitar volume. Or why not put it directly into an amp that's angry already to unleash some absolute crunchy chaos!?
Easy to use interface.
No messing about with patch leads into different amp inputs or having to get your amp to an insane volume that would wipe out a small town, the Supa-Lead pops onto any board comfortably and that sound is accessible through the simple Volume, Tone and Drive setting.
The Build
Tank like build and as usual true bypass switching ensures you can jump on this little fella all day without fear of it breaking unlike if you jumped on a vintage valve head!
Highlights:
Iconic vintage drive capable of driving an amp into oblivion
No nonsense controls for ease of use
Rock solid build in a smaller pearl case with true bypass
What's Included:
Way Huge JD-WM31 Smalls Supa-Lead Overdrive
Specification
The Supa-Lead Overdrive is a dynamic and touch sensitive overdrive that cleans up immediately as you lower the guitar volume control.
Designed to get amp-like crunch tones from a clean or slightly dirty amp, it produces a focused midrange grind with an abundance of output volume to kick your amp over the edge.