Line 6 Helix HX Stomp XL Multi-Effects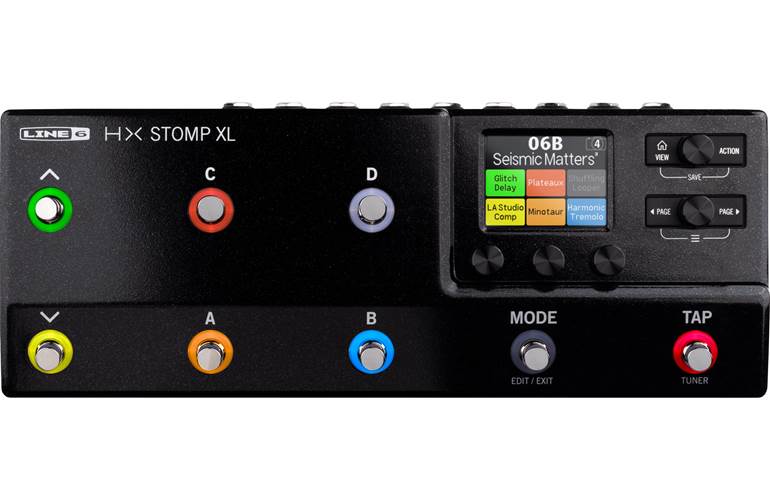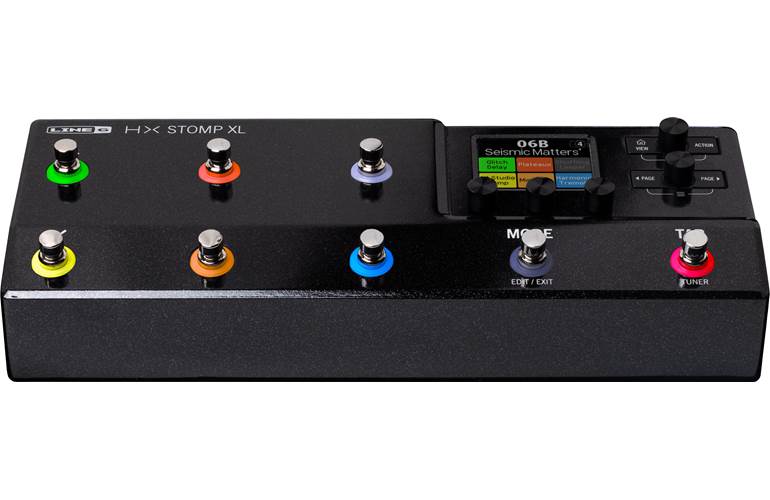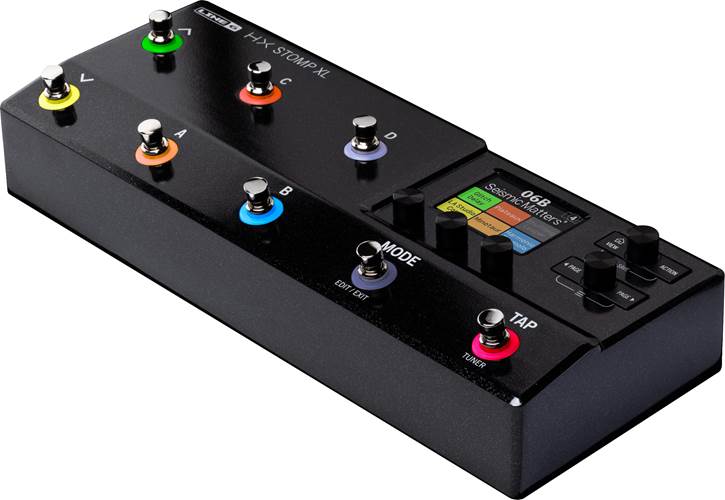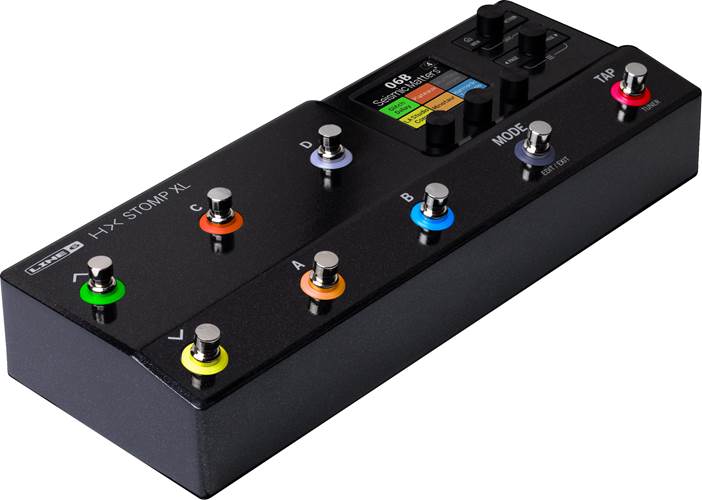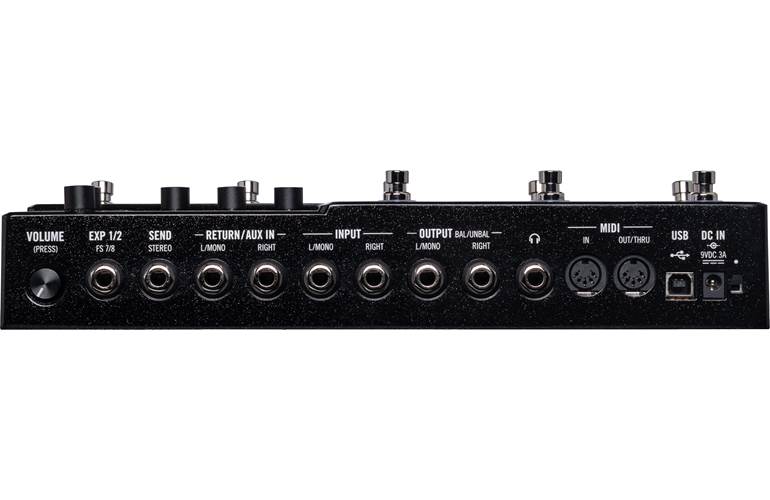 £599.00
Order now for FREE Delivery on Wednesday
3-Year Warranty Included
We're the 1st, and only, UK guitar retailer to offer a 3-year warranty as standard. Buy with confidence today. Learn More
Make 3 payments of £199.67

No fees.
Learn more
Manufacturer's ID: GHXSTOMPXL
What we say:
At A Glance:
The Helix HX Stomp XL by Line 6 takes your full guitar set up and distills it down into a compact stage ready pedal.
The pedal uses Line 6's award-winning HXTM modelling technology to accurately recreate the finest amps, cabinets and effects and runs them on the same powerful SHARC® DSP chip used in the flagship Helix models. The HX Stomp XL is controlled via 8 capacitive-touch footswitches, while in-depth patch editing can be executed using the 5 encoders and colour display.
We've found the HX Stomp XL to be a concise and precise tool that always sounds great and believe that it's set to be an essential part of your guitar rig
Features We Love:
HXTM Modeling
The Line 6 HXTM technology has been used to precisely recreate classic amps, cabs and pedals down to each physical component. There are hundreds of models to choose from that each sound just as good as the real thing. Whatever the style of music you're playing, the HX Stomp XL has what you need.
Capacitive-Touch with Easy Editing
The pedal features 8 stompbox style footswitches, each with an LED surround for colour coding. Each footswitch also uses Capacitive-Touch technology to make patch editing even more fluid. Simply touch your finger on the footswitch of the tone you wish to select and the dedicated controls for this parameter will be brought up on the screen for fast editing.
Processing Power
Under the hood is the SHARC® DSP chip that's behind the pedals powerful sound, up to 8 simulations can be run simultaneously, which can even be run in stereo for unique effect. For example, you could assign a clean tone on the left side and overdriven on the right, or the same with effects, the choice is yours. The pedal may be in a compact form, but its potential is massive!
Highlights:
Stompbox style design that feels familiar and reliable
Professional level sounds that have you covered on stage and in the studio
Up to 120 seconds of looper recording
True bypass allows for clean integration into your rig
Easy editing gives you full control over your signal chain
What's Included:
Line 6 Helix HX Stomp XL Multi-Effects
Power Supply
Specification
| | |
| --- | --- |
| Amp Models | 86 |
| Effect Models | 226 |
| Presets | 128 (32 banks x 4 presets) |
| Simultanious Processing Blocks | Up to 8 (DSP permitting) |
| Signal Flow Options | Up to 2 stereo, serial or parallel |
| Snapshots | 4 per preset |
| Impulse Responses (IRs) | 128x 1024 or 2048-point |
| Global EQ Bands | 3 fully parametric + variable low & high cut |
| Main Display (in/cm) | 2.4/6 (Colour) |
| Footswitches | 8 capacitive touch w/ RGB rings + 2x external 3 |
| Footswitch Modes | Stomp, Preset, Snapshot, Looper, Pedal Edit |
| Footswitch Types | Latching, Momentary |
| Looper Types | 6 Switch, 1 Switch, Shuffling |
| Looper Memory (Full Speed) | 60 sec mono/30 sec stereo |
| Looper Memory (1/2 Speed) | 120 sec mono/60 sec stereo |
| 1/4" Inputs | Stereo L/R, Return L/R |
| 1/4" Outputs | Main L/R, Stereo Send |
| Effect Loop(s) | 4x Send, 4x Return, stereo-linkable 2x Send, 2x Return, stereo-linkable |
| Headphones | 1/4" stereo |
| MIDI | In, Out/Thru + USB In, Out/Thru + USB In, Out/Thru |
| USB Audio Interface | 8-In, 8-Out With Re-Amping 8-in, 6-out w/ re-amping |
| Master Remote Control | Command Center Command Center |
| Variable Impedance Circuitry | Guitar In Stereo L/R In |
| Chassis | Cast aluminum |
| 1/4" Exp Pedal Inputs | EXP 1/2 (TRS; shared w/ Footswitch 7/8) |
| Power | DC-3 |
| Product Height (in/mm) | 2.7/68 |
| Product Width (in/mm) | 12.4/316 |
| Product Depth (in/mm) | 4.7/120 |
| Product Weight (lb/kg) | 3.3/1.5 |