Dunlop Variety Pack Light/Medium 12 Player Pack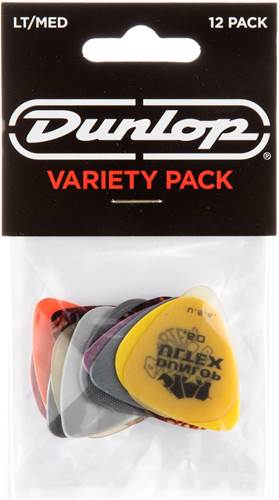 £4.99
Order before 3PM for Delivery Tomorrow
Delivery Tomorrow
With 1 hour Delivery slot
---
Click & Collect
Live Stock levels from all our stores.
Store
Availability
Edinburgh
In Stock, Collect Today
Glasgow
In Stock, Collect Today
Newcastle
In Stock, Collect Today
Birmingham
In Stock, Collect Today
Epsom
In Stock, Collect Today
Camden
In Stock, Collect Today
Frequently Bought Together
Manufacturer's ID: PVP101-PICK
Dunlop Plectrums PVP101 Variety Pack Light/Medium 12/Play Pack Picks.
Specification
A variety of fine quality picks in various shapes and sizes from across the Jim Dunlop pick range.

Variety pack includes: Tortex .60mm, Tortex .73mm, Ultex .60mm, Ultex Sharp .73mm, Celluloid Shell (Thin), Celluloid Shell (Medium), Nylon Standard .60mm, Nylon Standard .73mm, Max-Grip .60mm, Max-Grip .73mm, Gator Grip .58mm, and Gator Grip .71mm.
Customer reviews
Overall Rating 4.8 (

52

reviews)
Good value for money and range
It does what it says on the pack
Variety is good apparently. This gives you that.
would like a big bag of purely light weight picks
Great variety pack to help you choose a weight and textures that?s right for you.
Good service and product appeared on time
Good assortment...very good price
Alexandros A. - 14/7/2019
My old Dunlop picks were so worn I couldn't see the gauge of my favourites. This mixed pack allowed me to find my preferred shape, size and gauge for different playing styles so I can now buy separate packs of just those ones and discard the rest. A good idea for beginners to experiment with.
Good mix, plenty if choice.
excellent value and quality
Great value, exactly as advertised!
I didn?t realise that there are different sized plecs, so sales guy gave me this pack for my son (I play piano not guitar)
Good variety of plectrums that look nice and play well.
Excellent great value for money
Pleased with purchase, good value for money. Plectrums are only used for acoustic guitars. Pack means not hunting for one as they tend to disappear..?
It?s a plectrum, what can I say?
Good variety and quality, nice range of thicknesses
Show more reviews
You might also be interested in...
Keep up with our latest offers, news & events