Shure GLXD24UK/B87A Digital Beta 87A Vocal System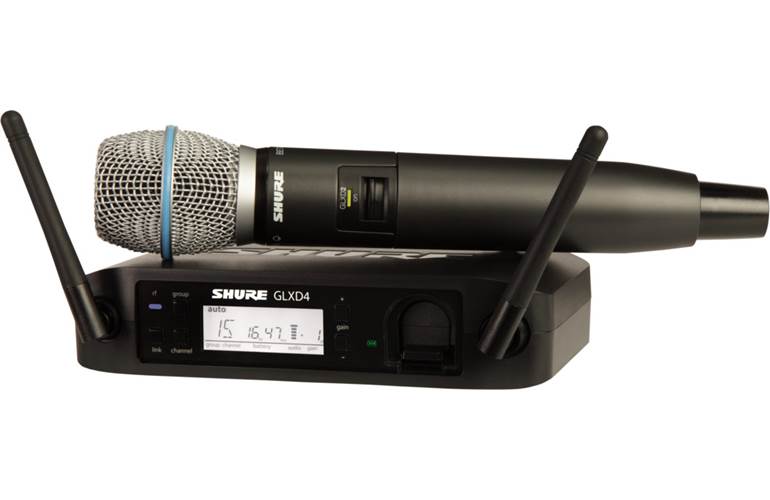 £569.00
Order now for FREE Delivery on Thursday
Make 3 payments of £189.67

No fees.
Learn more
Frequently Bought Together
Manufacturer's ID: GLXD24UK/B87A-Z2
Precision-engineered condenser vocal microphone with digital transmission.
Specification
The precision-engineered Beta 87A condenser vocal microphone has a smooth, tailored response for warm, accurate sound. Its supercardioid polar pattern provides maximum isolation from nearby vocalists or instruments. It combines automatic frequency management with true digital diversity for a rock-solid wireless signal with exceptional digital audio clarity.
General Specifications

Tuning Bandwidth: 2400–2483.5 MHz
Working Range: 60 m (200 ft) typical, Note: Actual range depends on RF signal absorption, reflection and interference.
Transmit Mode: Frequency Hopping
Audio Frequency Response: 20 Hz – 20 kHz, Note: Dependent on microphone type
Dynamic Range: 120 dB, A-weighted
RF Sensitivity: -88 dBm, typical
Total Harmonic Distortion: 0.2%, typical
RF Output Power: 10 mW E.I.R.P. max
Operating Temperature Range: -18°C (0°F) to 57°C (135°F), Note: Battery characteristics may limit this range.
Storage Temperature Range: -29°C (-20°F) to 74°C (165°F)
Polarity: Positive pressure on microphone diaphragm (or positive voltage applied to tip of WA302 phone plug) produces positive voltage on pin 2 (with respect to pin 3 of low-impedance output) and the tip of the high impedance 1/4-inch output.
Battery Life: Up to 16 hours

GLXD4

Dimensions: 40 x 183 x 117 mm, H x W x D
Weight: 286 g, without batteries
Housing: Molded Plastic
Power Requirements: 14 to 18 V DC (Tip positive with respect to ring), 550 mA
Spurious Rejection: >35 dB, typical
Gain Adjustment Range: -20 to 40 dB in 1 dB steps
Phantom Power Protection: Yes
Configuration
XLR Output: Impedance balanced
6.35 mm (1/4") output: Impedance balanced
Impedance
XLR Output 100 O
6.35 mm (1/4") output: 100 O, (50 O, Unbalanced)
Maximum Audio Output Level
XLR connector (into 600 O load): +1 dBV
6.35 mm (1/4") connector (into 3 kO load): +8.5 dBV
Receiver Antenna Input
Impedance: 50 O
Antenna Type: ½ Wave Sleeve Dipole, non-removable
Maximum Input Level: -20 dBm

GLXD2

Dimensions
Weight: 267 g, without batteries
Housing: Molded Plastic
Power Requirements: 3.7 V Rechargeable Li-Ion
RF Output Power: 10 mW E.I.R.P. max
Maximum Input Level: 146 dB SPL