Mesa Boogie Lonestar 212 Combo Black/Black Grille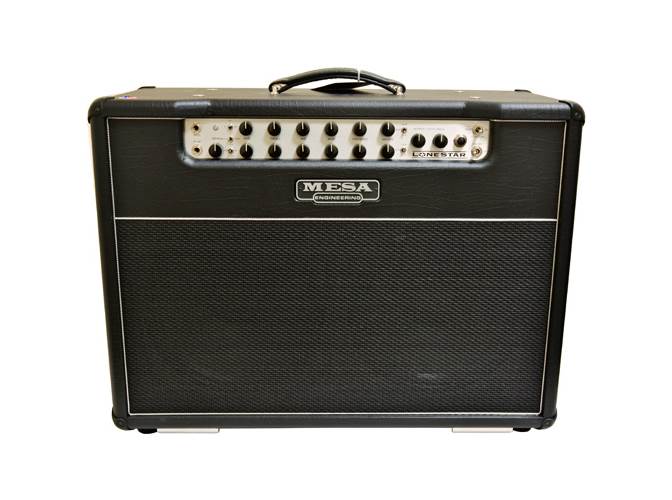 RRP
£2,983.00
Save £333.00
£2,650.00
Manufacturer's ID: Lonestar 212
Tone! Big as Texas! Wide as the Rio Grande. Clear as the bell that rang over the Alamo. Unstoppable as a rising Texas flood. Yeah, that's some bold proclamation. But the Lone Star® backs it up.
Specification
Just as our Mark I sprang from the Black Face era and took classic guitar tones to a new level, now the Lone Star take the next step forward, crystallizing that perfect sound that's haunted you for years.
As guitar players, we live for those elusive moments of divine musical inspiration, where you become one with the interaction between your guitar and amplifier and it magically transcends you and your playing to a level well beyond your normal plane. You know the ones…. Those moments of unbelievable gratification where your tone is so amazingly right and the feel of your strings are so perfectly connected to your fingers that you become an unbridled channel of soulful musical expression. These are the moments that truly motivate us as players and keep us coming back to the art of playing guitar! It is in this exact spirit that we have created the Lone Star!
The Lone Star is an amplifier of such extravagant tone and seductive feel that we can almost guarantee that you will experience divine inspiration and effortless expression every time you plug into it! It is that amazing! From its innovative custom circuitry, down to its new classic retro/vintage looks, the Lone Star was designed to be the new defining vintage/boutique amplifier from the original boutique amp builder!
From its conception, the Lone Star was targeted directly at exceeding players' expectations of both tone AND versatilityfrom a vintage and/or modern boutique amp, without accepting compromise. Tonally it must be experienced to believe, as there are not enough adjectives and expletives to remotely do it justice – Simply put, the Lone Star is a sonic flood of Texas-sized proportions! The most ridiculously amazing cleans, classic breakup and high gain tones we have ever offered in a single amplifier! It has become an instant favorite among every player in our shop and we practically had to hold a lotto within our company to qualify who got the first one! It is "stranded island" good and if you only try one amplifer this year, make sure it's the Lone Star – But be forewarned, prepare yourself for a new vice because it's not just an amp – IT'S AN ADDICTION! The Lone Star will change the standard by which you measure all other amps!
Functionally, the Lone Star incorporates an impressive list of unique and extremely powerful features that allow you to tailor the character and feel of the amplifier to perfectly meet your musical needs. For a closer look at the Lone Star's exceptional versatility and features list, let's dig into the front and rear panel controls.
Welcome to Lone Star Ranch 
The Lone Star's front and rear control panels are extremely player friendly and are in themselves an expressive art form through the beauty, logic and simplicity of their design. Two-channel simplicity delivers the goods...with surpassing versatility.
Dial Up Texas Gold
Channel 1 epitomizes the best of Black Face: a punchy, shimmering twang that gives way to furry smoothness. It's based on a traditional vintage/boutique gain structure to produce angelic and warm clean sounds in its low to medium gain ranges. Like most great tube amps, this channel can be driven to clip and produces incredible solo possibilities for blues or roots chording styles.
Channel 2 has a split personality. At the flick of a switch, it can clone the clean magic of Channel 1 (with an added touch of blues-roots gain) or kick in an additonal high-gain amplifier with its own dedicated control. With stunning performance inspired by the pivotal Mark I, the interaction of three cascading gain controls unlocks the historic vault of ground-breaking lead sounds.
Switching in the Drive control adds 2 more triode stages and an additional gain control to meter in the exact blend of smooth singing saturation. The bipolar nature of Channel 2 allows the Lone Star to roam effortlessly through both vintage and modern territory with full channel switching accuracy and an emphasis on soul and simplicity. It also provides an amazing amount of added control and flexibility to further tailor the sonic character and feel of the Lone Star to best match the musical style you are playing. There are many cool combinations, imagine having two low gain channels, one for sparkling clean and the other driven into an old school breakup, or one for low gain clean and the other for high gain singing sustain – Very Cool!
This Lone Star features Multi-Watt™ withDuo-Class™ Channel Assignable Power that lets you assign 10 watts of Pure Class A Single-Ended clippability or 50 and 100 watt Class AB Push-Pull power sections per channel. Then choose the optimum Rectifier. Tube Rectifier Tracking™ offers you a choice of the elasticity of vacuum tubes or the tight-tracking authortiy of silicon diodes. These options enable you to footswitch between high-power headroom and small amp expression.