Fender 68 Custom Twin Reverb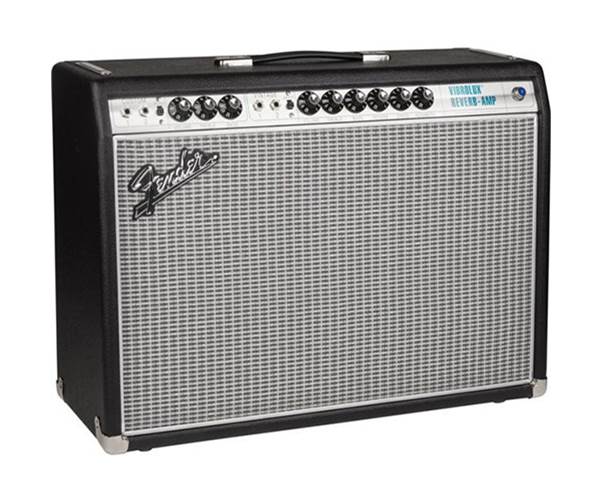 RRP
£1,599.00
Save £100.00
£1,499.00
Available to Order
Stock expected 26th November 2021
Includes extended exchange
Buy with confidence: Items bought 1st October 2021 to 24th December 2021 are eligible for our Extended Christmas Exchange & can be exchanged until Monday 31st January 2022. Learn More
Manufacturer's ID: 2273004000
What we say:
The preeminent classic Fender tube combo. The Fender Twin is an ubiquitous as the Marshall stack, recognised the world over as a stalwart of the stage. The Twin is deafeningly loud -anyone who's stood in front one whilst playing a Telecaster on it's bridge pickup wont forget it in a while - but that loudness and headroom is why it has earned its place in musical history. Clean guitar sounds will always be compared to a good single coil guitar played a Fender Twin.
This lovely USA-made amp is a reissue of the 'silverface' '68 era Twin Reverb. Blasting out 85 watts of clean tube power, this Twin really defines that outlaw sound with tons of twang, beauty and body.
Two 12 inch Celestion G12v-70 speakers supply the large and three-dimensional sound that both fits in a mix and also dominates with authority.
One of the great things about the '68 Twin is the addition of the 'Bassman' channel: that is, the second channel has the same tone stack as a vintage Bassman for a distinctly different tone that is as legendary as the Twin's. Channel one is pure Twin all the way!
Less obviously for a Twin, you can get really good crunch tones, too. And at sensible volumes! This is down to Fender reducing the 'negative feedback' and letting the amp break up a little quicker. You can still have the ridiculous clean headroom too.
Both channels share the tremolo and spring reverb so the classic lushness will be available whichever road you decide to go down, channel-wise.
This '68 Twin Reverb gives you massive amounts of volume with two of the greatest clean sounds ever gotten from any amp as well as a crunch tone that is not an afterthought. With this and a few choice stompers, you will be prepared for any gig at any venue with some of the best sounds ever.
Specification
Electronics
 
Controls
Custom Channel

:  Bright Switch, Volume, Treble, Middle, Bass. 

Vintage Channel

:  Bright Switch, Volume, Treble, Middle, Bass, Reverb, Speed, Intensity

Wattage

85 Watts into 4 Ohms

Inputs

Four - (1/4", Two Custom and Two Vintage)

Speaker Jack

Two 1/4" Parallel

Channels

Two - (Custom and Vintage)

Hardware
 
Pilot Light Jewel

Blue Jewel

Handle

Molded Plastic Strap with Nickel-Plated Caps

Tilt Back Legs

Includes Tilt-Back Legs

Front Panel

Silverface Style

Grill Cover

Black Textured Vinyl Covering with Silver-Turquoise Grille Cloth

Dimensions

10.375" (21.9 cm) x 26.15" (66.4 cm) x 19.87" (50.46 cm) Weight: 64lbs (29kg)

Effects

Reverb, Vibrato

Speakers
 
Speaker

Two - 12" Celestion G12V-70

Impendance

4 ohms

Tubes
 
Pre Amp Tubes

Groove Tubes - (4 x 12AX7), (2 X 12AT7)

Power Tubes

Groove Tubes - (4 x 6L6)