Korg ClipHit Clip Drum Kit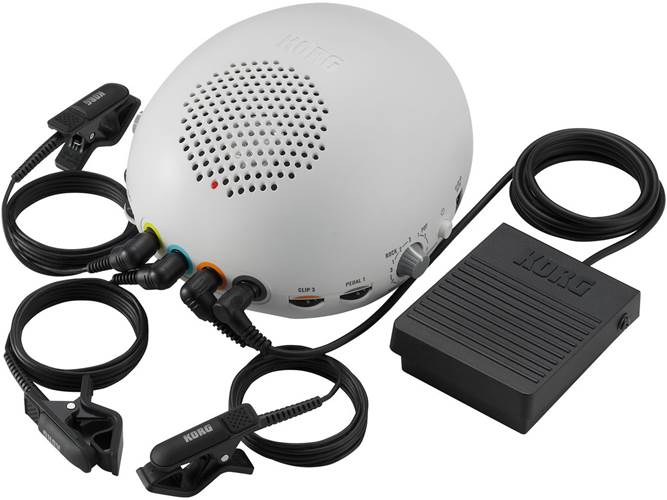 £99.00
Order before 3PM for Delivery Tomorrow
3-Year Warranty Included
We're the 1st, and only, UK guitar retailer to offer a 3-year warranty as standard. Buy with confidence today. Learn More
Manufacturer's ID: CH-01
What we say:
If you're one of those people who can't help but tap out rhythms on any surface, this is the answer to your prayers. The CLIPHIT is a groundbreaking piece of equipment designed by Korg to allow the user to set up a drum kit and play it anywhere that the mood takes them. The clips can be attached to pretty much anything and each have a built-in sensor which is designed to pick up impact on whatever they're clipped on to. A kick pedal is also included for a more realistic drum kit feel and an additional foot pedal can be added to facilitate more control over the hi-hat. These then feed back to the speaker on the main unit, which also has a headphones jack for private practice. With eleven kits to choose from, CLIPHIT is a unique way for you to practice anywhere while hearing realistic drum sounds. It's a really interesting concept and Korg have spent time ensuring that these are as easy as possible to use. It really is a case of pulling them out anywhere, hooking them up and you've got yourself the most portable drum kit on the planet! A great option for beginners or for more experienced drummers who like to practice and play on the move.
Specification
The CLIPHIT is a new electric drum kit that's ideal for drum practice at home or for casual playing. Attach the clips with their internal sensor to a magazine, desk, or almost any surface, transforming it into a snare, hi-hat, or cymbal. You can also attach these clips to practice pads, using them to play drums or any of the programmed EFX sounds that include dog sounds, cat sounds, hand clapping. CLIPHIT will breathe new life into your drum practice, and is a great way to enhance your experience and creativity.
A high-tech drum kit with three clips that trigger onboard drum samples
Includes one footswitch to control kick sounds, with the ability to add one more for control of hi hat open/close
Eleven kits are provided including hand percussion and sound effects kits
2W output, 3-inch speaker, and bass-reflex design deliver great-sounding tone
Perform sounds by striking the CLIPHIT itself with your hand
AUX IN jack lets you connect external sound sources such as an MP3 player to jam along
Headphone jack for private practice
Compact space-saving design
Two-way power supply allows for battery operation
A high-tech drum kit with three clips that trigger onboard drum samples
CLIPHIT is an electronic drum kit composed of three clips with internal sensors, as well as a foot switch. You can attach the clips to almost any surface such as a practice pad, magazine, or desk, and play drums in real time. The volume changes as you vary the force of your strike, and can also be adjusted independently for each clip and pedal. There's a 3-inch speaker with 2W output and a bass-reflex design, delivering great-sounding tone for your drum performance, or connect headphones or an external speaker system for an even bigger sound.
Eleven kits are provided covering a variety of styles
Eleven different combinations are provided, including snare, hi-hat, toms, cymbals, bass drums. If you add an optional pedal switch, you'll be able to simultaneously play a total of five different sounds, three with the clips and two with the pedal, expanding your drum performance to hi-hat open/close or double bass. EFX programmed sounds such as conga, tambourine, hand-claps, and even dog barks are just some of the wide variety of sounds included in the CLIPHIT.
You can play drums by striking the CLIPHIT itself with your hands
In addition to using the clips and the pedal, you can also strike the CLIPHIT itself with your hand to play the snare or other sounds that are assigned to "CLIP 2." The CLIPHIT is designed with plenty of flexibility: you can use this capability in conjunction with "CLIP 1" and "CLIP 3," when using the main unit and the pedal switch, or when simply using the CLIPHIT by itself.
*If a clip is connected to "CLIP 2," striking the CLIPHIT itself does not produce sound.
Compact design, Battery operation, and Convenience
Another exclusive feature of the unique product is its design. It's compact and easily storable, but also looks good enough to leave on display in offices, studios and living spaces. Four AA batteries allow up to six hours of operation, allowing you to enjoy playing in a wide range of situations. There's also an AUX input so you can connect an MP3 player and jam along. Your imagination is sure to invent endless ways to use the CLIPHIT, dramatically expanding your drum performance possibilities while having fun.