BOSS ES-8 Effect Switching System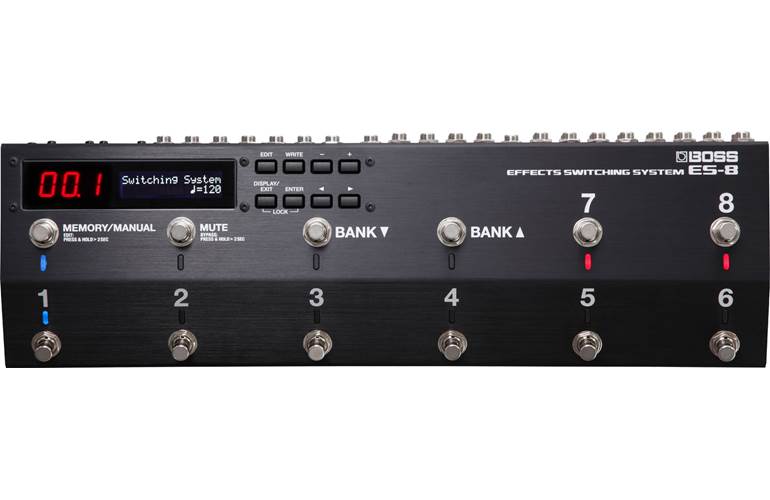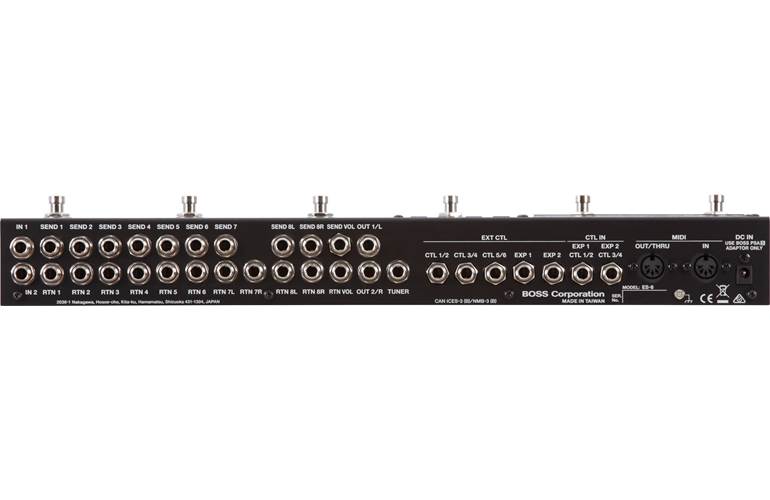 ---
£569.00
Order before 3PM for FREE Delivery Tomorrow
Make 3 payments of £189.67

No fees.
Learn more
Frequently Bought Together
Recommended Bundles
Manufacturer's ID: ES-8
What we say:
The BOSS ES concept is to completely change how you use your favourite stomp boxes. Instead of tap-dancing to turn on and off multiple pedals in a tight timeframe during a song, you can simply hit a footswitch on the ES-8 and it'll automatically switch in and out your desired combination based on 8 loops pre-programmable by you to suit your needs. With 200 patch memories (which can all remember individual delay times) at your feet, you can have unprecedented flexibility with your stomp boxes.
Built to the same road-proof levels of strength and solidness as BOSS's compact pedals, the ES-8 contains high quality switches and individual buffers for each that can be selected (with variable levels) for even more flexibility. The circuitry is designed specially to prevent any loss to your tone too and there's also a large display screen with plenty of space for lots of info that can be seen clearly from a darkened stage. This innovative invention really helps to make sense of your pedals and streamline your performance to be more efficient and fun.
Specification
Not just another utility tool, the ES-8 kicks down the door to unlimited possibilities in the universe of musical expression. From this day on, the use of stomp boxes will never be the same. Using BOSS' advanced technology the ES-8 is designed for spontaneity on the stage. So, go ahead. Jump out of the box. Take the plunge into a whole new world of musical expression. Celebrate the birth of the cool at BOSS with the hot new ES-8 Effects Switching System. It's a total game changer that will take you to places no musician has ever gone before.
The ES-8 scratches all the itchy points of today's discriminating artists which no other switching system has yet been able to reach.
Programmable switching system with eight loops (plus an additional loop)
Analog circuit design to protect your pure tone
Unprecedented routing flexibility with the ability to change the routing order and create parallel effect chains
Onboard memory for storing external control parameters such as delay time for each patch
Buffers can be turned on/off individually each for input and output and stored in each patch; level variability for output buffer
Highly-reliable footswitches with switch-noise mute capability
LCD and 7-segment LED display show detailed information at a glance
800 patch memories provide unmatched capability for touring musicians
Completely customizable pedal function assignments
Scratching the itch of serious working musicians with detailed attention to often-requested features and functions
Specifications
Loops

8 (Effect loop)
1 (Volume loop)

Patch Memory
Pedals

Number switch x 8
BANK switch x 2
MEMORY/MANUAL switch
MUTE switch

Nominal Input Level

IN 1, 2: -10 dBu
RTN 1--6, RTN 7L, RTN 7R, RTN 8L, RTN 8R, RTN VOL: -10 dBu

Input Impedance
Nominal Output Level

SEND 1--7, SEND 8L, SEND 8R, SEND VOL, OUT 1/L, OUT 2/R, TUNER: -10 dBu

Output Impedance

OUT 1/L, OUT 2/R, TUNER: 1 k ohms or greater

Recommended Load Impedance
Display

7 segments, 3 characters (LED)
16 characters, 2 lines (backlit LCD)

Connectors

IN 1, 2 jacks: 1/4-inch phone type
SEND 1--7, SEND 8L, SEND 8R, SEND VOL jacks: 1/4-inch phone type
RTN 1--6, RTN 7L, RTN 7R, RTN 8L, RTN 8R, RTN VOL jacks: 1/4-inch phone type
OUT 1/L, OUT 2/R jacks: 1/4-inch phone type
TUNER jack: 1/4-inch phone type
EXT CTL CTL 1/2, CTL 3/4, CTL 5/6 jacks: 1/4-inch TRS phone type
EXT CTL EXP 1, EXP 2 jacks: 1/4-inch TRS phone type
CTL IN EXP 1 CTL 1/2, EXP 2 CTL 3/4 jacks: 1/4-inch TRS phone type
MIDI connectors (IN, OUT/THRU)
DC IN jack

Power Supply
Current Draw
Accessories

AC adaptor
Owner's manual
Leaflet "USING THE UNIT SAFELY"
Rubber foot x 5
Screw x 2

Options (sold separately)

Footswitch: FS-5U, FS-6, FS-7
Expression pedal: BOSS FV-500L, FV-500H, Roland EV-5

Size and Weight
Width
Depth
Height
Weight
* 0 dBu = 0.775 Vrms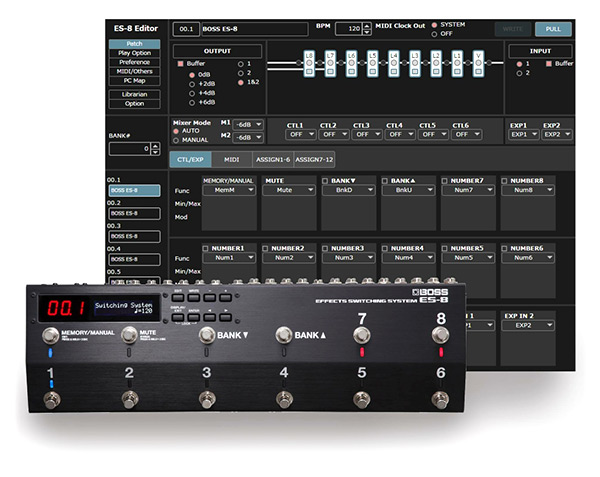 ES-8 Editor Software & System Update
Dedicated editor software and system update now available for download. Find out more here.