Roland JC-40 Jazz Chorus Amp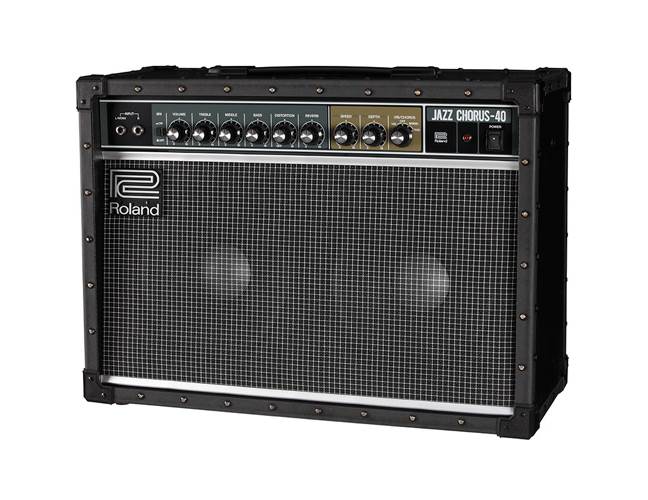 £629.00
Order now for FREE Delivery on Thursday
Manufacturer's ID: JC-40
What we say:
A downsized Jazz Chorus that retains that special, distinctive sound and unique look? Yes please!
The famously clean tones of the Roland JC-120 Jazz Chorus have enjoyed a wide and diverse legacy since the amp first appeared in 1975. Used by players like Andy Summers and Adrian Belew, it's high-headroom solid state sound was also the go-to clean amp for Messrs Hetfield and Hammett of Metallica! It's distinctive tone has been a mainstay in multiple genres ever since.
The JC-120 is, to be fair, quite a large and heavy combo. For gigging it's absolutely perfect but some family members do object to having such a large, industrial-looking box sitting in their living room. Roland's staff must have had these very conversations with their nearest and dearest because now they have given us this small (but still up for a gig) 40 watt stereo JC-40 combo. With it's two 10 inch speakers it's hardly tiny but the dimensions of this robust box are a lot more manageable.
The JC-40 has the same onboard effects as the JC-120: Chorus, vibrato, reverb and distortion. The famous Jazz Chorus sound remains intact and the amp has two inputs for chaining up processors or modellers in stereo. This amp is loud enough for smaller gigs but really works as a recording/rehearsing and home-playing amplifier with great tone.
Specification
• Legendary Roland "JC clean" tone in a small, gig-ready combo amp
• Stereo 40-watt amp with two 10-inch speakers
• Stereo input enables players to get true stereo sound with modelers and stereo effects pedals
• Signature Dimensional Space Chorus effect for expansive stereo sound
• Built-in vibrato, distortion, and reverb effects, newly evolved for modern styles
• Footswitch jacks for turning onboard effects on/off while performing
• Stereo effects loop for connecting external effects
JC Clean: The Benchmark in Clean Guitar Tone
For 40 years, players around the world have revered the iconic clean voice and huge stereo sound of the
JC-120 Jazz Chorus amplifier. With the JC-40, you can now enjoy this genuine, industry-standard tone in a scaled-down amp with innovative modern refinements. Two independent power amps and custom-designed 10-inch speakers deliver punchy stereo sound that won't get buried in the band, while durable, road-tough construction ensures years of reliable operation on stage and in the studio.
Famous Stereo Chorus and Other Effects
Beyond its stellar clean tone, the JC-40 includes onboard effects, all newly refreshed for enhanced performance. The trademark Dimensional Space Chorus stereo effect fills the stage with immersive 3D sound, and now offers selectable fixed or manual modes for increased tonal range. Renewed vibrato and reverb effects are on hand, and both operate in stereo for rich, deep performance. There's built-in distortion as well, updated with a smooth, satisfying tone that's great for all types of music.     
Stereo Input for Multi-Effects, Modelers, and Synths
With its front-panel stereo input, the JC-40 allows players who use stereo effects devices to achieve wide, inspiring sound without having to carry around two separate amps. The amp's rich clean tone lets you get the most out of external stereo pedals like delays, reverbs, and various modulation effects. It's also perfectly suited for advanced gear that employs amp modeling, multi-effects, and/or synth capabilities, such as the GT-100, GP-10, and ME-80 from BOSS and GR-55 guitar synth from Roland.
Ideal for Pedal-Based Players
If you create your sound with stompbox pedals, there's no better platform than the classic JC clean amp. The rich, neutral sound won't color your basic guitar tone, perfect for hearing exactly what your pedals put out.
Get Connected
The JC-40's rear panel is filled with connectivity options. There's an effects loop for patching in mono or stereo effects, and you even have your choice of serial or parallel operation. Line Out jacks give you a convenient mono or stereo feed to a mixing board or recorder, while the headphones jack is great for quiet practicing with your setup late at night or on the road. There's also support for optional footswitches, allowing you to easily turn the JC-40's chorus/vibrato, reverb, and distortion effects on/off while performing.