Korg Microkey 2 37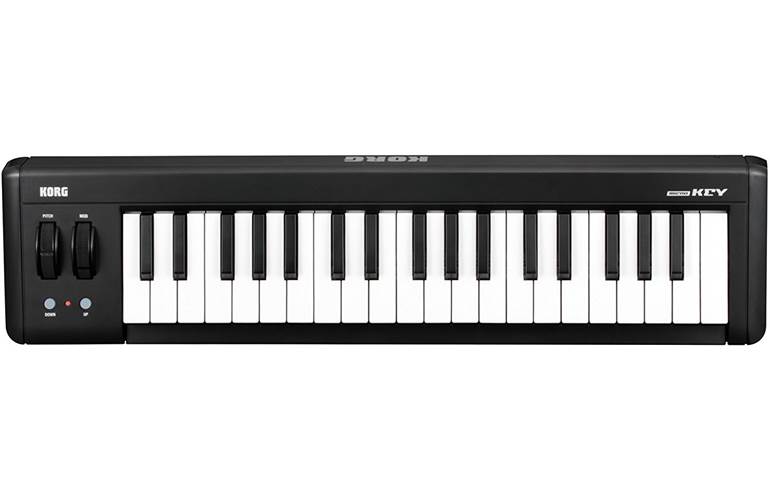 £69.00
Available to Order
Place your order today and we will email you when we have an estimated delivery date.
3-Year Warranty Included
We're the 1st, and only, UK guitar retailer to offer a 3-year warranty as standard. Buy with confidence today. Learn More
Manufacturer's ID: Microkey 2 37
What we say:
At A Glance:
The Microkey 2 37 from Korg is a fantastic portable MIDI Controller. It features 37 mini keys, pitch and mod wheels, USB connections and octave shift buttons. The Microkey 2 37 works with Mac, Windows and iOS, and the small form factor makes it easy to throw in a backpack and take anywhere with you.
Features We Love:
Keyboard
Korg's Natural Touch Mini Keyboard ensures reliable and accurate playing, while maintaining a compact size.
Compatibility
The Microkey 2 37 is compatible with Mac, Windows and iOS devices. All you need to do is just plug it in via USB and play!
Compact Design
Thanks to the compact design of the Microkey 2 37, it's portable enough to take around in your backpack. This is also an advantage if you have limited desk space in your home studio, but require a MIDI keyboard with more than 25 keys.
Highlights:
Compact design
37 responsive keys
Works with both Mac and Windows
Pitch and Mod wheels
Octave shift buttons
iOS supported
What's Included:
Microkey 2 37
USB cable
KORG Software Bundle code
Specification
An uncomplicated, straightforward design, compact size, and easy connectivity made the first-generation microKEY series a bestseller. Our second-generation microKEY lineup retains those attributes and adds iPad and iPhone support*, plus a damper pedal jack for improved playability.

We've also added a 49-key model, for the player who needs a few more keys in a still-compact format.
In all, the microKEY series has evolved to become even more convenient and versatile, making it an ideal choice for first-time and more established players alike. Whether you're producing in the studio, or creating on the go, the microKEY will give you exactly what you need – and nothing you don't.
* Via the Apple Lightning - USB camera adaptor – sold separately.
Compact and playable Natural Touch Mini Keyboard
KORG's Natural Touch mini keyboard. Has been carefully designed to assure playability while staying compact, and makes it easy to play chords or rapid phrases. Choose between a 25, 37, 49 or 61-key configuration to suit your specific playing style and space/travel requirements.
Connect with a single USB cable; supports Mac, Win, iPad, and iPhone
Since the microKEY is USB bus-powered, you only need a single USB cable to connect it to Mac or Windows. There's no need to install a driver; just connect it to your computer and start playing. The second generation newly supports connection to iPad and iPhone. Add an Apple Lightning - USB camera adaptor and one USB cable and your setup is complete, allowing you to access apps such as KORG Gadget, KORG Module, and GarageBand.
Connect a pedal, and enjoy full control functionality
The 37, 49, and 61-key models provide an assignable switch jack for connecting a damper pedal. The 25-key model provides a sustain button that implements the damper function. On all models, you can use the octave buttons in conjunction with the key transpose function to play MIDI's entire range of notes. The 37, 49, and 61-key models provide pitch bend and modulation wheels. The 25-key model provides a joystick that can also control pitch bend and modulation, as well as an arpeggiator function, giving you full control in spite of this model's space-saving dimensions, and providing a wealth of performance expression.
Dedicated editor software "KORG KONTROL Editor" is provided
By using the dedicated KORG KONTROL Editor for Mac/Windows you can customize the keyboard to your preferences, including fine adjustments to the velocity curve.