Roland EC-10M El Cajon Mic Processor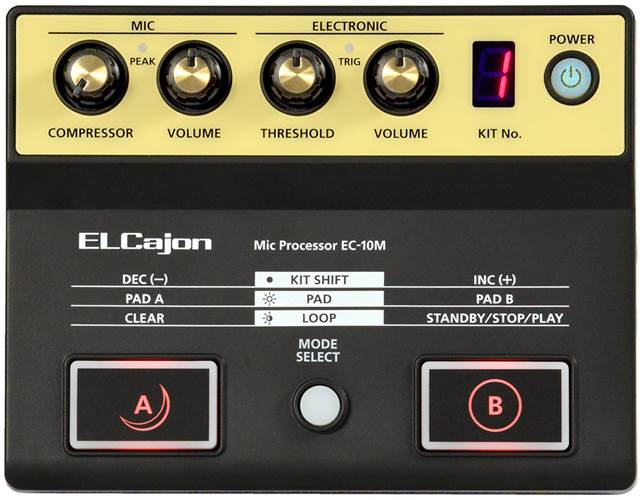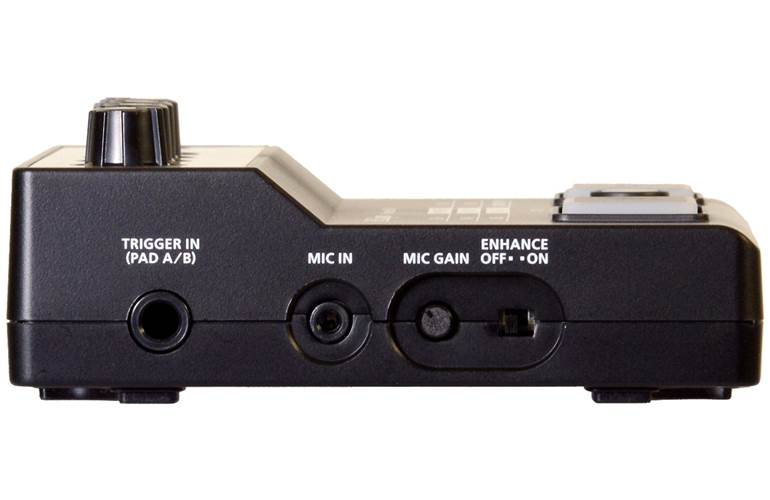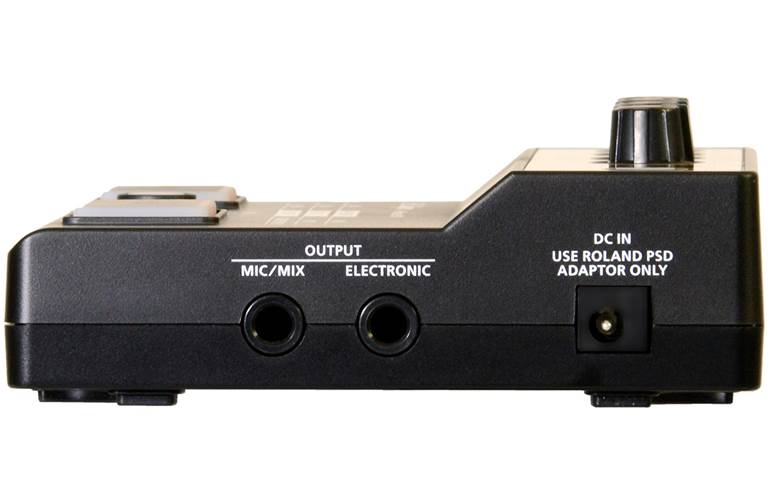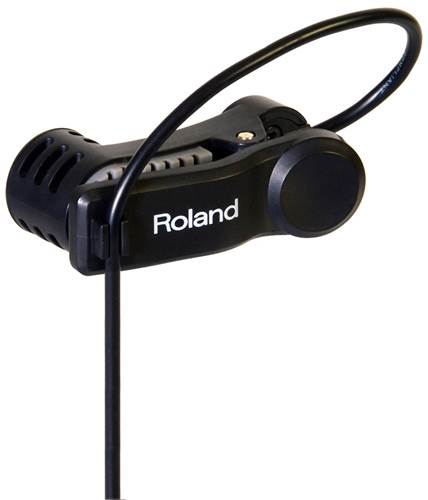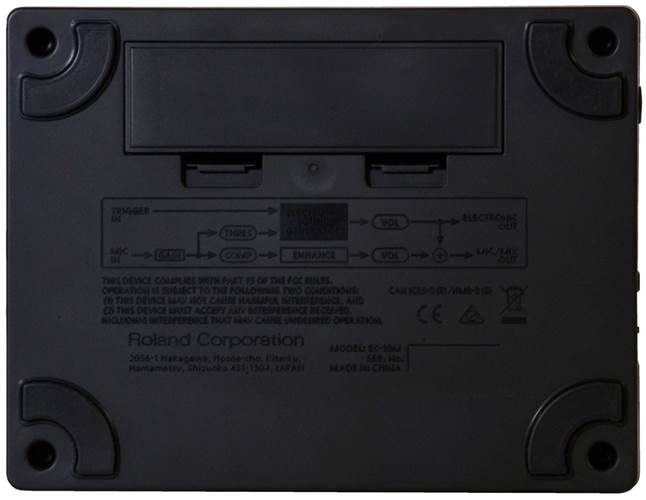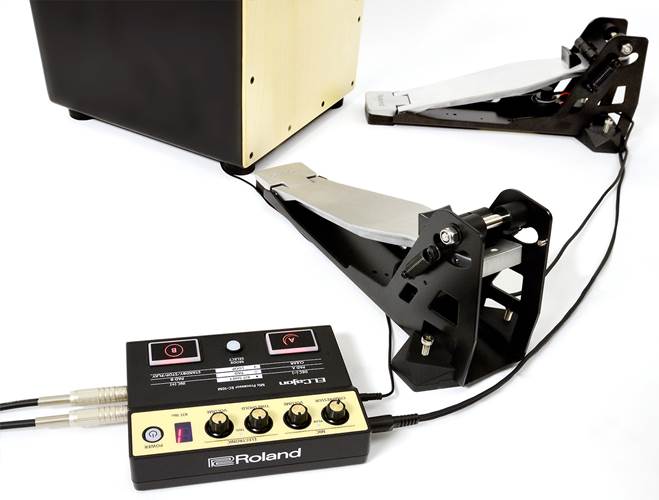 £249.00
Available to Order
This product is temporarily out of stock
We currently have it on order with our supplier. Place your order and we will email you when we have an estimated delivery date.
Manufacturer's ID: EC-10M
What we say:
Following hot on the heels of the ridiculously good fun EC-10 EL Cajon comes it's module brother, the EC-10M. This is for drummers who like the idea of the EC-10 but already own a cajon.
The premise is relatively straightforward: connect the supplied clip-on condenser microphone to your own cajon; connect the mic to this module (which can run on batteries); send the sound from the module to your PA either as two independent signals or as a mono mix and finally; play some really rather far-out noises on your cajon to the surprise and delight of your audience! We're talking TR-808 mixed with cajon here! Or indeed something a little less eyebrow-raising like a tambourine or acoustic snare: there are a host of high quality sounds you can blend in with the natural sound of the cajon.
As a side note it may be worth mentioning that you aren't restricted to just using a cajon with this...bravely experimental guitarists with a beaten up old acoustic guitar may want to try attaching the clip on mic to the soundhole and see what happens!
Specification
You can then send both sounds to an amp or PA, giving you complete control over your stage sound. It's also possible to create percussion phrases with a built-in looper, and play additional sounds via integrated A/B foot pads or optional kick trigger pedals. Everywhere you play, the EC-10M transforms the acoustic cajon experience with a world of new expressive power.
FEATURES
Easy setup—simply attach the included clip-on condenser mic to the sound hole of the acoustic cajon and start playing
Amplify the acoustic cajon—the EC-10M can be used as a mic preamp for the supplied microphone
A variety of sounds—16 onboard kits with tones including tambourine, shaker, djembe, electronic drums, and more can be layered with the acoustic cajon
Multiple tones—play two different electronic sounds by slapping the edge or head of the acoustic cajon
Add pedals—up to two kick trigger pedals (Roland KT-10, KT-9, or KD-7) can be connected to play additional sounds; integrated A/B foot pads can also trigger sounds
Create loops and play along—a simple looper function allows recording of rhythm phrases using the onboard sounds
Versatile outputs—send the microphone and layered sounds to a PA mixer via two independent outputs, or mix all sounds to one mono output
Two-way power—can be used with four AAA-size batteries (for up to five hours of use*) or included power supply
*Maximum use time will vary depending on the battery specifications, capacity, and conditions of use.
ENHANCE YOUR ACOUSTIC CAJON PERFORMANCES
With the EC-10M, it's easy to take your acoustic cajon performances to new heights. Just attach the dedicated clip-on mic to the instrument's sound hole, and then layer EC-10M tones with the acoustic voice to create unique hybrid sounds. The 16 kit variations include percussion sounds such as tambourine, surdo, splash cymbal, and many others, plus acoustic snare drum and the famous TR-808 snare. Built-in cajon tones with ambience are also included for reinforcing your acoustic cajon's natural voice with powerful studio sound.
ADD VARIETY AND PLAY WITH AUTHENTIC CAJON TECHNIQUES
The EC-10M intelligently senses when the mic is picking up sounds from the head and edge surfaces on the cajon, giving you the ability to trigger distinctly different electronic sounds with each of these areas. This lets you integrate EC-10M sounds using authentic cajon techniques, so you don't have to adjust your playing in any way.
TRIGGER EXTRA SOUNDS WITH FOOT PADS OR OPTIONAL PEDALS
In addition to head and edge sounds, each of the 16 kits within the EC-10M includes two electronic sounds that are pre-assigned to the onboard A/B foot pads for triggering with toe taps while performing. If you'd prefer to play these sounds with authentic foot techniques and a more solid feel, up to two Roland kick trigger pedals (KT-10, KT-9, or KD-7) can be connected.*
*A splitter cable (such as the optional PCS-31L) is required to connect two kick trigger pedals to the EC-10M.
LIGHT, COMPACT, AND BATTERY-POWERED
You can use the compact EC-10M anywhere, since it weighs just 500 g/1.1 lbs. and runs on four AAA batteries. The included clip-on condenser mic is compact and convenient, eliminating the need to take up valuable stage space with a mic stand and large microphone. With its small footprint, the EC-10M is an easy fit in the tightest performing spaces.
AMPLIFY YOUR ACOUSTIC CAJON AND EC-10M LAYERED SOUNDS
Along with being a sound module for electronic sounds, the EC-10M also functions as a mic preamp for the clip-on mic, enabling you to amplify both the acoustic cajon and layered sounds through an amp or PA. You can send the sounds to two independent outputs, or mix them together to one. With the EC-10M, it's simple to achieve a powerful, consistent cajon sound at every gig, from intimate street performances to the biggest concert stages.
RECORD PERCUSSION PHRASES AND PLAY ALONG
The EC-10M includes a built-in looper* for the electronic layered sounds. This lets you create instant percussive backing for acoustic cajon playing or jamming with another instrument. The looper is controlled using the A/B foot pads, and you can capture electronic sounds triggered from the cajon and external pedals in your loops. And by changing the kits while the loop is playing, the tones in the loop are changed too. With this cool creative option, your acoustic cajon performances will be transformed forever!
*Recorded phrases cannot be saved.

-Sound Kit Variation
16

-Layered Sound Contents
2 (High, Low)

-Controls
[Top Panel]
POWER switch
(MIC) COMPRESSOR knob
(MIC) VOLUME knob
(ELECTRONIC) THRESHOLD knob
(ELECTRONIC) VOLUME knob

MODE SELECT button
A button
B button

[Left Side]
MIC GAIN knob
ENHANCE switch

-Indicators
KIT Number

-Connectors
TRIGGER INPUT jack: 1/4-inch TRS phone type
MIC INPUT jack: Stereo miniature type (Use included clip mic only)
MIC/MIX OUTPUT jack (MONO): 1/4-inch phone type
ELECTRONIC OUTPUT jack (MONO): 1/4-inch phone type
DC IN jack

-Power Supply
AC adaptor (DC5.7V)
Rechargeable Ni-MH battery (AAA, HR03) x 4

-Current Draw
150 mA

-Expected battery life under continuous use
Approx. 5 hours.
* These can vary depending on the specifications of the batteries, capacity of the batteries, and the conditions of use.

-Dimensions
175 (W) x 135 (D) x 55 (H) mm
6-15/16 (W) x 5-3/8 (D) x 2-3/16 (H) inches

-Weight
500 g
1 lb 2 oz

-Accessories
Clip Mic
Owner's manual
Leaflet "USING THE UNIT SAFELY"
AC adaptor

-Options (sold separately)
Kicks: KD-7, KT-9, KT-10
Stereo Split Cable: PCS-31L