£269.00
Available to Order
Place your order today and we will email you when we have an estimated delivery date.
Recommended Bundles
Manufacturer's ID: YAM-REFACE-CS
Relive the lush analog sounds of Yamaha's classic CS synthesizers with the new reface CS. Its powerful virtual analog engine is equally capable of producing both vintage and cutting-edge synth sounds, including pads, bass, leads and much more. With it compact size, battery power and built in speakers you can take it anywhere!
Specification
Yamaha reface Series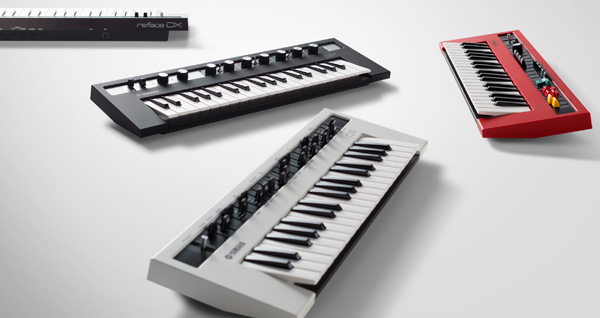 A new mobile instrument generation
It started as a sketch of a young Yamaha design team: Under the concept name "reimagined interfaces of classic Yamaha keyboards" the group presented a series of four compact instruments, in which every single one celebrates the personality of a legendary Yamaha instrument – but with a character of its own reimagined for today's 'on-the-go life style'. The concept also integrates a web-based sound exchange between musicians and allows a cooperative sound design. With the introduction of reface, this vision becomes reality.
Inspiration guaranteed
At home, in a studio, in a park or on a train – the compact design and the powerful integrated stereo speakers allow inspiration in seconds – without any equipment to set up. Creativity can be realised anywhere: Thanks to the battery power, all reface Mobile Mini Keyboards are ready at any time – even when there is no power socket nearby. The setup is done in seconds, even the connection to notebook, iPhone or iPad for the recording and saving of sounds.
It's (not) a toy!
All four reface models are presenting themselves as a creative toy for sound design. But despite their compact design, they are professional instruments that are inviting to play. All models feature Yamaha's brand new 'HQ' Mini-Action keyboard with 37 keys (3 octaves). The user interfaces were designed separately for each instrument introducing features such as drawbars for the reface YC organ and the capacitive Multi-Touch surface on the reface DX.
reface CS: analogue Synthesizer
reface CS: analogue Synthesizer
With the legendary Yamaha Control Synthesizer series, introduced in 1976, music history was written by artists like Vangelis, Stevie Wonder and Michael Jackson. In keeping with tradition the reface CS unites simple handling and creative sounds with a massive dynamic. But the concept was not to clone a monophonic synthesizer: The polyphonic tone generator with 8 voices and 5 oscillator types (multi saw, pulse, oscillator sync, ring modulation, frequency modulation) offers a rich bandwidth of exciting sounds from analogue to digital. All parameters are changeable intuitively using sliders.
Discover and share sounds online
All four reface models offer a rich potential for creative sound design – and the opportunity to get in touch with the whole world: With Soundmondo, Yamaha created an online hub connecting the reface community all over the globe. Soundmondo offers creative possibilities to create, share and discover sounds. The connection is established intuitively using a special Web MIDI technology for Google Chrome. As soon as a reface model is plugged in, it offers the possibility of direct synchronisation. Voices and set lists can be stored in a private area as well as shared with the community.
reface iOS App for iPhone and iPad
Quick and easy storage as well as management of sounds with iPhone and iPad: The free reface iOS app for Apple mobile devices makes data transfer extremely simple. A name, a picture and multiple tags can be applied to stored voices; they can be sorted in different ways as well. Search functionality is also included. Using a set list, voices can be arranged in a specific order and recalled one after the other. Another impressive feature is the possibility to exchange voices using QR codes: A distinctive code can be generated from any stored voice and can then be shared using the different options available with iOS. It can for example be sent via email or read using the camera of another iPad to import it into the app.
Keyboard
Based on the FS action found on the flagship Motif XF, HQ (High Quality) Mini Keys provide premium feel and response for fast, accurate and natural playing.

Looper
Integrated Phrase Looper: capture song ideas or just jam

Pedal
Continuous controller pedal input for volume control
Speakers
2W 3cm stereo speaker system lets you play any place, any time
Specially designed bass reflex port technology enhances bass response for full, rich sound

Battery powered
Uses six "AA" batteries with five hours of life

USB
USB "TO HOST" allows MIDI connectivity to your USB-equipped computer or iOS device

Audio output
Dual 1/4"unbalanced line outputs provide connection to mixers, audio interfaces, DI boxes and more

Audio input
A 3.5mm aux line input lets you connect and hear mobile devices, tablets and more through the instrument
What's In The Box
Yamaha Reface CS
Power Supply
MIDI breakout cable
Owner's Manual