BOSS BC-1X Bass Compressor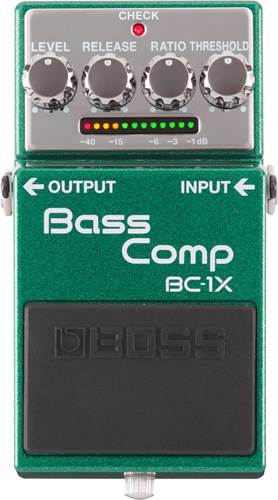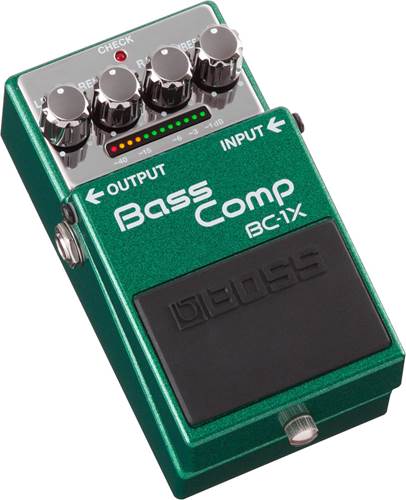 £189.00
Order before 3PM for Delivery on Tuesday
Make 3 payments of £63.00

No fees.
Learn more
Frequently Bought Together
Recommended Bundles
Manufacturer's ID: BC-1X
What we say:
Boss's colourful stomp boxes are the most recognisable pedal range in existence. For over 40 years, guitarists from bedrooms to stadiums have put their boot down on a Boss effect to transform their sound. Several models have passed into guitar legend and early examples can fetch extremely high prices. Happily, Boss have maintained their stellar reputation for world-class effects in bomb-proof casing with their current range and have fended off the imitators for decades to remain the pre-eminent single pedal effects manufacturer in the business. If there's an effect for guitar (or bass, vocals, keys…be creative!) then you can bet Boss have a pedal of it in their range or even invented it outright! Every guitar player should get to experience the joy of selecting a pedal from Boss's exhaustive roster, plugging it in and unleashing their wildest sonic dreams.
Basses really do need a little compression to iron out certain frequencies that can jump out when you play. Too much compression, though, will leave your performance lifeless and flat. Enter the BC-1X Bass Comp pedal. This stomper endeavours to keep things natural and transparent, gently but firmly pushing your notes in the right direction so there is a professional sheen of uniformity to your basslines.
The electronics inside allow this pedal a lot of headroom to reliably work with a greater source of frequencies. In other words, things will compress without turning into distortion! The digital circuit is super-quiet as well, which is great news for your live and studio sound.
Specification
The advanced design responds to different dynamics and registers to apply the perfect amount of compression in real time, ensuring that your tone never gets over-squeezed or muddy. Transparent, powerful, and easy to use, the BC-1X is a must-have tool that delivers studio-quality punch and precision for dynamic players.
Intelligent circuitry adapts to every register and playing nuance, providing natural compression that preserves the fundamental bass tone
Interactive internal processing enables users to dial in sophisticated multiband compressor settings with simple stompbox controls 
Professional 18-volt input electronics provide ample headroom for any bass, ensuring clean and punchy sound with no distortion 
High-resolution gain reduction indicator shows the current compression amount at a glance
Digital circuitry greatly reduces noise, a common problem with standard compressors 
BOSS five-year warranty  
Advanced Technology for Natural Sound
Compression is an indispensible tool for the modern bassist. While there are many bass compressor pedals available, the BC-1X stands alone as a completely unique product. Unlike conventional units that compress the fundamental tone and muffle the sound, the advanced BOSS MDP tech in the BC-1X provides perfectly natural compression that never overwhelms the character of your instrument. Every nuance is captured and processed accurately, even with aggressive compressor settings. In every register your sound is true, allowing you to put your heart into playing without fussing with different settings for every song or style.
Infinite Tonal Possibilities with Simple Controls
While normal compressors can be difficult to dial in just right, the BC-1X takes all the guesswork out of getting great sound. Hidden behind the pedal's simple four-knob interface is a complex multiband processor with numerous interlocking parameters. As you turn the knobs, many parameters are adjusted at once, enabling a wide range of tone shaping with minimal effort. And thanks to the intelligent tech inside, you'll always achieve perfect sounds at every setting, from subtle dynamic control to extreme compression for effect.
Pro Features for Performing Players
The BC-1X was designed with pro practicality in mind. The 18-volt input circuitry provides ample headroom without clipping, even with the hottest signals from active basses. A 16-segment gain reduction indicator clearly displays the amount of compression at all times, a high-end feature rarely seen in stompbox compressors. The pedal's noise performance is extremely low in comparison with other compressors, another huge benefit brought by BOSS technology. And with the road-proven BOSS compact chassis, the BC-1X ensures bulletproof reliability for years of demanding pro use.