£599.00
Order now for FREE Delivery on Thursday
Make 3 payments of £199.67

No fees.
Learn more
Frequently Bought Together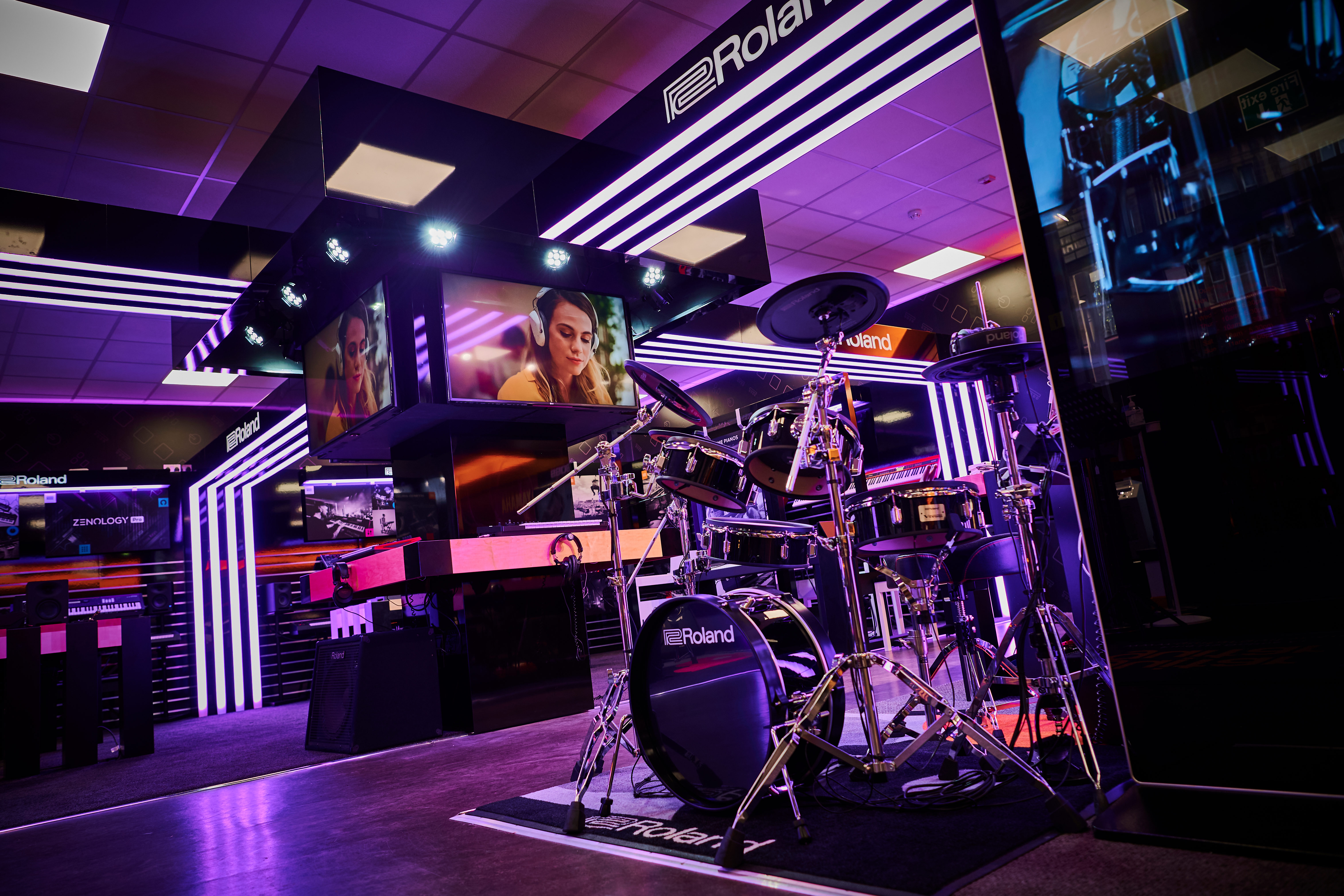 Try it now in our Glasgow Roland Store
This item is set up and ready to try at the only Roland Store in Scotland. Based in our Glasgow premises, you will find a huge selection of Roland and Boss gear that's ready to demo. Plus, you can get the expert advice you need from our in house Roland Senior Product Specialist.
Manufacturer's ID: TR-8S
What we say:
At A Glance:
Roland's TR-8S is without a doubt one of the most powerful and creative drum machines on the market. It is loaded with detailed circuit modelling of classic Roland drum machines, an FM synth engine, high quality effects and an amazing step sequencer. You'll also find samples from a variety of modern styles on board, with the ability to load your own samples in as well. The TR-8S is much more than your average drum machine!
Features We Love:
ACB Technology
The TR-8S features Roland's Analog Circuit Behaviour modelling technology. This recreates the inner workings of the various on-board drum machines down to the fine print. You'll find the TR-808, TR-909 and much more in the unit. What's more, they behave exactly like the original units do, providing a level of authenticity samples cannot provide.
Sampling
On the TR-8S you have a great selection of drum machines to choose from. However, you also have a ton of modern samples installed out of the box, and the option to load your own. You'll have everything from sparkling synth leads and warm pads to acoustic instruments and vocal one-shots. Thanks to this feature you can create full sounding arrangements covering a variety of styles.
FM Synth Engine
With the new V2.00 update, the TR-8S now also includes an FM synth engine. FM synthesis is known as one of the most popular synthesis methods over the last 40 years. It is really flexible, and allows you to create sounds of many different types. You can use this engine to create wobbling synth basses, sharp synth leads or various drum sounds. It's entirely up to you how you choose to use it!
Highlights:
Incredibly powerful drum machine
Detailed circuit modelling of vintage machines
Sampling capabilities
Tons of sounds built in, with room to expand
FM synthesis engine
Powerful step sequencer
Studio-grade effects engine
What's Included:
TR-8S Rhythm Performer
AC adaptor
Owner's manual
Leaflet "USING THE UNIT SAFELY"
Specification
| | |
| --- | --- |
| User Drum Kit | 128 |
| User Patterns | 128 |
| Step Sequencer | 11 instrument parts and 1 exclusive part for trigger out |
|   | 16 steps per 1 variation |
|   | 8 (A – H) variations per 1 pattern |
|   | 2 Fill-in patterns per 1 pattern |
| INST tone | (Tone can be assigned to each 11 instrument parts freely.) |
|   | BASS DRUM: 11 ACB tones |
|   | SNARE DRUM: 8 ACB tones |
|   | TOM: 15 ACB tones |
|   | RIM SHOT: 3 ACB tones |
|   | HAND CLAP: 5 ACB tones |
|   | HI HAT: 8 ACB tones |
|   | CYMBAL: 8 ACB tones |
|   | PERCUSSION: 23 ACB tones |
|   | PRESET SAMPLE: 300 tones or greater |
|   | USER SAMPLE (imported form SD CARD for playback): Available format: WAV, AIFF |
|   | Total time for all samples: Approximately 600 sec (at 44.1 kHz, mono) |
|   | * The maximum length of a single audio file that can be imported is approximately 180 seconds (at 44.1 kHz). |
| Effects | INST FX: THRU, HPF, LPF, LPF/HPF, H BOOST, L BOOST, L/H BOOST, ISOLATOR, TRANSIENT, COMPRESSOR, DRIVE, COMP+DRV, CRUSHER |
|   | REVERB: AMBI, ROOM, HALL1, HALL2, PLATE, MOD |
|   | DELAY: DLY, PAN, TAPE ECHO |
|   | MASTER FX: HPF, LPF, LPF/HPF, H BOOST, L BOOST, L/H BOOST, ISOLATOR, TRANSIENT, TRANSIENT2, COMPRESSOR, DRIVE, OVERDRIVE, DISTORTION, FUZZ, CRUSHER, PHASER, FLANGER, SBF, NOISE |
|   | Other: SIDE CHAIN (for EXT IN), SCATTER (as one of AUTO FILL IN function) |
| Display | 16 characters, 2 line (backlit LCD) |
|   | 7 segments, 4 characters (LED) |
| External Storage | SD Card (SDHC supported) for backup/restore function and import sample data |
| Connectors | PHONES jack: Stereo 1/4-inch phone type |
|   | MIX OUT (L/MONO, R) jacks: 1/4-inch TRS phone type |
|   | ASSIGNABLE OUT/TRIGGER OUT (1 – 6) jacks: 1/4-inch phone type |
|   | EXT IN (L/MONO, R) jacks: 1/4-inch phone type |
|   | TRIGGER OUT jack: Miniature phone type |
|   | MIDI (IN, OUT) connectors |
|   | USB port: USB type B (Audio, MIDI) |
|   | DC IN jack |
| Power Supply | AC adaptor |
| Width | 409 mm / 16-1/8 inches |
| Depth | 263 mm / 10-3/8 inches |
| Height | 58 mm / 2-5/16 inches |
| Weight | 2.1 kg / 4 lbs. 11 oz. |
Firmware Update Ver.2.01 introduces the following features
An FM tone generator has been added.
Preset Patterns and Preset Kits have been added.
A RELOAD function has been added.
"SATURATOR," "FREQ SHIFT," "RING MOD," and "SPREAD" have been added to INST FX.
"Reverb Send" has been added to DELAY.
A shortcut for CTRL has been added to INST FX.
The specifications were changed to output sound from the USB port during sound preview.
Serato DJ Pro Ver.2.1.1 or later is now supported. Synchronized playback with compositions on Serato DJ Pro is possible.
A STEP LOOP function was added.
A sound preview function when importing user samples was added.
Performance when a number of level faders are operated simultaneously has been improved.
The required time and the timing of kit switching that occurs when PATTERN are changed has been improved.
The pulse waveform when outputting a trigger-out pulse from the ASSIGNABLE OUT/TRIGGER OUT jacks has been improved.
Other minor improvements in operation were made.
Functions for importing and exporting patterns and kits were added.
A batch-import function for multiple samples was added.
A "Storage Mode" enabling direct writing to an SD card from a computer was added.