TOURTECH TTS-GA108BK Universal A-Frame Guitar Stand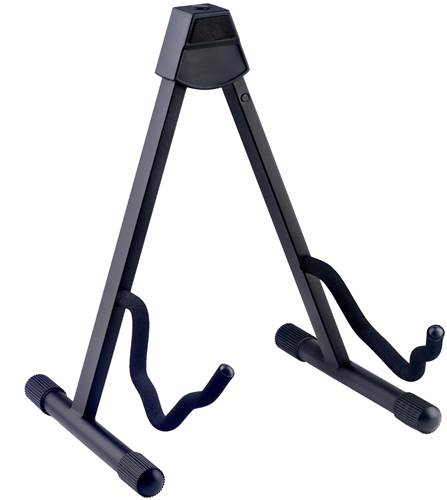 £14.99
Order before 3PM for Delivery Tomorrow
3-Year Warranty Included
We're the 1st, and only, UK guitar retailer to offer a 3-year warranty as standard. Buy with confidence today. Learn More
Delivery Tomorrow
With 1 hour Delivery slot
---
Click & Collect
Live Stock levels from all our stores.
Store
Availability
Edinburgh
In Stock, Collect Today
Glasgow
In Stock, Collect Today
Newcastle
In Stock, Collect Today
Birmingham
In Stock, Collect Today
Epsom
In Stock, Collect Today
Camden
In Stock, Collect Today
Frequently Bought Together
Manufacturer's ID: TTS-GA108BK
Foldable A-frame stand for acoustic, electric or bass guitar.
Specification
Material: Steel (structure), EVA (holders and back rest)
Coating: Scratch-resistant powder
Features: Spring-loaded lock-pin mechanism
Height: 41.4 cm (16.3")
Width: 20 - 34 cm (7.9 - 13.4"), adjustable (3 positions between holders: 15, 20 and 26 cm (5.9, 7.8 and 10.2"))
Tube thickness: 25 mm (round tubes) and 19 x 30 mm (rectangular tubes)
Weight: 1.5 kg (3.3 lb)
Customer reviews
Overall Rating 4.8 (

207

reviews)
Perfect for my Tommy Thayer Electric Blue Guitar.
Simple to set up, sturdy with a robust protective pad to support the back of the guitar without risk of damage. Helps keep guitar upright also. Sits nicely in the corner of my living room.
It does the job, again at a reasonable price
Good stands fit all types of guitar
Bought as a gift. Perfect
Nice and simple, does the job
It's very useful stand for my new guitar.
Good quality product for the price
Good value and looked good too
For the price the guitar is set up well and pleased with the product. Only issue with the guitar is there is no tone tone control for the humbucker pick up which I already knew about so not a problem.
Excellent purchase and good advice
Great value for money as always
Part of a package kit...all good quality
I mean, it ain't fancy, which is good, and it works, which is even better.
Just right for the intended purpose.
Bought a pre-used Fender Telecaster.
Does the job it is designed to do.
For the money this is fantastic value for money.
Very good guitar stand for a beginner
I have my (5) guitars on display in the corner of our living room. This stand presents my new guitar well and does not obscure any part of the instrument. Very quick and easy to place and remove the guitar.
Christopher C. - 19/2/2021
Excellent quality and great value, it works well on both my acoustic and electric, a clever design.
Does ecactky what you'd expect!
Bought as a present - very well-received
Brilliant! Really good value for money. It was a gift and the recipient was thrilled.
good for the price...does the job.
Does what it says on the tin.
Quality good and a good price. Teenage son very happy with it.
Brilliant piece of kit-would recommend
Well it's a guitar stand! - and it works!
Amazing guitar . Legendary sound
Not much you can really say about a stand, but it works well, cushions the base, and is sturdy.
Does the job and very nicely made for the silly low price.
Good stand well cushioned.
seats my guitars very well against my wall and provides me with an easy way to grab my guitar when i want to play and simply put it back down once I'm finished.
Simple but effect and excellent value for money
Works perfectly. Stable & well padded.
Easy to use and accurate. A must for beginners.
It's a guitar stand. Not much to say.
Shape of guitar makes it sit a slight angle so no exactly "universal" still a great stand for the money though
Such great Service! Well recommended!
Charmaine M. - 18/12/2020
Causes no damage to the body of the guitar when placed
Good quality & easy to erect & fold away
Solid little guitar stand
Good good good very happy with service Paradigm string better than the rest x
Great stand and excellent value.
Good solid stand, well built and good quality
Catherine R. - 26/11/2020
Perfect for my needs. Does what it says on the tin.
Does what it says on the tin. Cost effective stand.
Compact yet solid and sturdy
nothing to say, i'm happy with it
Does why it says on the tin......
Guitar sits well on it recommended item
It does what it says on the tin. Easy to set up.
I know the product and it was just what I was after.
Great quality little stand, which is a solid and stable perch for my accoustic guitar. Easily adjustable for various sized instruments, or folded up. Nicely padded to avoid scratches. Very pleased with my purchase.
Perfect in every way, delighted
Does the job and seems sturdy.
Does the job. Very stable
Similarly solid. Much better than my old flimsy one.
Great-super easy to use and mobile
Easy to use. Adjustable and stable
Compact and does the job extremely well. Very sturdy and guitar sits well
Guitar stand is perfect. It does it?s job well and is certainly one of the most sturdy stands that I have used.
Happy with the guitar stand, good price, it's sturdy too.
It is what it is. Does the job well
Does what it says on the tin.
Supports my new guitar well. Easy to use
Item as described. Very fast shipping. I recommend
Sturdy, portable space saving and good quality
Does the job what more can I say
Good value for money. Thoroughly recommend it
Solid build, sturdy design, would recommend
The stand is perfect for an acoustic guitar, though a heavier, electric guitar may need a neck bracket.
Good it is a nice piece of equipment
simple design, works well. I was worried it wouldn't support an acoustic guitar securely, but the rubber at the top grips the back of the guitar well so it doesn't slide.
It?s quite good, for me I find the guitar rests at too much of angle, but still a good stand
Good guitar stand. I have a couple of these, one for each of my guitars and they are great. Sturdy, padded and not too expensive.
ideal for keeping the guitar out and ready for use
Perfect products and service
Nice, sturdy and locks into a few different widths great quality will buy a again
Great value, functional, does what it states on the tin- great value- well done
Functional, fit for purpose
Difficult to get too excited about a guitar stand but it does it?s job well
Functional stand at reasonable price.
Solid, looks smart, will last longer than the piece of c£@p stand that I bought on eBay.
Ideal for guitar storage. Very discreet and practical.
Nice small stand, easy to set up, folds down small and easy to move between rooms.
It holds up the guitar. Simple.
Alexandros A. - 14/7/2019
Exactly what I required. Good quality.
Ideal for what I needed, no issues!
It's a guitar stand - a stand for your guitar.
Christopher G. - 27/3/2019
Sturdy guitar stand, suitable for electric guitar
Good quality robust fits all guitars.
Very useful present for my son who has both an electric and an acoustic guitar
Show more reviews
You might also be interested in...
Keep up with our latest offers, news & events