The guitarguitar Interview: Steve Hackett (2018)
Published on 10 August 2018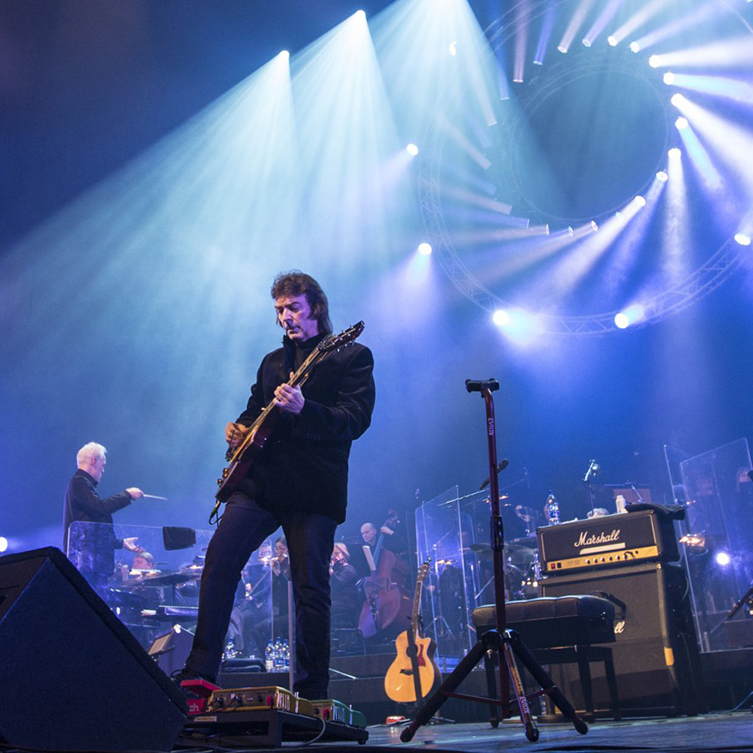 (Photo © Armando Gallo)
In the Pantheon of heroic guitar playing, one of Britain's greatest - and often underrecognised - legends is Steve Hackett. His groundbreaking work with Genesis encapsulates for many people that band's greatest era, spanning such classic albums as 'Foxtrot', 'Selling England by the Pound' and 'The Lamb Lies Down on Broadway'. These records have defined the genre that is Progressive Rock and at its heart is Hackett's incredible and soulful playing.
Since leaving Genesis in 1977, Hackett has enjoyed a lengthy and successful solo career with over 30 albums recorded, a band with Steve Howe (GTR, which guitar fans really need to check out!) and all kind of collaborations under his belt. His more recent work has proved to be as expansive, imaginative and inventive as ever, with a multitude of influences from across the world informing and inspiring his process.
This October, Steve embarks on a nationwide tour with no less than a 41 piece orchestra accompanying him and his band as they perform both classic Genesis tracks like 'Supper's Ready' and 'Firth of Fifth' alongside career-spanning selections from his innovative solo work including favourites like 'Shadow of the Heirophant' and 'The Steppes'.
Not only that, this October also sees the release of 'Broken Skies, Outspread Wings', a lavish box set containing 6 remastered albums on CD, 3 DVDs including a full live performance and a sumptuous 60 page book containing liner notes, rare photos and new artwork by none other than Roger Dean. This is a box set to savour!
We managed to get Steve away from his busy schedule to share a few words about the upcoming tour, guitar playing, inspiration and playing with a full orchestra! His answers were as inspired and as illuminating as his music.
Steve, thank you so much for agreeing to do this interview! It's very exciting to be able to talk with you! So, you are about to embark on a tour with a full orchestra. You've worked with orchestras in the past on recordings but will this be the first time you've gone out on tour with one?
This is the first time I'm touring with both band and orchestra, but I have played with my band and orchestra as a one-off recently in Buffalo, USA, so I know how it works. In fact, the conductor from that show, Bradley Thachuck, will be conducting on this tour. I have also played electric guitar with a band plus orchestra in both Iceland and Germany.
How do you go about choosing which songs to perform with the orchestra? How does one even prepare for such a task?
Most of the numbers we're performing with orchestra are Genesis songs, which already have a symphonic sound as much classic Genesis music from the 1970s was influenced by orchestral music. Several songs I have written as well have an orchestral slant, so the two forms of music complement each other. The music has been transposed for orchestra by Bradley, his brother Steve and Tod from the Icelandic band Todmobile.
Have you had to change or rewrite any parts of your music to better incorporate the orchestra?
No, that is not necessary. The orchestra fits in around the band. It's exciting to hear the whole additional
colouration that an orchestra brings to the songs.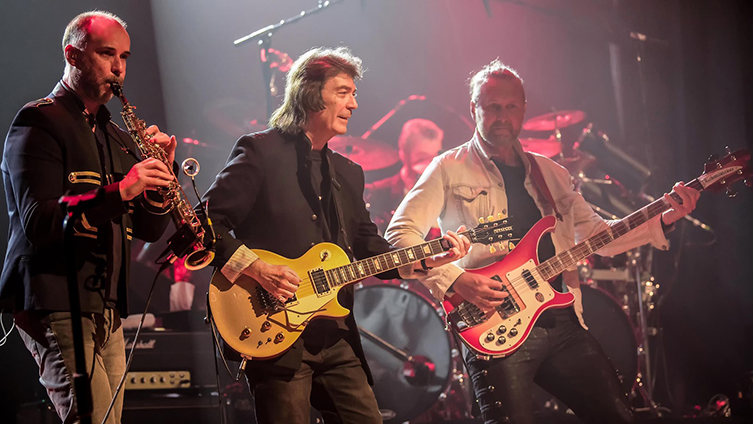 (Photo © Cathy Poulton)
Are you planning on debuting any new pieces of music on this tour?
There will be two numbers from my most recent albums as well as older Hackett material, but most of the
songs are Genesis.
Talking of new music, you are a very prolific artist with well over 20 solo albums out so far, not even
counting live albums or your work with Genesis or GTR: what is your writing process?
My writing process varies. Sometimes the words come first and at other times I hear a piece of music or even just a phrase in my head to start with. If the hook is strong enough I work on different musical and lyrical ideas to develop it.
Do you use everything you write?
No, I don't use everything I write, but sometimes I end up linking the best part of one song with a section of another if the two work together more effectively than the original versions. I feel it's important to be flexible when writing… to explore several possibilities at times.
Do you write constantly or do you set aside specific periods of time in the year for large blocks of writing?
I'm always writing, as ideas come in whether I'm in a recording phase or not. The most prolific writing comes in when I'm on a roll with it all though, as I'm particularly attuned to the creativity of music at those times.
During your writing process, what do you use to capture your moments of inspiration?
Anything can be an inspiration, from a phrase in a book, something I see on a walk, countries I visit and life experience. Sometimes it's an idea that seems to come out of nowhere, and dreams can also be a great source of inspiration. I immediately write ideas down, or my wife Jo sometimes records me singing a musical phrase on the phone if I'm driving. If I'm in the shower, then I repeat the phrase or lyric to myself until I can write it down.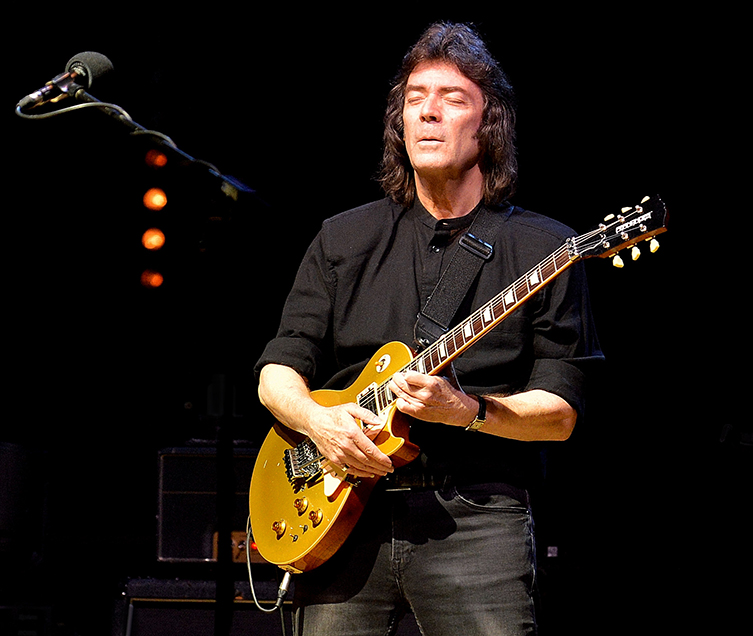 (Photo © Lee Millward)
Do you tend to write on electric or acoustic guitar? If so, what instruments do you keep close at hand to play on?
I write on both electric and acoustic. I guess more often initially on acoustic as it can be more easily accessible.
You are a keen champion of 'world music' and often assimilate it into your music. What do you feel is specifically exciting about the music of non-English speaking countries?
I feel that every region has its own atmosphere. There are musical links between countries, but each zone has something unique to offer. It's exciting to both celebrate the differences as well as experimenting with blending sounds from different regions.
What kinds of exotic instruments have you found yourself drawn to in particular and why?
I love the Arabian lute, which for me conjures the soul of the desert and has a very ancient feel. I'm equally drawn to the extraordinarily exotic sound of the Indian sitar, which will feature on my next album. I was intrigued to hear the tar from Azerbaijan, an instrument which goes back a really long way with links to the nomadic peoples of central Asia. Some wind instruments have an amazing vibe too, transporting one to another time and place, such as the Armenian duduk or the Peruvian pipes. It was also fascinating to work with Brazilian percussionists.
Where in the world does some of your favourite music come from?
I love music from every corner of the world, so I can't really say I have favourite music, but I've always
been a fan of Spanish guitar, I love the exotica of Indian and Arabic music, I'm intrigued by the beauty of the Chinese erhu and the delicacy of the Oriental koto, as well as the primal spirit of African drumming and the soul of Blues…
Is it a natural thing for you to bring these international influences into your own music? The mix of sounds is extremely successful: do you find that this kind of stylistic blending comes easy to you?
I have always enjoyed bringing disparate sounds, genres and vibes together, so to involve music from
around the world is an extension of that approach. It comes easily to me as they're like a variety of musical
gods jamming together…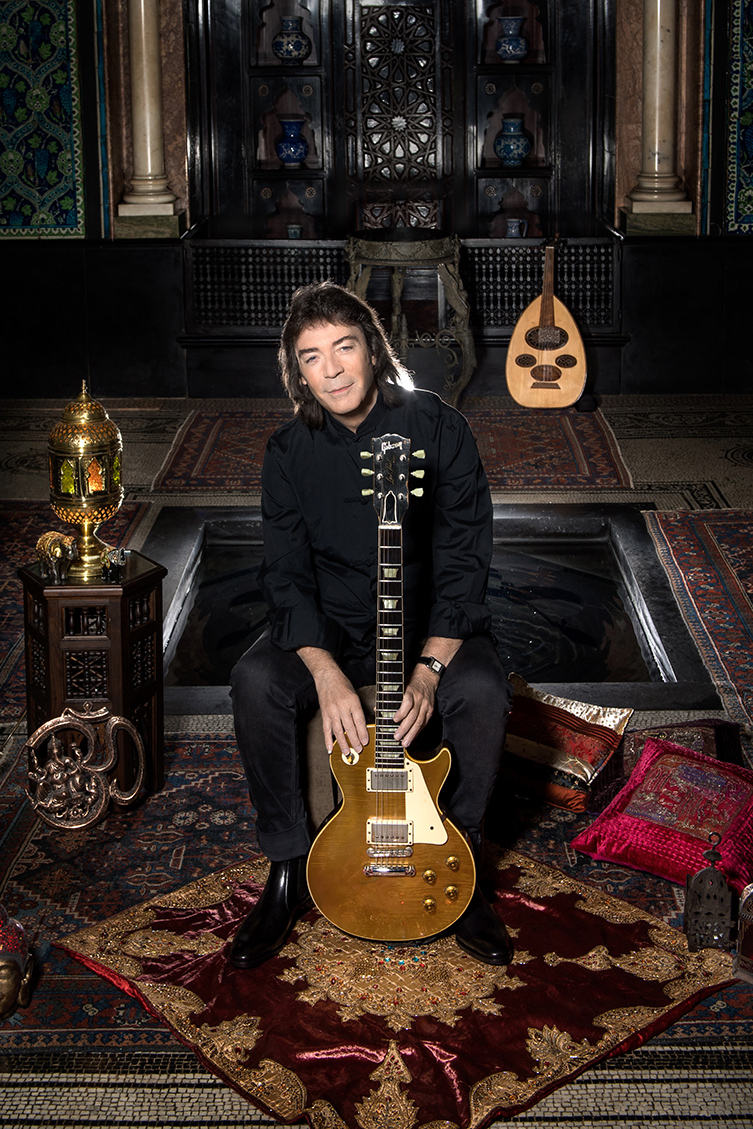 (Photo © Tina Kohonen)
You've worked with some legendary musicians like Peter Gabriel, Brian May, Steve Howe and the late,
great Chris Squire: do you have any interesting tales from these collaborations? Do you find these artists inspire your work?
We have often inspired each other. Brian May said he was influenced by my work in early Genesis, such as my approach to guitar on The Musical Box on Nursery Cryme. Equally, his energetic approach to guitar inspired me. Chris Squire's bass was uniquely melodic and he and I naturally complemented each other. Steve Howe had a different guitar style to mine, which again was complementary because our two approaches widened the musical canvass. Peter Gabriel was a very original ideas person – not just with his costumes! He loved to take unusual twists and turns with songs (as in Supper's Ready from Foxtrot) which I found very liberating. I have always enjoyed the freedom of musical experimentation.
Let's talk about guitars! You are obviously a master soloist: even though you've been playing guitar for decades, do you find you still have to practice? If so, what kind of things do you do?
I guess I don't draw a distinction between practice and creation with the guitar. I'll often play either acoustic or electric for a while, going over phrases and ideas I already know, and then suddenly something new will appear. This whole process is vital for both dexterity and creativity.
What type of qualities to you look for in a great guitar?
It has to have a life of its own, an extraordinary sound and a great action.
What do you feel the Sustainer pickup technology adds to your guitar playing and expression?
It enables me to achieve feedback with no tyranny of volume. It allows for much greater control of
sustained notes.
You seem to favour Les Paul-style guitars: do you prefer a shorter scale length?
I do, because there is less string tension. I favour Les Paul-style guitars as despite their weight, they mould
to the body shape better for me and I love the thickness of the sound.
Does your choice of touring instruments differ from the guitars you write and record on?
I often write initially on a nylon guitar even if I'm thinking of lead electric lines. I record with variety of
instruments including a Rickenbacker twelve-string, as well as what I use live.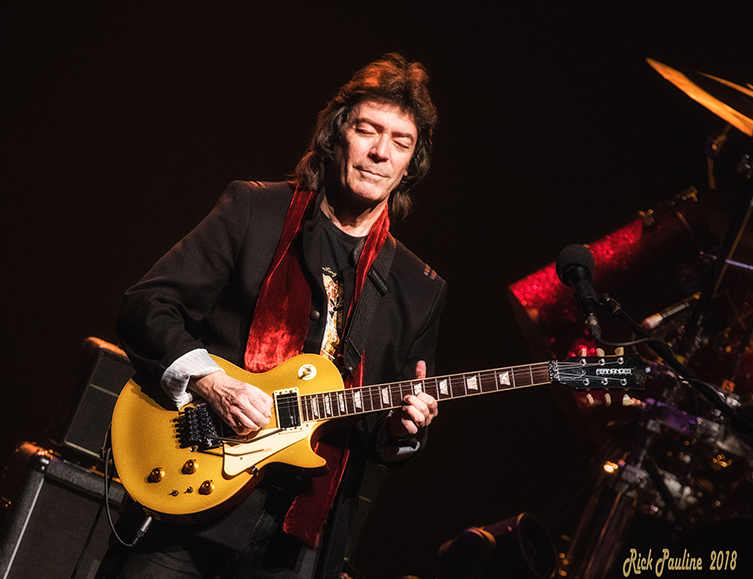 (Photo © Rick Pauline)
With the various acoustic instruments you use, do you have particular 'go to' instruments for inspiration or just plain enjoyment of playing? Also, do you experiment with different tunings?
Yes, I use my Zemaitis twelve string as well as my Yairi nylon. These guitars always surprise me in terms of their beauty. I particularly experiment with different tunings on the nylon.
What string gauge (electric & acoustic) and plectrum style do you favour?
I favour 008s for electric and I use light guage strings for acoustic as well. I use my fingernails instead of a plectrum on most guitars. The only guitar where I like to use a plectrum is the twelve string.
What about amplification? I know you love a good Marshall half-stack. What do they give you that other amps don't?
I've been using Marshalls for live work for many years now. There's a warmth and size to their classic sound, although valves have to be changed during touring because they suffer burn out or damage under rough handling.
Have you experimented with digital modelling technology like Kemper, Line 6 Helix etc?
Yes, I have experimented with digital stuff when recording and I find it to be very good.
The music industry is a different world now to how it was for you climbing the ranks in the early days. How have you had to adapt your business and practices in order to keep ahead?
Over the years I've moved forward with the changing technology. I've enjoyed the increasing number of sounds one could access over time, and also the higher quality of orchestral and vocal music. I feel that people should embrace all the possibilities technology has to offer instead of allowing it to create easy music at the push of a button. Business-wise, my music sells on all formats, so it's not a problem at the moment. Hopefully, it won't become a problem down the line…
What advice do you have for other artists and guitarists looking to carve their own path in today's musical climate?
My advice is to stay as close as possible to your own inspiration. Listen to others and be aware of the music climate, but don't lose that special thing which makes you unique.
Finally, what is next on the horizon for you after this orchestral tour?
A new album and a lot more touring next year! Possibly another collaboration down the line too…
Steve, thank you so much for your time! You've given us some fantastic answers and inspiration. We wish you the best of luck for the tour and the new box set!
Many thanks, Ray – I hope to see you in Glasgow!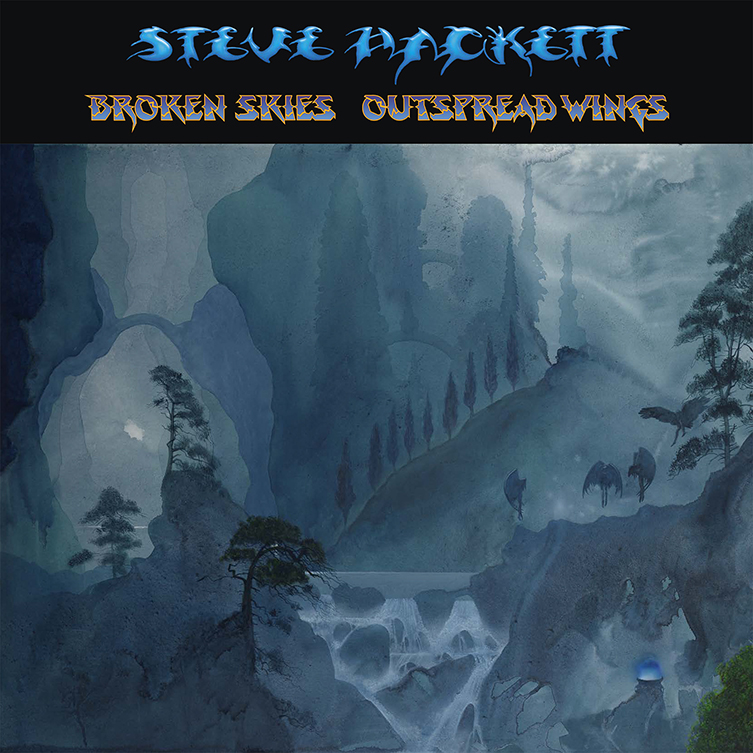 (Art © Roger Dean)
Steve Hackett Embarks upon his 8 date UK Genesis Revisited Tour with band and 41 piece orchestra on 1st October.
Tour details are as follows:
Monday, October 1st Nottingham Royal Concert Hall
Wednesday, October 3rd Manchester Bridgewater Hall (SOLD OUT)
Thursday, October 4th London Royal Festival Hall (SOLD OUT)
Friday, October 5th Birmingham Symphony Hall (SOLD OUT)
Sunday, October 7th Gateshead The Sage 1
Monday, October 8th Glasgow Royal Concert Hall
Wednesday October 10th Ipswich Regent
Thursday October 11th London Palladium
Tickets available from http://myticket.co.uk, http://www.hackettsongs.com and venue box offices.
He also releases the special limited edition box set - Broken Skies – Outspread Wings (1984-2006) 6CD and 2DVD (5.1) on October 5th. Keep up to date with the release and all of Steve's news via his Facebook page.
We'd like to offer our sincere thanks to Steve for his time and generosity with his insightful answers, and also to Sharon Chevin for helping to make this interview happen.
Don't miss these incredible shows this in October!
Interview by Ray McClelland.