The guitarguitar Interview: Ninet Tayeb
Published on 27 September 2019
Ninet Tayeb is a force of nature. From the second you hear her incredible voice, it's clear that you are listening to a passionate, expressive spirit with plenty to say and an attention-grabbing way to say it. Although a relatively niche artist here in the UK, she is one of Israel's biggest and best-loved stars.
Discovered, somewhat incongruously, by winning 'Israeli Idol', Tayeb became an instant hit, with her debut album going platinum in less than a day! A TV show followed, film roles, further success...until Tayeb made the bold decision to make music more in the mould of what she personally loved, resulting in some pretty horrible, abusive crowds who threw objects at her during her album launch show.
Recovering from that type of treatment requires some level of steel. True to herself, Tayeb stuck to her path, refusing to bow to the pressure. In the end, her resolve won out: audiences have been turning around to her energetic performances, and her buzzing, molten flavour of Alternative Rock. MTV awards followed, too. Her heroes PJ Harvey and Jeff Buckley would be proud.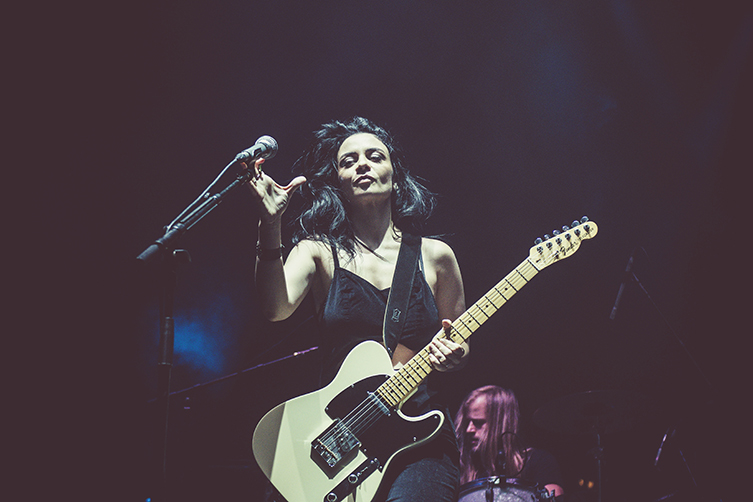 (Photo: Lior Keter)
Since then, Tayeb has made more albums and toured relentlessly. Some high profile guest voal work on ex-Porcupine Tree maestro Steven Wilson's solo work has brought her name and voice to a Western audience. As we will hear, this relationship is continuing, which is great news, given Wilson's reputation as an alternative taste-maker and all-round influential guy.
Ninet is now based in Los Angeles, and so we reached out via email to get the lowdown on what she's currently doing. She'd just finished an extensive US tour and was happy to talk about passion, inspiration, living life on your own terms and why, under no circumstances, must you ever give up! Her answers are inspiring and give a good impression of the person behind that incredible voice.
Ninet, hello! Thanks for talking with us! You're currently touring in the US, how is that going?
It's going great, I'm having so much fun! I get to meet new people, go to new places, get new inspiration. Fun!
You've lived there in LA for a few years now: how does it compare with Tel Aviv?
The world is beautiful, and each city has its own magic. The weather, an important ingredient, is pretty similar between LA and Tel Aviv, which made the move easier. LA is a bit more laid back, which is great at this point in my life, but I'm lucky to experience both. The thing I'm still trying to figure out here is the left turns.
What was the local Israeli music scene like when you were coming through?
The Israeli music scene is very diverse. There's everything from rock to pop and reggae with a middle eastern influence. It's stayed pretty much the same, but one thing that developed a lot is that more English speaking bands are playing on the radio, which is creating more diversity in the scene.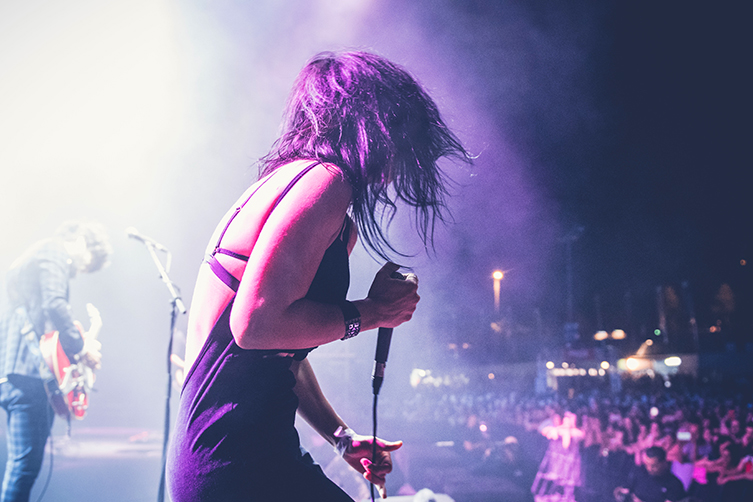 (Photo: Lior Keter)
It's been a couple of years now since your awesome Paper Parachutes album. Is there a new album on its way?
Yes, it's on its way in 2020!
Your voice is absolutely supersonic! Do you have to practice vocal exercises and warm-ups to keep it sounding good? What sort of things do you do? Could you share some tips on looking after your voice?
Thank you so much! Yes, I practice and I've been practicing at least 3 times a week for years now. I have an amazing vocal coach from Israel, her name is Rachel Hochman and she taught me everything I know. She taught me how to use my voice and keep it strong, and the more I practice the more I find secret places in my throat and head in which from them I produce different sounds.
'Energy' seems to be a prominent factor in both your recordings and your live performances. Would you agree with this? Are you trying to energise people to become more present in their own lives?
Oh hell yeah. It's all about the energy. It has so much impact on my work and I feel everything to the point it's actually hurt in my body when energy is low. I'm trying to energize people to become whomever they want to be by energizing my self.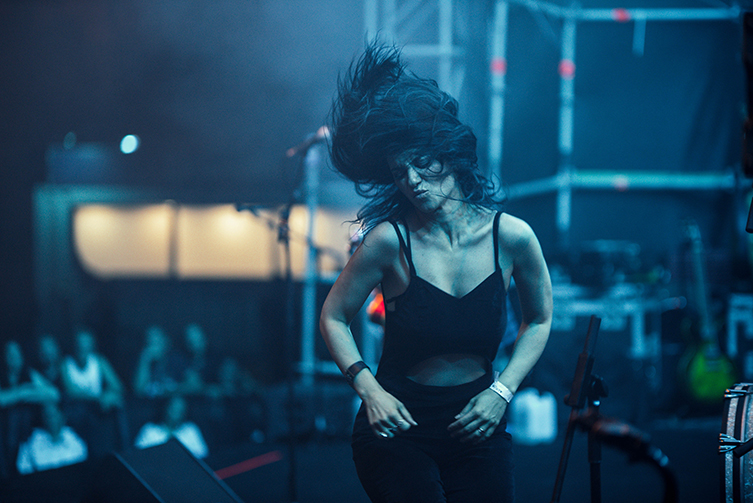 (Photo: Lior Keter)
In addition to your music, you also act. How do you divide your time between these two artforms? And which is the priority, overall?
Well, I don't. Why divide when you can combine:) obviously music is the place I'm coming from and go back to at the end of day. I like to express myself in any form of art. Acting makes me dive, music makes me fly. I'm both an eagle and a mermaid.
Is it true that you served as a soldier? (I'm assuming it was National Service, right?) How did that experience affect you? has it left any lasting changes, either good or bad?
Yes, in israel everyone must go to army at the age of 18. My people have been through so much and I wish we could live in a utopic world with no army and wars. Until that day comes, I guess every country has the right to protect its people. I was not in a battle field thank God, but I was trained how to use a gun.
Your last two albums have been in English, with previous ones being in Hebrew. These days, do certain songs, as you write them, still feel like they should be sung in one particular language over another?
I really love both Hebrew and English. When I write I don't decide which language I should use now, it is just coming to me like a dream, words floating in the air and I'm there by accident ( or not) picking them up:)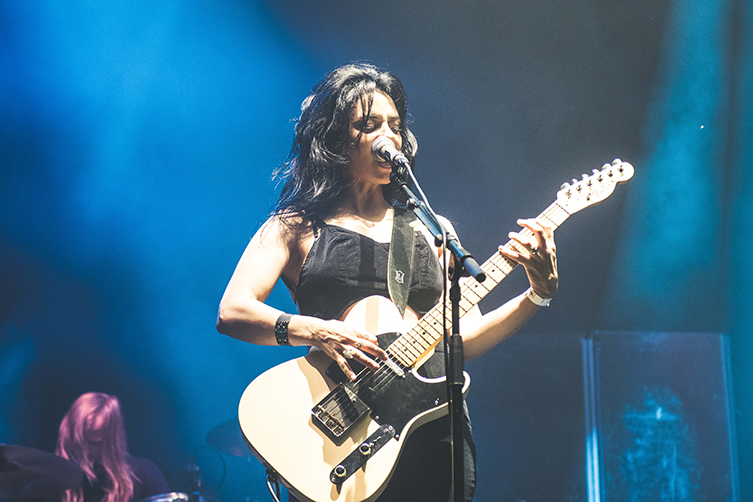 (Photo: Lior Keter)
You have spoken and sung about anxiety and mental wellness before: is this a subject that people in general have to address more?
Definitely yes. There are so many people out there that feel like no one understands them because they come across as crazy people. Some mental issues can be solved with someone who can just listen to you and love you unconditionally.
When writing, do you set aside chunks of time to come up with new songs, or do you always have a notepad and recording device at hand to grab snatches of inspiration?
There are days when I feel something is cooking inside my heart/ brain and I just give it some time for it to come out. And, there are days when it is just coming out of me like a massive hurricane that bursts in without warning, I like that one:)
Do you most often write on acoustic or electric guitar?
It depends on where I'm at in that point. For instance, most of the new songs from my upcoming album I wrote on my electric (81 Fender from Japan) guitar. The songs that come out of me are very different from songs I'm writing on an acoustic. Every instrument had its vibes and secrets, what makes the whole process of writing to a very enriching journey.
Compared with your swift success in Israel, how difficult has it been to win over an international audience?
It's actually going really good so far:) At every show I feel like I'm starting over and it's kind of refreshing.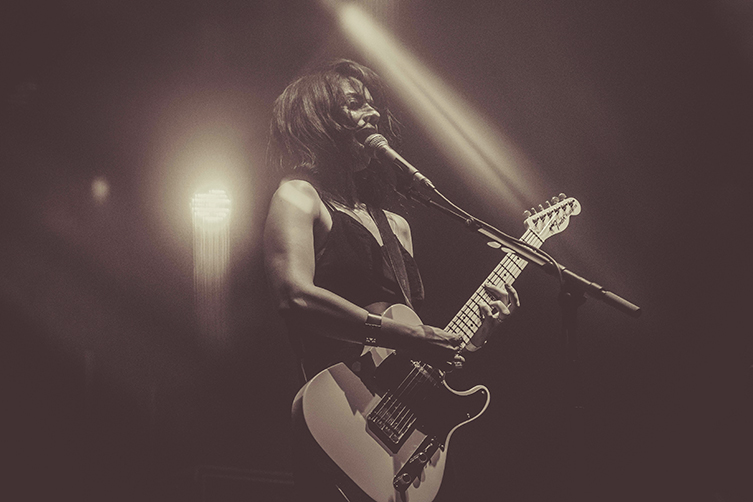 (Photo: Lior Keter)
Steven Wilson has used you a lot on his last few records, to outstanding effect: will we be seeing him guest on any of your work?
Yes!
Each of your albums has a relatively different sound. What kind of sounds are currently inspiring you?
These days I'm inspired by the sound of an airplane engine, that's all I heard in the last 6 months;) I guess the sound of an album is influenced by the places you're at, people you meet and current music that you listen to. According to this, my new album will probably sound like 'Streets of TLV meet the NYC subways with a hint of puffy clouds and a smell of old records mixture between Dylan and The Dead Weather'.
Away from music, what types of thing inspire your music? Art, people, places, books, movies?
What inspires me the most comes from listening. Observing people, the moon, mind blowing movies ( The new Tarantino movie really blew my mind), Poetry ( Rupi Kaur, Michael Faudet, Bukowski and many more), anger and pain of course, grace and the spaces between the silence.
In terms of guitars, I've mainly seen you with Fenders: a Jazzmaster and a couple of Telecasters. Do you have a particular favourite? What is it and why?
I really do love my 81 Tele: it has a grungy fat dirty sound and it fits perfectly to my fingers??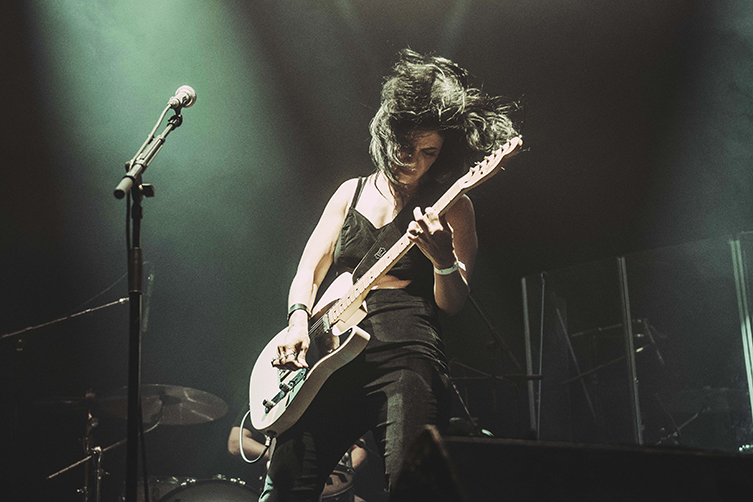 (Photo: Lior Keter)
What kind of string gauge do you use? And what type of plectrum do you prefer?
I use the .011 mm strings, usually its the Ernie Ball Power Slinky, I love the sound they produce.
Your music is very colourful: do you use FX pedals live? And do you guys play along to a click track?
Of course I use FX live! I have a sweet pedal board with my favourite pedals (Mudhoney is one of them :)). There are songs we use a click as we are also using an SPD (my drummer)
Will we be seeing you in the UK any time soon?
Oh I wanna come to the UK so badly! It will happen soon!
Finally: you've had to battle some adversity when you changed musical direction after your first album. That took courage and vision. What advice can you share to our readers about how to stay true to yourself in a difficult world?
My advice to all those people out there: take a look in the mirror, are you happy with what you're doing and contributing to this world ? Well, if the answer is no, go out there and fight for your true self, you're the only one who can do it and you might as well tell everyone who put you down to shut the fuck up because IT IS YOUR LIFE AND THEREFORE ITS YOUR RESPONSIBILITY TO DO EVERYTHING IN YOUR POWER TO MAKE YOU HAPPY. Oh, and one more thing:
NEVER
GIVE
UP
Thank you so much for your inspiring questions!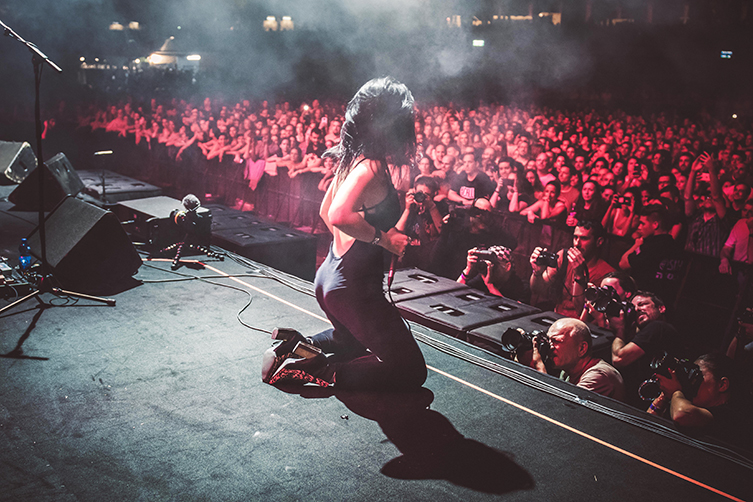 (Photo: Lior Keter)
We'd like to thank Ninet for sharing such excellent thoughts and views with us! We'd also like to thank Ronnie Benarie for all of his help in getting this interview to and from Ninet, and Lior Keter for the amazing live pics. Ninet Tayeb's newest album will be released some time in 2020. In the meantime, keep up with her music and touring on the official Ninet Tayeb website. She may well be playing near you soon, so don't miss it!
Thanks for reading.