A Closer Look: Yamaha Stagepas 1k
Published on 12 August 2020
Stagepas is a name familiar to many gigging players.
Not just musicians actually: public speakers, yoga/Zumba class teachers, even hosts of outdoor parties...these people all know the value of a Yamaha Stagepas system.
Yamaha's range of portable PA systems have been a popular choice for years and with good reason. Each Stagepas is clear sounding, powerful (you pick the model you need according to the task at hand) and easily carried from car boot (they fit in the car boot!) to venue or performance location. They just make life very easy, and that's a hugely important consideration for us all.
Who wants to spend half a day lugging about massive speakers and then hooking everything up? If there's a better, quicker way, most people would prefer that...
Step forward the Yamaha Stagepas 1k! This new model of portable PA adopts the 'line array' style that makes deft use of small vertically aligned speakers with a larger woofer. This type of PA has been a game-changer for smaller performances, and has brought a better level of sound quality to both band and audience. Let's see what this one's all about...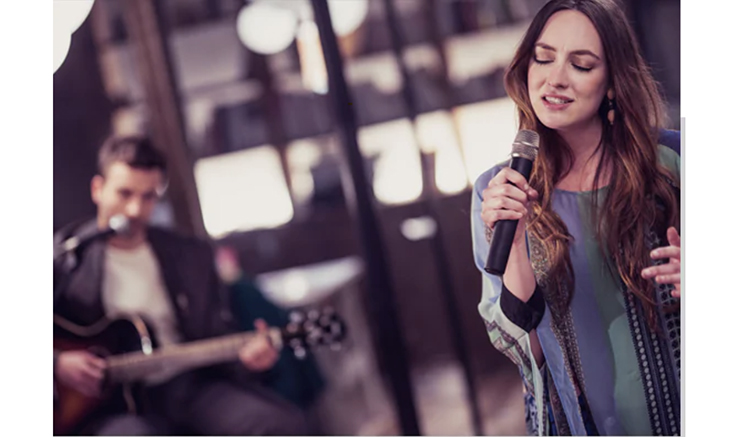 Array Design
The Yamaha Stagepas 1K looks small and compact because, well, it is! This entire unit easily breaks down into tiny pieces and fits into the included cover for easy transportation. You can literally lift this and carry it with one arm, which makes things so much easier in terms of gigging possibilities. You can jump in and out of public transport with this and a guitar strapped on your back, for example. Flights of stairs are no longer cause for the cold sweats!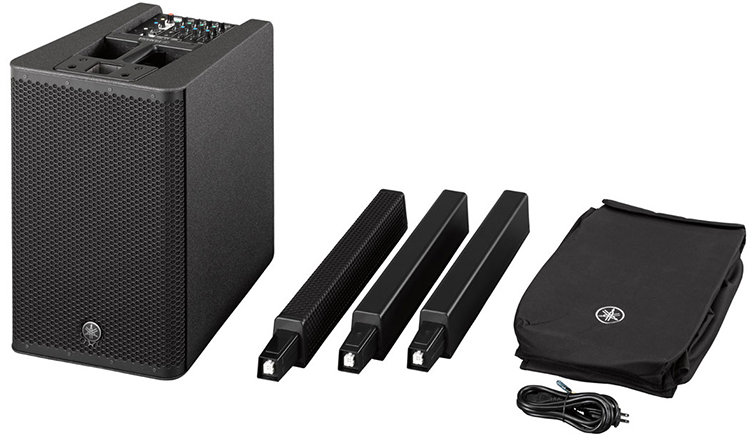 This is all due to the line array design. Small speakers, arranged vertically, can put out sound in a way that fills a room more efficiently than a massive blaring PA speaker. You can reach the back of your audience without ripping the faces off those in the front row! No more Hellraiser moments! The sound is also more balanced, so those in the front row will hear sound of the same quality as those in the 'sweet spot' a few rows back.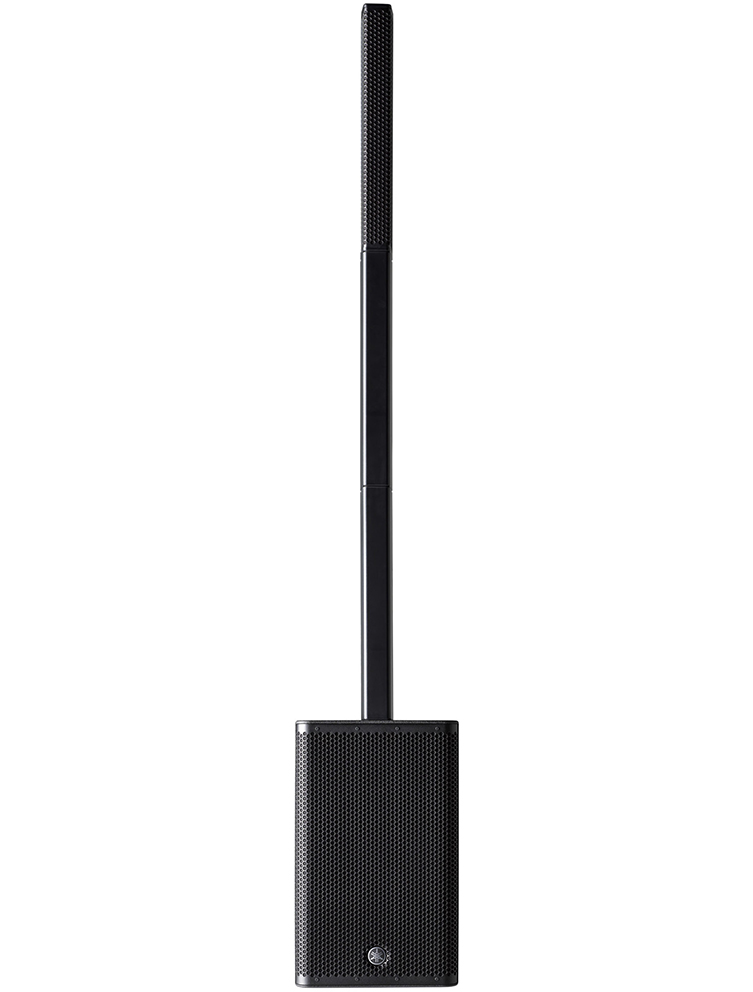 A sub is still required for the all-important bass frequencies. On the Stagepas 1K, this forms the main body of the system. This is where you'll plug into, and where you'll find your controls. As with other Stagepas units, a built-in mixer is part of the deal, so you can quickly and easily work your sound from the stage.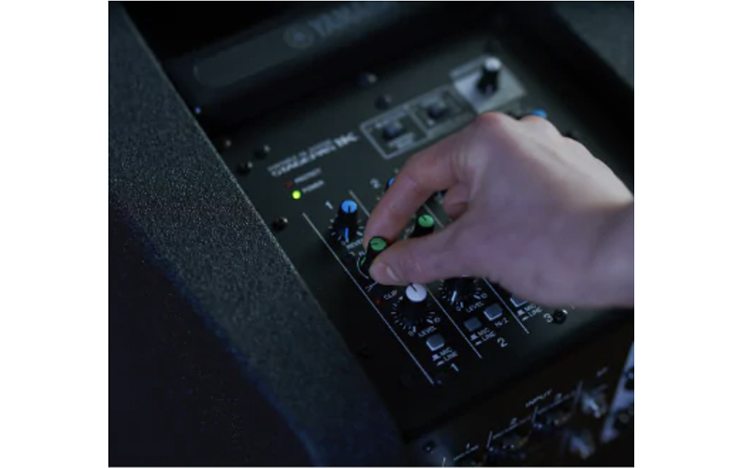 The Mixer
The incorporated mixer has been designed for quick, simple use, rather than fastidious knob-twiddling. There are 3 mono inputs (these are combi-style so you can use ¼" or XLR cables) and one stereo input. Two of these are high impedance, too, so your instrument bases are covered. There are outputs, too, in case you want to expand things by linking two of the systems together or adding monitors.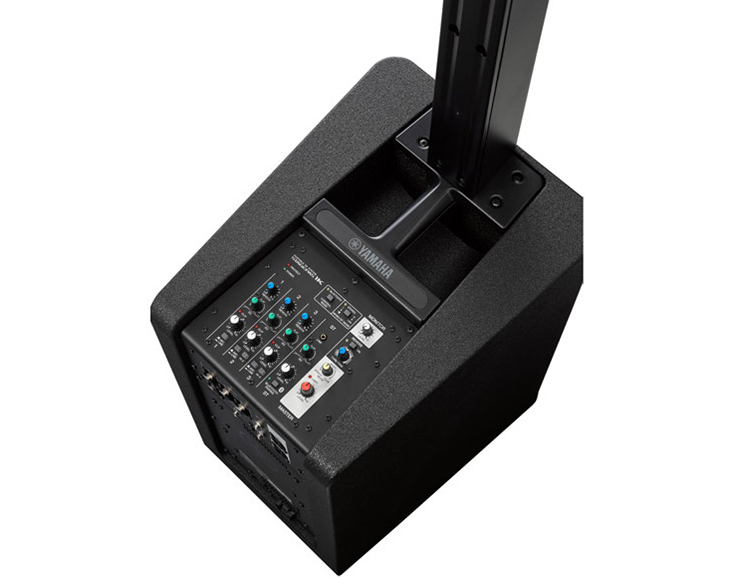 In terms of the mixer control itself, it's easy street. Three knobs for each channel, with Level, Reverb and a single EQ knob that changes multiple parameters as you turn it. The reverbs come from Yamaha's SPX technology, of which there are four types to select from. Also, there is a knob to determine the prospected use of the system. Divided into three sections – Speech, Music and Club – you can quickly 'tune' the system to your needs. Public speaking, musical performances and DJ sets can all be favoured in a second!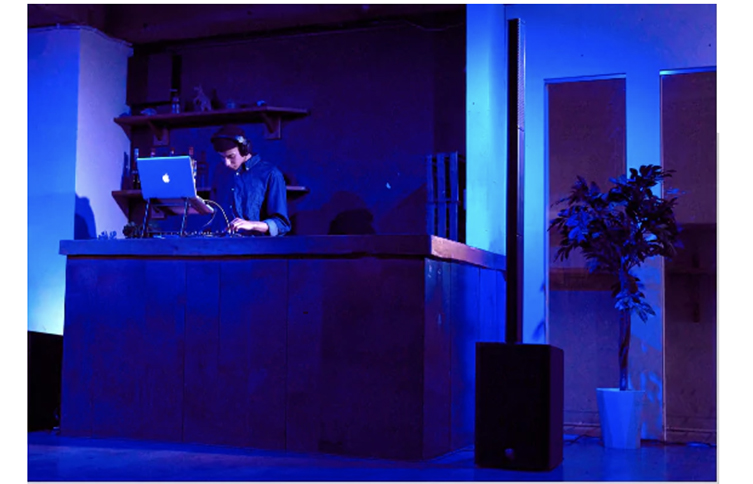 Power and Portability
The Yamaha Stagepas 1k gets its name, of course, from the thousand watts of power on tap here. Whilst no one is expecting you to play to a crowd of 3000 with a PA of this size, it'll be more than enough for most smaller situations. Thinking laterally, you can use one of these for rehearsing, theatre performances, acoustic gigs, open mic nights and full-blown gigs in smaller, quieter venues. Set up time is laughable, and break down time even more so! Best of all, you can walk out of the venue with the entire PA system under your arm! Your mic stands and effects pedal board will be heavier!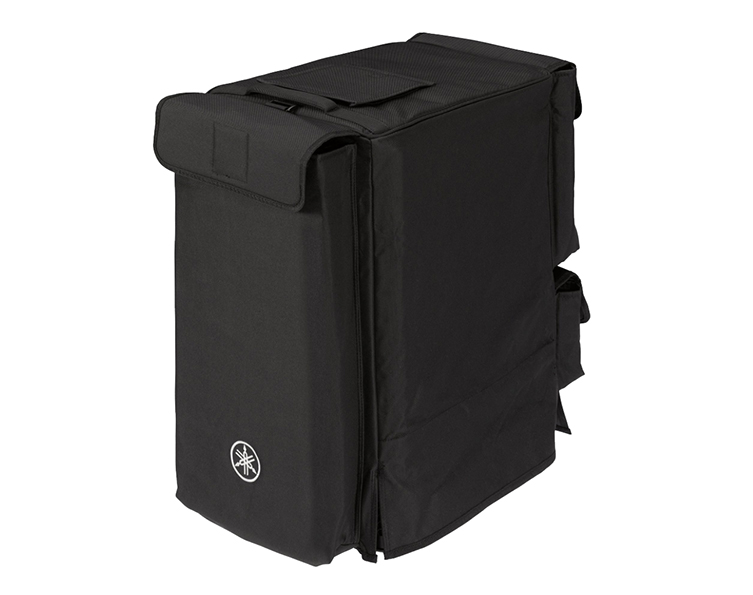 Final Thoughts
There comes a time in many a performer's life when the question of PA raises itself. Whilst the Yamaha Stagepas is not designed for Metallica-sized concerts, it is going to be super useful for a large cross-section of active musicians who aren't quite at the enormo-dome stage of their career! Knowing that you can set up quickly at most any type of venue or function and have good quality sound and a decent level of power should be enough to convince most that the Yamaha Stagepas 1k is a PA system worth some serious consideration indeed. Yamaha have done it again.