The guitarguitar Interview: Joe Bonamassa
Published on 28 August 2020
It's a bright day over in Nashville when I join Joe Bonamassa on Skype. The Blues Rock megastar has just announced an exciting Pay Per View live performance of his as-yet unreleased new record, Royal Tea, and we've been lucky enough to grab 20 minutes with him as he blasts through a busy day of press.
The performance will take place on Sept 20th at the historic Ryman Auditorium, which I learn is only a short walk from Joe's Nashville home. The Ryman was the original location of the Grand Ole Opry, and has seen luminaries such as Elvis Presley and Johnny Cash take to the stage there over the years. In a musically historical city, it is perhaps the most historical venue of them all.
Not a band place to unveil a new record!
Joe would of course normally tour the world in support of a big new release, but in these COVID times that's not an option. Instead, his online audience (who can buy tickets and watch from home of course) will be represented by cardboard cut-outs, to be met with the full-on force of Joe and his spectacular sounding band. It's a fun vibe, and a novel way of introducing the world to the new record!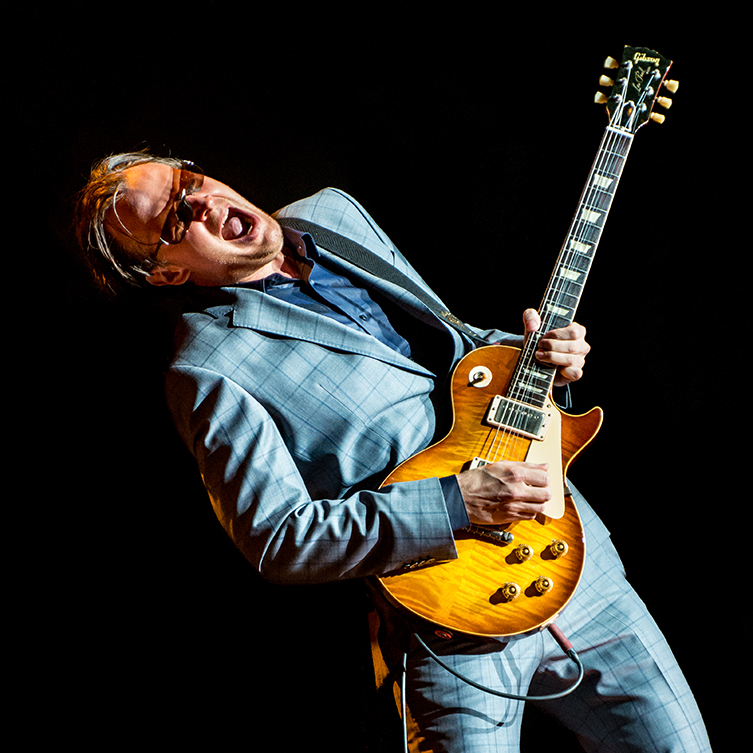 (Photo: Lawrence Harvey)
Royal Tea, which is released in Oct 23rd, sees Joe take inspiration from the British Invasion scene of 1960s London. The songs, the arrangements, the riffs and the solos all have a certain 'English' vibe. This is obviously in Joe's DNA as a music fan, but for this record he went 'immersive' and travelled to London to write the record before recording it at the world-famous Abbey Road studios. British legends Jools Holland and Bernie Marsden are among the talents involved in the writing, but the stars of the show are undoubtedly Joe's voice and guitar.
You'll hear all about that in our conversation below, along with details about which of his scandalously desirable and rare guitar collection made it to the record, and plenty more from this professional raconteur who's well versed in speaking his mind!
"This will be the first time that everyone hears the entire record, top to bottom"
Guitarguitar: So, first of all, the venue for the pay per view: it's the amazing Ryman Auditorium. That's a very historically significant place!
Joe Bonamassa: This will be our eighth time playing there, but I'm calling it like seven and a half. 'How many times you play the Ryman?' 'Seven and a half'. 'How'd you get to play the half?' 'Well, we did it seven times with twenty-three hundred people in there and then we did it once with a bunch of cardboard cut-outs with people's faces.' (laughs) It's gonna be great. The thing about it is, the Ryman is...I'm here in Nashville at the moment, and it's like my local pub. I live a block away!
GG: Oh, cool!
JB: One of the reasons I was so keen on buying the place that I'm in, is that I was lucky enough for years, hopefully going forward, to play the Ryman. That was out gig in Nashville! I love the concept of walking to work!
GG: Yeah, big time.
JB: He had 3 nights here, and I'd walk down. As the show would let out, I would walk back unnoticed (laughs). So that was part of the allure. I never take it for granted that I walk down the street and one of the most world-renowned, iconic venues in the world is here. Not only that it's here, but that it's actually busier now more than ever because everybody's doing some sort of broadcast. I actually borrowed it back, but for the last 3 years, my Howard Reed Strat has been in the museum gallery. So, it's the first black Strat ever made, and I sleep well knowing it's close, ya know?
GG: Mm, yeah.
JB: And people enjoy it! They see this iconic guitar that was on stage with Gene Vincent and the Blue Caps, and it's part of Fender's history and everything. So that's been a great thing, and the Pay per View is exciting, because for the first time ever, we're actually playing an entire brand new record, top to bottom, and then we're gonna do a little encore, which is basically just a retroactive...like, y'know, we're gonna go back twenty years. But we're digging out the arrangements form twenty years ago, meaning the live arrangements. We're sticking Starship Trooper (Wurm) on the end of A New Day Yesterday. We're doing all that shit that exacerbated how youthful and inexperienced I was! (laughs) So we're looking at different blends.
GG: So, I didn't expect that: it's kind of a retrospective along with not only new material, but new, untested, unheard material! Royal Tea's not out until October, is that right?
JB: The record's not out till October, but we released a few tracks from it, just to kinda 'chum the waters' as they would say in the fishing business. But this will be the first time that everyone hears the entire record, top to bottom. And it's been good because, you know, not all records play themselves. Redemption, we would play four or five tracks from the record, some of the stuff didn't play itself, so it was tough to arrange for live. This record plays itself: these are quirky arrangements, but they all make sense. Everybody kinda remembers them. So, that was really a good sign, ya know?
GG: Yeah, it bodes well.
JB: And even if we go over like a led balloon in the room, I'm only playing to cardboard cut-outs! So... fuck it!
GG: Haha, that's true! They can be harsh critics!
JB: 'They're a little quiet tonight! Geez!'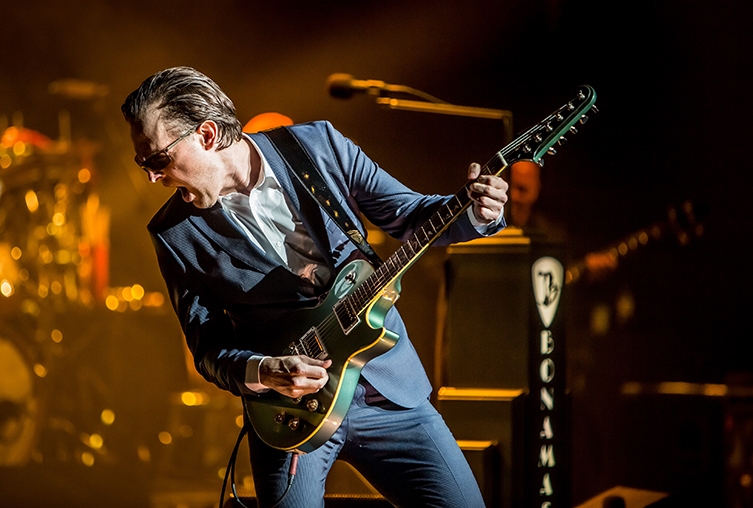 (Photo: Marty Moffatt)
GG: That must be quite strange as a performer, because obviously you're used to having this reciprocal energy back-and-forth between you and the audience, so when you're not gonna get applause, you'll not gonna get cheers, or even movement from the house, how do you deal with that as a player?
JB: Listen, it's not gonna take Method acting to go back 25 years to when the rooms were actually empty! 25 years ago, nobody came! (laughs) I got the golden goose, you know? A few of us have the golden goose. You're playing for the door, and zero people show up! I got mine in Memphis, in 2000.
GG: Right.
JB: What are you gonna do? Once the red light goes on, we know there's gonna be thousands and thousands of people out there watching, and it's gonna be...it's gonna be really fun to do. It's gonna be a really fun thing. We did the Cobwebs and Dust rehearsals last week with zero production, just a couple of techs, in a room, 5 guys – we didn't even have the singers – and, A: we needed to shake off the cobwebs and prove that we could still do it, and B: I needed to prove that after 5 months and about 200 cigars, I could still sing. (laughs) My range has actually gone up! I'm not advocating smoking, but I'm telling you, it's not exactly a bad thing, either. But anyway, there's that, and so, we're really excited about it.
"Listen, it's not gonna take Method acting to go back 25 years to when the rooms were actually empty!"
GG: Good! I was actually gonna ask about how you look after your voice, but maybe that question should be left alone, haha! Now, because this is for guitarguitar, and because you have a very famous guitar collection, I'd love to know it there are any particular guitars that you used for the recording of Royal Tea? And will those be seen on the Pay-Per-View?
JB: Oh yeah! Well, the song One Door Opens was written on a specific guitar. It's a '68 Thinline Tele that was a humbucker jammed in the front, and I've been familiar with this particular guitar since I was a child. I first saw it at 13, at a friend of mine's house. He was a guitar collector before I started! I finally, about a year and a half ago, convinced him to sell it to me, because I love the fact that it's a vintage Parsons White B-Bender. It's not like a new guitar: it's old, and it creaks and it's noisy. It's great! We're gonna that.
A lot of the guitars that were specifically used on the record are re-occurring on the Pay-Per-View: the Zemaitis for Royal Tea. Uh, Lazarus, the refinished '59 Les Paul, that's on Why Does It Take So Long to Say Goodbye? and I Didn't Think She Would Do It. It's funny, because I wasn't trying to do that, because I'll play anything, but it was like: these guitars sound right for the song, and since we're really trying to recreate the songs as close as we can from the record, this actually makes a lot of sense.
GG: Yeah, totally.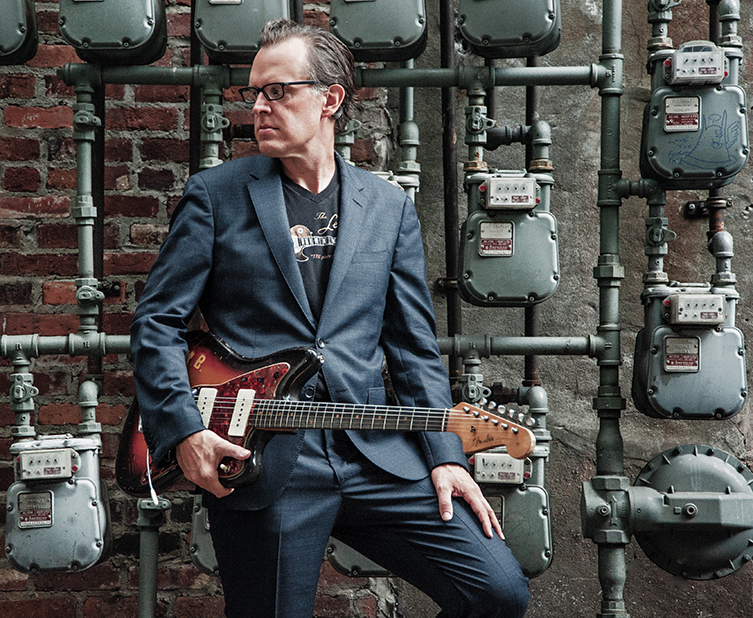 (Photo: Jim Herrington)
JB: Y'know, I'm gonna have the Bolin Burst with me, it's nice to see Tommy's guitar come out. It'll be its first hammer time since I bought it last October. Um, I'm not sure if a wedge-shaped guitar'll show up, they're all in California. I don't think it needs it, but there'll be a few...there's always stuff laying around.
GG: There's always some surprise waiting...
JB: Always something. Oh, and you know I mentioned I got the Howard Reed guitar out, and I've been playing that, so I took it back from the Ryman because they're not really running tours now. So, I'm gonna play that onstage and that'll be fun.
GG: Yeah, that's nice and appropriate since it's been living there for a while. You mentioned the song When One Door Opens earlier, that to me, sounds like there's a bit of a Jeff Beck's Bolero influence there, would you agree?
JB: Yeah. Well, you know, Jeff Beck's Bolero is a Bolero!
GG: Yeah. He didn't invent it, haha!
JB: That rhythm 'duh duh duh duh', they've been doing that since the fields of France, you know?
GG: Yes indeed.
JB: So, yeah, I mean, Jeff did a Bolero and it's a very proper, English thing, and it just lent itself to it, to do that big run, with the heavy riff. You know, I mean, Kevin Shirley and I don't know a lot about a lot, but we know how to make sludgy Blues Rock when we want to. It's no different here, it was very much 'this'll be a lot of fun', and it's a blast to play live.
GG: Oh, I bet it is! And so, a lot of that record sounds like it will be. I know you've mentioned that there's that kind of British Invasion influence, but it does have that kind of pre-Led Zeppelin, big drums, big guitars overall colouring to it. Was that something you were keen to make happen?
JB: Well, yes. I wanted to write a record in London and record it there to see what would happen. When I hear the records that I did in Nashville, I hear Nashville. I hear the studios, I hear the...you know. And even when we did the last Black Country Communion record in Los Angeles, I hear East/West studios, I hear the influence of the town! You're there living, and whatever. So, I was hoping that it would work and the first time we played Royal Tea, and I heard it, I was like. 'Wow, this works!' It worked better than I thought, and it's just something about the DNA, you know? It's just something about immersing yourself in the town and living there. I was living in London for about 5 weeks, so you get your local hangs and stuff.
GG: The location's gonna make itself present, whether it's obvious in the writing or not, I suppose, right?
JB: Right, totally. It's gonna seep in. And the great thing about Abbey Road studios is that it's a fully functioning studio that do a lot of orchestras, bands, plus the classical stuff. One thing Abbey Road will not do for you is write the songs!
GG: Hahaha, exactly!
JB: It's like, 'Hey, this is the console they recorded Let it Be on!' Well, I don't see this console writing songs! You know? There's the Hey Jude piano! Well, is it gonna write me a Hey Jude? No? (laughs) The John Lennon Revolution mic or whatever they have...I don't sing like John! You really want to make sure you play the gear; you don't let the gear play you.
GG: Yeah, totally! No matter what the esteemed history may be! That actually leads quite nicely onto my next question! Despite the British Invasion influence, the recording in Abbey Rod and everything else, it's obviously very American music and you're an American musician. I was thinking about your career as it's led up this far, and I thought, do you see your career as adding to the classic heritage of American music?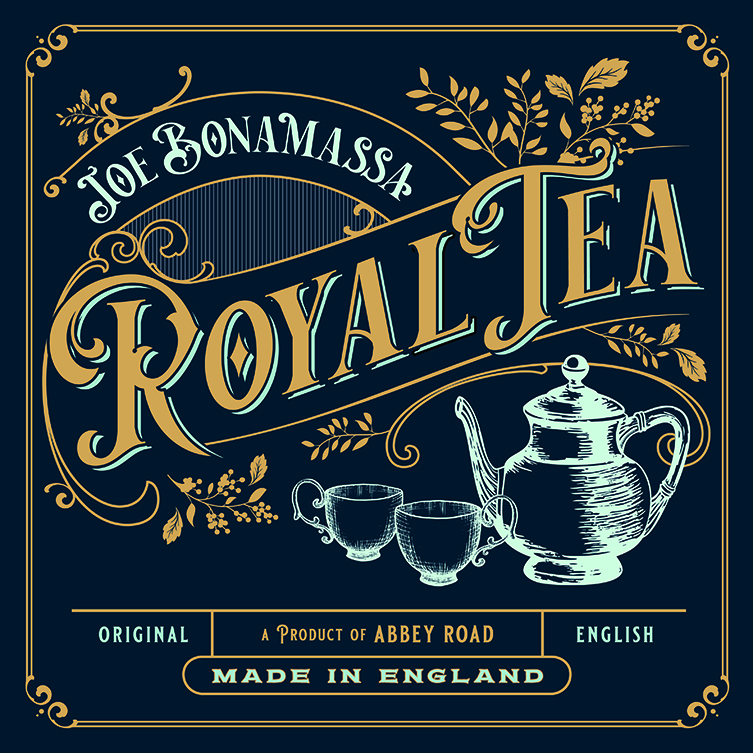 JB: Um, no, I think it's helping to...not to use our propaganda, but I will (laughs)...it's helping to keep the Blues alive in a small way.
GG: Sure.
JB: If I can keep the awareness, keep the air in the balloon, that's my legacy. And, I don't think the history books will say 'revolutionary recording artist, game-changer Joe Bonamassa!', I don't see that. I think part of it is just keeping the Blues alive, and keeping the music that you love, and being passionate for something. That's really the thing.
"You really want to make sure you play the gear: you dont let the gear play you"
GG: Yeah and even the fact of being an artist and having a passion right now is something that should be celebrated, right?
JB: But, it's not.
GG: Yeah.
JB: It's not celebrated. If you're passionate, you'd better fall into line, okay? (laughs) Here's the thing: I come from the school that says, if you're passionate about something, you go out there and you sell it, with youthful, hopefully, enthusiasm. I didn't come from the era where my high school essays are waded through for potential political positions on anything. Now, I've been click-baited a few times, I've had a couple of whoppers, you know? But I was saying something that was taken out of context, and then that just escalates. You can't just play a fucking guitar anymore! (laughs)
GG: Yeah, haha. Everything is curated. It's tiring.
JB: That's not what I signed up for. I just play guitar and I look at my audience every night. We don't do politics; we don't do social activism: we don't do any of that stuff because I don't offer that as a service. I offer two hours and fifteen minutes of Blues Rock goodness, okay! Come all, everyone is welcome, because we can all at least agree on the one shared notion that we all like music.
The trouble is, the social media criticism can put a blanket over the art, and people then choose not to participate. You lose folks because they go: 'Why would I want to be in the firing squad?'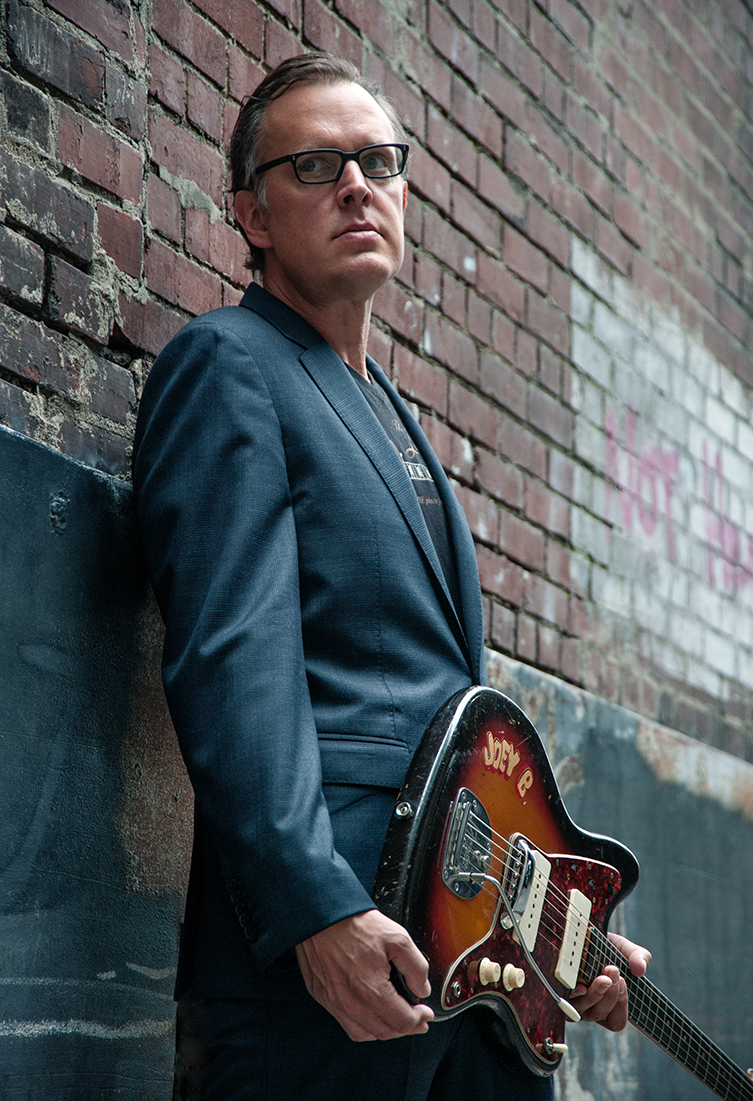 (Photo: Jim Herrington)
GG: Totally.
JB: It's not worth it!
GG: Yeah, I know what you mean. I guess it could give some artists something to fight against, maybe...
JB: You're right: if you want to be the next Woody Guthrie, you know? That's fine, but at the same time Woody Guthrie was active, you also had The Ventures. The same time the Ventures were active, you also had Sam Cook. And you also had the Drifters and The Coasters and the Temptations and everything else. And you had that little band from Liverpool called the fucking Beatles, okay?
GG: Hahaha! Yes, context.
JB: They didn't all have to agree on everything in order to participate in the music, and that's the point. You had protest singers, and you had singer-singers. You had activist-artists that spent their lives on activism and causes, and then you had people who were like, 'I just wanna play The Thrill is Gone'. I'm that guy! You guys fight it out!
"We needed to shake off the cobwebs and prove we could still do it"
GG: Yeah, you'll let your guitar do the talking instead, right?
JB: I'm an entertainer: my job's to entertain people, you know? Not everything has to be worn on your sleeve.
GG: Indeed. Well Joe, my time's run out! Best of luck on the live stream and we'll say hello in Glasgow next time you're touring.
JB: Yeah man! I think the live stream will be good. The band are sounding great! The guy at the front could use a little work, but that's always been the case!
It's always fun to talk to Joe, and whilst 20 minutes is never quite enough for two chatty people, I think we managed to cover some good ground. This Pay Per View performance at the Ryman is going to be pretty special: if you've never seen Joe perform live, what could be easier than clicking though to buy tickets and then just watching from the comfort of your home? Whilst we don't want things to be like that forever, it's nice to have this option at the moment!
Joe Bonamassa's new album "Royal Tea" is released by Provogue/J&R Adventures on October 23rd.
Info: www.mascotlabelgroup.com/Joe-Bonamassa-announces-new-studio-album-Royal-Tea-Pre-order-now and www.jobonamassa.com
Joe Bonamassa will perform the entirety of his new album "Royal Tea" at the Ryman Auditorium in Nashville via a pay-per-view livestream concert at 9pm UK time on Sunday September 20th.
Book your tickets at https://jbonamassa.com/streaming/worldwide-concert
Our thanks go out to Joe for giving us his time, and to Peter Noble for setting us up. Thank you for reading and we'll see you next time!
Until then,
Ray McClelland