Carmen Vandenberg - Facebook Live Takeover
Published on 19 January 2021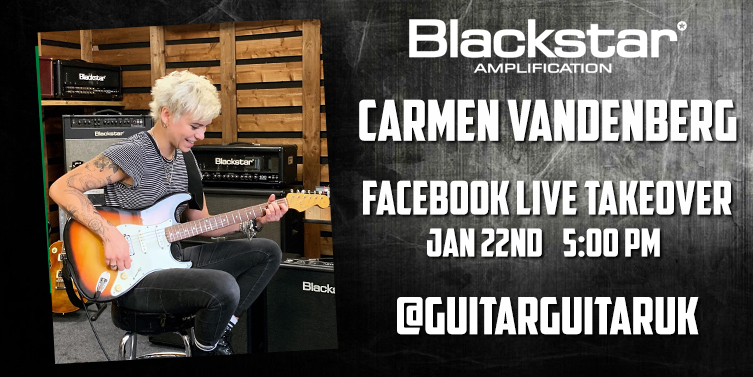 Bringing badass rock tunes with a ton of attitude, BONES UK have been dominating the British underground rock scene over the last few years and we've been absolutely loving watching it happen. The duo began their journey in Camden, catching the eye and ear of a certain Jeff Beck near the beginning of their career and even helping to co-write his album Loud Hailer. Since then, they've gone from strength to strength, touring with the man himself along with Nu Metal legends Korn, steadily releasing huge tracks along the way.
Their sound is difficult to nail down in a sentence. On one hand, it's straight-up rock to its very core, with guitar parts which range from shimmering cleans to crunching, heavy sounds. However, there's also this amazing industrial element that goes perfectly with their slick melodies and vocals. Huge, nasty sounding drums rip through their tracks and bring them to life in a very distinctive way that we've fallen in love with. The pair are now based in LA and released their self-titled debut album in 2019. We've been desperate to get a chat about their music and are very pleased to have one locked in an interview with guitarist Carmen Vandenberg!
How to Watch
This Friday at 5:00 PM, we're over the moon to be joined on our Facebook live stream by Carmen Vandenberg, one half of BONES UK and one of the most exciting guitarists in contemporary rock. Carmen is a true tone chaser with a passion for playing that feels so genuine. Her music brings in a ton of influences, from blues to metal, to pop and the result is quite an amazing concoction! She's been using Blackstar amps for some time now which are the perfect pairing for her no-nonsense style and we're keen to pick her brain about how she layers up effects and writes riffs along with digging into some of her tips and techniques while we're at it. This should be a proper interesting one for any guitar geeks and general music lovers so tune in and get involved. If you don't know the band yet then you're in for a real treat!