Daredevil Pedals Facebook Live Takeover
Published on 26 March 2021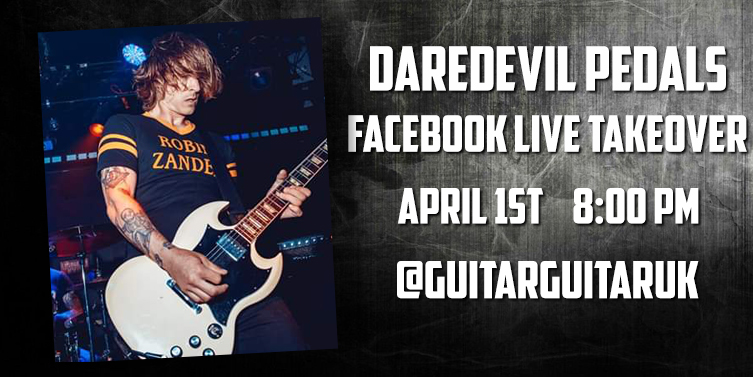 Daredevil's range of boutique pedals are everything we get excited about. They're bold, explosive and most importantly, really, REALLY impressive sounding. Their head honcho Johnny Wator is a seasoned musician himself, fronting Chicago outfit The Evictions, so creating these distinctive stompboxes has been a labour of love. Unsatisfied with what was already on the market, Johnny started experimenting with his own sounds and created what went on to become the beginnings of Daredevil.
We've only recently started stocking their eclectic range and have been having a great time experimenting with them so far. We want all of you to have the chance to get stuck into them too so we have Johnny joining us for an interview on our Facebook Live Stream!
How to Watch
On the 1st of April at 8:00 PM, Johnny will be live on our Facebook page chatting to us about what makes Daredevil's pedals so special. We're really excited to get an in-depth look at these with the man behind them so if you're as much of a pedal geek as we are, make sure you don't miss it. There's something magical about plugging into a pedal that totally transforms your tone and Daredevil bring such a distinctive flavour to everything they release. From fuzz, to distortion, to wah and all the weird and wonderful sounds in between each unit is so unique to them and we cannot wait to learn the secrets behind them. We're buzzing for this one - tune in!
Click HERE to visit our Facebook page now.
Get a feel for Johnny's playing and the fuzzy magic of the Daredevil Supernova below: