Beau Burchell Facebook Live Stream
Published on 24 March 2022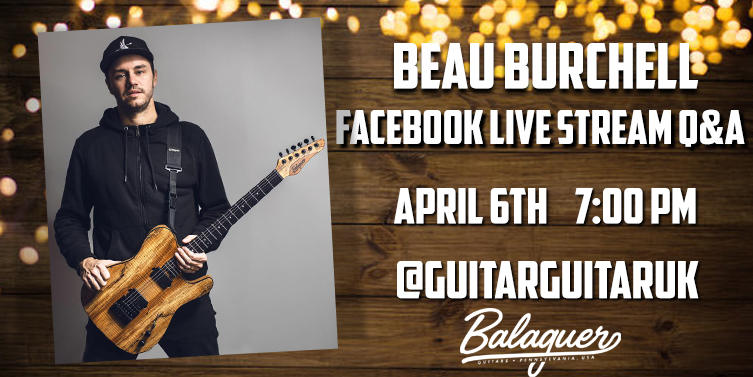 California native Beau Burchell is one of the most exciting creatives in the industry right now. When he isn't touring with his critically acclaimed post-hardcore band, Saosin, he's a producer and audio engineer working with artists at his private home studio in Los Angeles. He's one talented guy and we're big fans of everything he does. As a proud Balaguer artist, Beau has just released new signature Baritone guitars with the brand so we thought it was only right to get him to join us for a live stream Q&A!
How To Tune In
On Wednesday 6th of April at 7PM (BST), we'll be hosting an exciting live stream event with the mighty Beau Burchell over on our Facebook page. Beau will be joining us to discuss his music, influences and of course, talking to us all about his new Balaguer signatures. The stream will also be a great chance to ask any question you have too, so make sure you get involved. We're super stoked for this one, don't miss it!
Click HERE to visit our Facebook page
Can't Wait Until Then?
Here's a taster of what's to come! Check out the video below of Beau unboxing his Balaguer signatures and get a sneak peek of them in action ahead of the live stream.