Taylor Takeover at guitarguitar Edinburgh
Published on 22 September 2023
Does the sound of an acoustic guitar fill you with pure joy? If the answer is Yes and Edinburgh happens to be your go-to place for all-things music, then we have some exciting news for you!
Our guitarguitar branch located in the capital of Scotland has just been fitted with a brand new Taylor guitars section and we want to celebrate its launch day with YOU!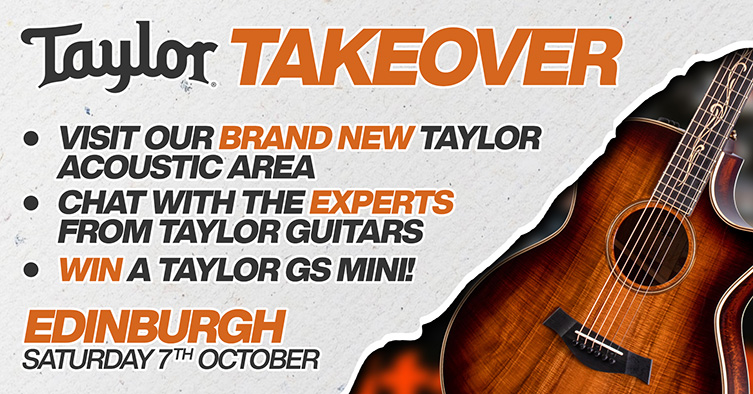 Aside from an exceptional selection of Taylor models, we've invited Taylor guitars specialist, who will be in our store on the launch day, Saturday the 7th of October. He'll be available for a chat about the brand and most beloved tonewoods and will be there to assist with finding the perfect Taylor fit for your personal playing needs.
In true guitarguitar fashion, we've prepared a giveaway of a GS Mini Sapele to one lucky winner! In order to enter, all you need to do is come along, try one of our Select Dealer Exclusive Taylors and pop your name on an entry form.
The Details
Our Taylor Takeover event will take place at guitarguitar Edinburgh on Saturday the 7th of October during the store's opening hours (10:00 am - 5:30 pm) to celebrate the launch of our shop's new section.
No tickets are needed and everybody's welcome !