Songwriting Workshop with Bernard Butler at guitarguitar Newcastle
Published on 23 October 2023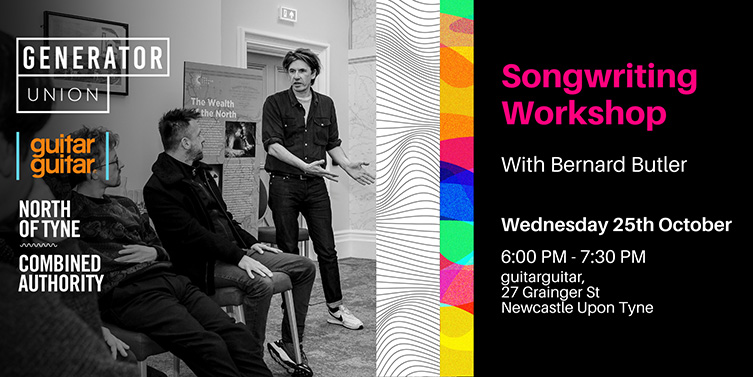 Are you a songwriter with a dream to make it in the industry? Are you just getting into songwriting and you're not sure where to start? Or perhaps you hit the writer's block and are looking for inspiration?
Whatever the answer, we've got an event that will benefit you in multiple ways: A songwriting masterclass with the one and only Bernard Butler!
Who is Bernard Butler?
Best known for his career with Suede, Bernard Butler is an acclaimed songwriter and record producer with a sterling experience in the music industry (who hasn't heard Animal Nitrate, right?). Bernard formed Suede back in 1989 and co-wrote every album until the late 90s. He then continued on with a successful solo guitarist career, elevated by a decade of touring alongside the likes of Bert Jansch. Bernard is very involved in the music community and tirelessly contributes to inspiring new generations of guitarists through his radio podcasts or lectures in Songwriting at BIMM in London.
In association with Generator, we are happy to announce an exclusive Songwriting Workshop with Bernard at guitarguitar Newcastle!
What to expect?
Noted as one of Britain's most original and influential guitarists, Bernard will host an evening of songwriting secrets. Filled with a plethora of insider's tips, advice and methods, you're guaranteed to learn from the best in business.
As part of the Audience, you will observe the process, take notes and watch the magic happen.
Don't miss out on this if a music career is on your agenda!
The Details
The songwriting workshop with Bernard Butler will take place on Wednesday 25th October at 6:00 pm at guitarguitar Newcastle.
There is a limited number of 12 spaces available to book for guitarguitar audience.
Book your free slot early to avoid disappointment.