Elixir E16052 Acoustic Phosphor Bronze Nanoweb Light 12-53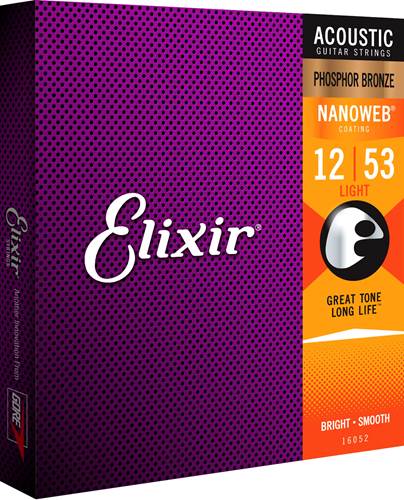 £16.99
Order now for Delivery on Saturday
Includes extended exchange
Buy with confidence: Items bought 1st October 2021 to 24th December 2021 are eligible for our Extended Christmas Exchange & can be exchanged until Monday 31st January 2022. Learn More
Delivery on Saturday
With 1 hour Delivery slot
---
Click & Collect
Live Stock levels from all our stores.
Store
Availability
Edinburgh
In Stock, Collect Tomorrow
Glasgow
In Stock, Collect Tomorrow
Newcastle
In Stock, Collect Tomorrow
Birmingham
In Stock, Collect Tomorrow
Epsom
In Stock, Collect Tomorrow
Camden
In Stock, Collect Tomorrow
Frequently Bought Together
Recommended Bundles
Manufacturer's ID: E16052
Many players prefer the rich, textured tone of phosphor bronze strings. These Elixir Strings capture the sweet spot of that unique phosphor bronze tone. And, players report their tone lasts longer than any other string, uncoated or coated.
Specification
Gauge .012 .016 .024 .032 .042 .053
Customer reviews
Overall Rating 4.9 (

77

reviews)
Great strings , good tone ,would buy again .
Still trying them out on my alveraz guitar. But sounds really cool. Bit expensive though.
There are simply no other strings that come close.
Amazing element to complement my day by day with my music experience
great sound from these strings and they last well.
Elixir strings! Great sound and amazing quality as always
The guitar is an excellent acoustic which would be difficult to improve upon. Very well made and with a beautiful sound. No complaints.
Quality. Sound great. Very happy
Very good product easy to set up
These are great strings. Having found out, to my cost, (via Amazon vendors) that there are fake Elixir strings available, I always go to Guitar Guitar for my strings (and almost all my musical purchases. I am guaranteed genuine products, fair prices and great service.
Elixer strings are long lasting, bright. They sound perfect on my Taylor guitaras recommended by them
A good guitar for the price
Have used these strings for years - yes, they?re a few pounds more expensive than other brands but you get what you pay for?
Great product. Long lasting and hold tone.
strings that don't squeak and feel smooth
Best Acoustic strings Around.
Brilliant on my new fender California series.
They're all I use. Best strings on the market for acoustics.
I have been using these strings for a couple of years now and have no desire to try anything else.
love these, love the price
Not strung them yet, you know
Love these strings smooth under the fingers and sound great
Love these strings, last for ages
Great sound and feel and they just last.
Quality sound and ease of playing
The only strings to use - last for ages and sound great too.
Have used these strings for a number of years. They don?t need much bedding in, don?t go out of time after a couple of tunings.
Sorry Martin but your strings are inferior to Elixir.
Quality of the product is good but can be bought online cheaper.
Lovely smooth strings. The coating means almost no scratchiness as you move up and down the fretboard. A very full, crisp sound.
New strings on guitar.. now have great sound quality
I didn?t know which plush to buy for my guitar. I asked and received a simple well explained answer in no time. Items arrived quickly. I have no complaints about the service.
These are top strings for any guitar.
I haven't used these strings before but I'm very happy with them so far. Hope they will last for a while as I hate changing strings ; )
good products guitar strings and strap
Just as described, Pefect condition
Best acoustic strings out there! They last for months without dulling and have a very bright and crisp tone. Ideal for strummers and finger pickers alike. The slinkiness of the strings, although hinders pitch bends slightly, means you can play for hours with no trouble at all. Furthermore the coating reduces that annoying squeek when changing position on the string. Overall 9/10 would recommend to everyone and anyone for prefecture acoustic sound.
Shipping was not next day, despite charging £4.95, I had to expedite.
Show more reviews
You might also be interested in...
Keep up with our latest offers, news & events