Hercules GS414B Plus Guitar Stand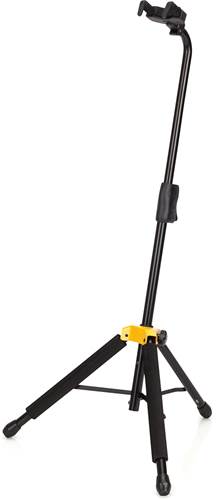 £39.99
Order before 3PM for Delivery Tomorrow
Includes extended exchange
Buy with confidence: Items bought 1st October 2021 to 24th December 2021 are eligible for our Extended Christmas Exchange & can be exchanged until Monday 31st January 2022. Learn More
Delivery Tomorrow
With 1 hour Delivery slot
---
Click & Collect
Live Stock levels from all our stores.
Store
Availability
Edinburgh
In Stock, Collect Today
Glasgow
In Stock, Collect Today
Newcastle
In Stock, Collect Today
Birmingham
In Stock, Collect Today
Epsom
In Stock, Collect Today
Camden
In Stock, Collect Today
Frequently Bought Together
Manufacturer's ID: GS414BPLUS
The HERCULES Guitar Stand GS414B PLUS features the upgraded Auto Grip System (AGS) yoke, Instant Height Adjustment Clutch and Specially Formulated Foam (SFF) rubber on all contact points.
Specification
The upgraded Auto Grip System accommodates a wider range of string instrument neck sizes from 40mm-52mm (1.57 in – 2.05 in).
The included NINA™(Narrow Instrument Neck Adjustment) is specially designed to increase the thickness of AGS arms to hold instrument neck sizes as narrow as 28mm(1.10 in).
Easier adjustment, the Instant Height Adjustment Clutch with locking pin adjusts stand height in a snap!
Stronger grip on surfaces, the upgraded Foot Pads increase ground friction to provide maximum security for your instrument.
SPECS:
Height: 950 mm – 1150 mm (37.4 in - 45.2 in)
Weight: 1.8 kg (4 Ibs)
Base Radius: 310mm (12.2 in)
Load Capacity: 15 kg (33 Ibs)
Folded Size: 710 mm x 155 mm x 110 mm (27.9 in x 6.1 in x 4.3 in)
Customer reviews
Overall Rating 4.9 (

150

reviews)
Took me a minute or two to understand how it worked. Holds guitar firmly and with care. Much better than my previous stand which was at a similar cost.
Great guitar stand good price
I'm learning to play, this guitar seems perfect for a beginner.
Great guitar/bass stand. This looks good and is very solid.
As good as it gets - top quality
Very sturdy and easy to use. Good value for money.
Easy to set up and works a treat.
Perfect! Does exactly what is required.
Best stand I have bought.
Does the job and looks elegant
Great guitar stand also rebust
Super for my many guitar great purchase ..Highly recomended
Very easy to assemble and great to use. Feels very safe to use as a stand. I love the opening and closing mechanism
Great stand and clever features
Jacqueline S. - 14/6/2021
This stand works very well, doesn't take up much room, and is very easy to use
Excellent service from staff.
Very happy with this guitar stand. Has a safety feature to keep the guitar safe.
Perfect addition. If you want your instrument to stand out, you need a STAND!
Excellent stand. Will buy another
Best stands full stop 4 characters required apparently Strangely enough biggest purchase I made not on this list?.
The stand is absolutely solid and feel as though my guitar is as safe as it could ever be.
I asked in the showroom, why do you use these stands, the reply, guitars just dont fall out of them. So it keeps my treasured Gold top safe.
Good guitar stand , very happy with purchase
Just the job, very sturdy
These are great stands. Very stable, quick and easy to use.
All good not so keen on the yellow bit though
Very sturdy, easy to set up
Solid construction good quality product.
Practical sturdy and really quick and easy to use
Easily assembled and easy to use. A secure and great stand.
Looks great in my son's room. Very sturdy product.
Best guitar stand, ever. Saw these every time we came to this store, so finally decided to buy one.
It has a great sound and looks cool
Sturdy well thought out design to keep my guitar secure and safe when not in my hands or case.
Christine B. - 20/12/2020
I purchased same 2yrs ago ?, and this item I bought for my grandson....his mum is fed up with him leaving the guitar on any handy armchair and such. !
Much better thank any other stand previously purchased elsewhere. It holds the guitar very well,not likely to fall over.
Very Sturdy, I love the drop and lock feature. Well made
Works great as a guitar stand, does it?s job and looks cool.
Very practical guitar stand.
Catherine L. - 13/11/2020
Very good stand. Works well
Very sturdy. I feel my guitar is secure when placed on this stand. Well worth the extra money
Latest Telecaster American Pro II in dark night, what is there not to like about it!!!
Recommend this stand.Good quality.well made and displays Guitar nicely.
Brilliant, very durable stand which works really well.
Good stand and good price.
Functionally perfect but yellow pieces stand out a little at home
Great product saw them being used in store when we visited to buy my sons guitar and thought ideal for him to take to college
A brilliant pre owned 1988 Gibson Les Paul in Ebony. I was looking for a Les Paul and this fitted my requirements and budget perfectly. I was just lucky that the store had taken this guitar in trade a few days earlier.
Excellent stand, sturdy and I feel my guitar is safe. Makes it easy to pick up and play when I want to.
Amazing, sturdy guitar stand. You could hang a bus off it.
New design and locking mechanism very safe and convenient to use for new dream guitar
Best stands around IMO: no more unstable guitars or 'neck burn' on cheap plastic
Love this stand, it has been in constant use in between playing sessions. Well built and very sturdy.
Great stand , used in store and had to buy one
I really liked the design . Looks good and feels sturdy. Easy to set up
Really like it - funky design and really great way to care for my instrument
Suggested by the sales team over a budget stand I was considering. Very pleased with the quality and robustness of this, well worth the extra money.
Great quality guitar stand. Best one I?ve ever had. Highly recommend.
I?ve got three of these so far and I rate them. They are a jump in price from the Stagg A frames I was using, they are quite a bit more expensive but they are well worth it
Does exactly what as advertised. A strong, stable guitar stand. It's a little chunky, but it gives me confidence that my guitar won't easily be knocked over.
Always rely on Hercules stands for my instruments
Awesome no chance of accidentally knocking my guitar over.
Best guitar stand I?ve ever purchased. Very strong, solid and excellent quality.
Not much to say other then it does what it says on the tin, great guitar stand.
A belter. Solid, stable and quick to release and replace guitar. Takes about 1 minute to assemble.
Very stable and protects the guitar.
Excellent stand. Great for expensive guitars.
Holds the guitar great nice looking stand and very sturdy
Well designed , robust and versatile. Gtr. Banjo, mando. bunnet, coat , and good price.
Sturdy and reliable. Feel confident with this stand
Excellent service and friendly staff
My third stand. Easy to use
This is the Rolls Royce of guitar stands. Easy to use and very stable to give you confidence your guitar is safe.
I already have this stand for another guitar - it effectively locks the guitar in place while still providing ease of access.
Love it , holds the guitar safely and gently. Sturdy frame. Would definitely buy this again
I hadn?t seen one of these before but I think it?s great, my guitar never felt safer
Best single guitar stand in the market
Good . As always the staff are helpful New what I wanted and usual good advice.
The guitar I chose is stunning. I just need to work on my playing skills to match it! The guitar stand is perfect and will take jumbo size acoustic and will also take Strat size guitars. What's not to like!
Rock solid and cleaner proof!
Good well made sturdy guitar stand.
Show more reviews
You might also be interested in...
Keep up with our latest offers, news & events