Recommended Bundles
Manufacturer's ID: MININOVA
What we say:
Novation's Mininova is one of our favourite 'small' synths here at guitarguitar. It's so useful and easy to play with and the sounds are huge sounding! There's a lot of diversity and range with the supplied patches and editing is as straightforward or as deep as you want it to be.
From deep sub-bass rumbles through crystalline rhythmic pulses and soaring vintage leads to man-machine robotic vocoder sounds with the included goose-neck mic, this blue box dazzles with the breadth and quality of its sounds. The presets are mostly sensible and usable too which is generally not the case with factory presets! One in particular is a scandalously close version of a certain famous sky-scraping vintage poly synth sound that fans of 'Cars' may recognise: it's worth the asking price on its own! Most players will, however, want to tweak or create their own sounds and for this there's an onboard programming matrix for making quick and simple edits or a much more detailed software editor that you can download for your computer (it's a free download from Novation once you register your synth with them). This is where you can save, manage and change your patches before syncing the Mininova up via USB. This opens the possibilities significantly and Novation frequently make Soundpacks of new patches available for free download, which is great as it keeps your Mininova current and cutting edge!
For performing, you have a strip of light up pads above the regular keys that function either as beats in a sequencer (light them up to hear that part of the sequence, tap them again to turn that part off) or as a series of realtime parameter changes (Novation refer to this as 'Animate' controls) that differ from sound to sound. You could press the first pad and get a momentary octave shift, say, or a phaser effect. The next could bring in some filter oscillation and so on. You can define these yourself too, increasing your power and control exponentially.
Sounds are ordered by name and number and you can switch between them when you search for patches. They are also grouped into genres which is handy but experimentation as always is the key!
We love the Mininova: it sounds beautiful and is really rewarding to play, whether you're going for a particular sound or just passing through presets for a little idle fun, there's always something interesting and musical to be had! It can be powered by mains or USB and there's MIDI in & out on the back as well as stereo outs plus an external input for comprehensive connectability! Enjoy the Mininova however YOU want to enjoy it!
Specification
Included Software
Ableton Live Lite music making software
4 GB of Loopmasters sounds and samples
Free Melodics Lessons
New plugins and offers regularly with Sound Collective
Novation Bass Station VST and AU plug-in synthesiser
MiniNova is a compact, super-cool performance synth with the same sound engine as its big brother: the UltraNova. It comes with 256 incredible onboard sounds which you can tweak with 5 knobs, or totally warp with 8 'animate' buttons. MiniNova also has an onboard VocalTune effect as well as a classic vocoder so you can recreate iconic vocal sounds from Hip Hop, Urban and electronic music.
What is MiniNova?
MiniNova is a powerful mini-keys synth with incredible performance controls which enable you to tweak and warp the onboard sounds, and your own voice. It has the same synth-engine as its big brother - the UltraNova - and comes with 256 awesome sounds so you can get started straight away. If you want to dig deeper, it's got a fully editable Nova-class synth engine (derived from the legendary Supernova series in the 1990s).

Is MiniNova for you?
MiniNova's compact size, massive sound and performance/editing controls make it perfect for producers, gigging musicians and anyone creating music with computers - it can also be a 37 key controller keyboard with MIDI I/O. The VocalTune and vocoder enable you to recreate classic vocal effects, as well as brand new voice-bending possibilities!

Choose your sound
MiniNova has 256 onboard sounds and space to save another 128 of your own sounds. You can quickly search for sounds by selecting the type of music you're making, or the type of sound you're after whether it's bass, lead - hip hop or techno. MiniNova comes with a free software Patch Librarian so you can store as many sounds as you want on your computer. If 256 is not enough, there are numerous soundpacks for MiniNova assembled by renowned artists and sound designers. These can be downloaded free from: novationmusic.com/soundpacks

Tweak, warp and arpeggiate your sound
MiniNova can do things other synths can't. It has knobs which allow you to tweak and edit the sounds, but it can also 'animate' sound with 8 back-lit buttons. These trigger 'mods' in the synth engine that can warp sound in incredible ways as you play. There is also a large knob for filter cutoff so you can get instant control of the filter whatever else you are doing. MiniNova has an arpeggiator; you can use the 8 buttons to jam with arpeggios creating totally new sequences in realtime.

Classic & brand-new vocal effects
MiniNova takes vocal effects one step further. As well as a vocoder, it has VocalTune. This means you can talk into the mic and play the tune you want your voice to follow on the keyboard recreating those classic Hip Hop / Urban vocal effects. You can also run your voice through MiniNova's effects engine, adding reverb, distortion, chorus/phase, gator compression or EQ. This doesn't need to be limited to your voice; there is an input which you can plug a guitar or any other instrument and give it the same treatment; effects or vocoder.

The synth engine & effects
MiniNova has an enormously powerful synth engine, unheard of in such a compact synth. There are 14 conventional waveforms to choose from (square, sine, sawtooth, pulse, triangle and combinations), 36 wavetables and 20 digital waveforms. Each of the 3 oscillators (per voice) have density/detune for fattening up sounds, virtual sync and 'hardness' - which acts as an additional lowpass filter. There are 14 filter types (and you can run 2 simultaneously), 6 envelope generators, 3 LFOs and 20 modulation slots where you can link modules of the synth engine together to shape sound. MiniNova can add up to 5 effects to each voice including distortion, reverb, chorus/phase, delay, compressor, EQ and Novation's unique gator effect.

Editing software included
Editing sounds in such a powerful synth can be overwhelming, so we've created a software application gives you visual access to the synth engine. The MiniNova Editor works as a plug-in within your DAW or music software. You can fully edit MiniNova using the hardware, the software just makes it more simple to see what you are doing.

Helping you find your new sound
Music making is all about the journey, and we're always looking for new ways to inspire you along the way. That's why we've created the Sound Collective. Receive free versions of the most innovative software instruments and creative FX from developers we admire, as well as discounts to help you make the most of third-party software, exclusive to Novation customers. All you have to do is register your Novation gear, and one offer will be featured in your Novation account every couple of months.
Specifications
Hugely powerful mini-synth with UltraNova's sound engine
Brand new VocalTune and classic vocoder effects
Tweak and warp your sounds in realtime
256 awesome onboard sounds - instantly searchable
Layer up to 5 effects per voice
Comes with editing software and a software patch librarian
Run guitars and other instruments though the vocoder and effects
37 key controller keyboard with MIDI I/O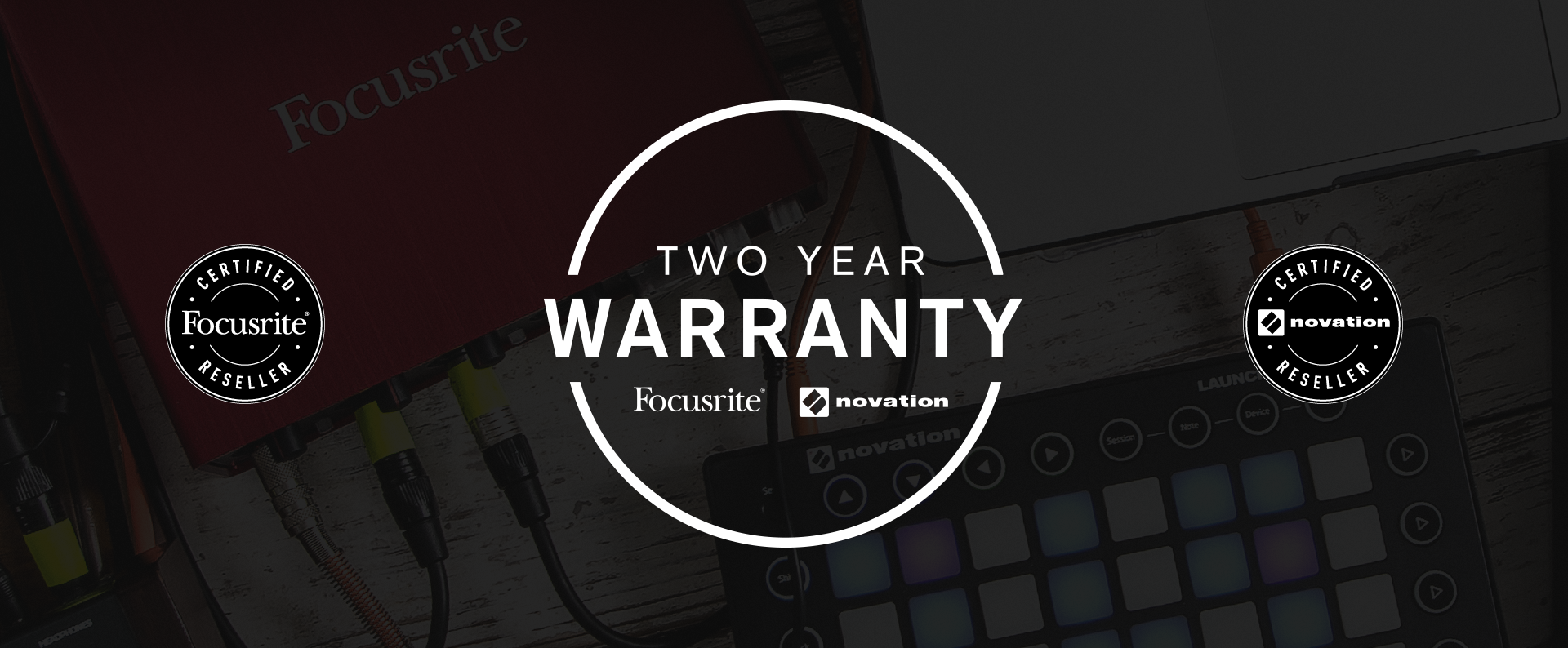 £324.00
Order before 3PM for FREE Delivery Tomorrow
Includes extended exchange
Buy with confidence: Items bought 1st October 2019 to 24th December 2019 are eligible for our Extended Christmas Exchange and can be exchanged until Friday 31st January 2020. Learn More