Blackstar ID Core 10 V2 Black Combo Practice Amp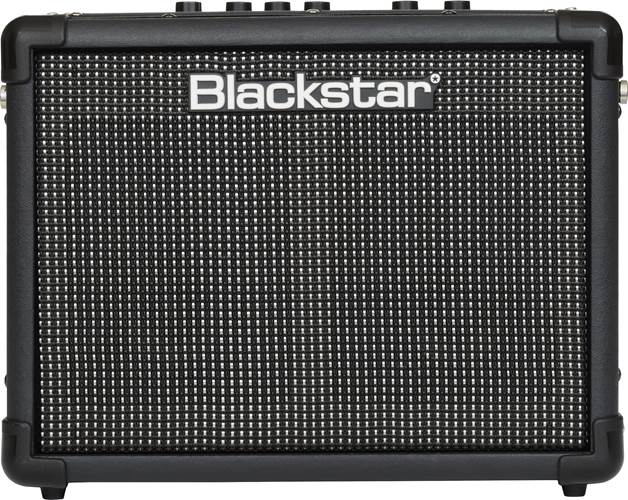 Image Gallery

This product is currently not available.
Customer reviews
Overall Rating 4.8 (

94

reviews)
Was a good product and looks good, service was also okay, however had to wait till it?s available
Great amp! Small but powerful and versatile! Great solution for house playing.
Brilliant sound features are easy to use quality is brilliant for the price
Very good! Great purchase
Amp works well, Good features
Still getting to grips with the hundreds of settings on offer but very impressed with the sound considering its size.
Great product.excellent value
Great little amp. Needed something small. Great sound, nice effects, very light so easy to love around and store/ get out when want to play.
Great sound and great value
Great little amplifier. You are getting alot for the price.
It?s fun, it?s small, it?s a practice amp and it?s a good price Would like a tone control knob thoigh
Great value. Lots of good features.
Like any purchase from guitar guitar it is a superb product, great sound at a great price
Fantastic sound quality and very cool settings and effects on the amp. Works very well and I have no complaints about it so far.
Very good sound,could do with more set up information
Perfect small practice amp
First proper amp and what better amp to start with. Love all the voice channels and playing about with the effects
Yet to start- but advised it is VFM- so cannot wait to start
Lots of features for an affordable amp.
Good sound, lots of features
Great for headphones would recommend
great sound delivered fast
Great little home use amp. Blackstar aregreat amps
Good product for the price
Sounds great. Just what I was after for playing in the house.
Does what it says on the tin.
I had no idea about which amp I wanted to buy and was given sound advise. Product is perfect for my needs
Great item at a great price with loads of buttons so my son is very happy
Nice amp but could do with better enclosed instructions
Really good value for money
Excellent value for Money.
It?s great for what I take is a practise amp. It?s got some great features that let you make all sorts of different sounds. You can connect your phone, headphones and it has a recording facility and you get some free software with it. It?s plenty loud for the house and I?m guessing you could use it in a small pub venue. Ask the guys at guitar guitar, they?ll know.
Amazing I love changing from blues to heavy metal
All very good quality equipment!
Nice sound, very portable and easy to use.
For money I?m happy with it. This is a first amp so needed to be cheap and cheerful
Im a line 6 fan tbh but I'm much happier with this little blackstar than I have been with any of my line 6 spider combos. You don't get that fizzy kinda sound and it's surprisingly warm considering it's size
Brilliant, so many different possible sounds to make with such a high quality.
My son loves this amp. Its a pocket rocket - with loads of options, great for any young player.
This is a terrific amp to use at home: great sound and a multitude of effects for very keen price.
Great shop, great product, great staff.
Brilliant sound and some really cool effects can be made
perfect for a beginner easy to use
Great value. Perfect practice amp.
Great value for money and so much better than previous basic amp my 13 year old son had
Great practice amp. No need to fiddle around setting up effects pedals etc if you are not blessed with much time for a quick strum.
Amazing feature-set at an incredible price and a really good tone to boot. Best practise amp on the market.
powerful,cheap,good quality amplifire
Show more reviews
You might also be interested in...
Keep up with our latest offers, news & events