TOURTECH TTA-T02 Clip On Chromatic Tuner for Guitar and Bass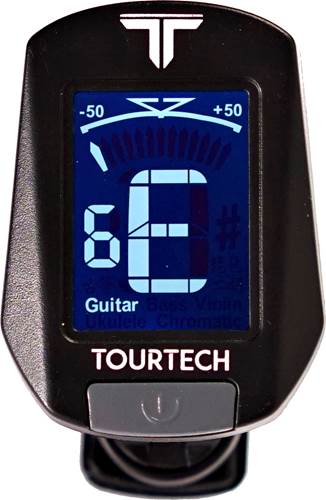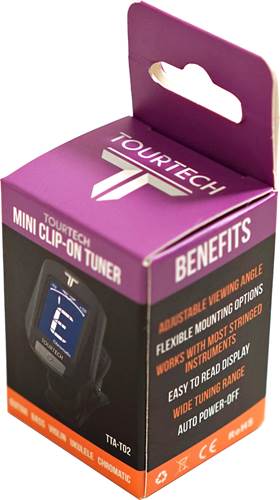 Image Gallery


This product is currently not available.
Customer reviews
Overall Rating 4.7/5 (

164

reviews)
For the money a must have in your kit
Very simple to use - does what it says on the tin
Very easy to use, even for a relative novice.
Does what it's meant to do.
Easy to use nice big display
Good value for money.....
Nice easy to use tuner. Accurate tuning.
This is great and easy to use. Would have preferred to be told to use chromatic when initially tuning the guitar.
Great little tuner, works for guitar & bass, nice and easy to use and see
Easy to use and lots of features
Does the job it is supposed to do
Dead easy to use and accurate.
Does what it says on the box.
Simple but works just as well as any other tuner
Much bettter than expected - bought as an extra - has very clear screen, seems accurate - great value
The tuner works very well even in noisy environments. Now surprisingly easy to tune my guitar!
Does a perfect job at tuning your solid body electric guitar without it plugged in. One thing I found though, is the unit works best on 6 in line headstocks if you clip it half way along, so it's an even distance from all the tuning posts. I clipped it right on the end of my Telecaster headstock, and the unit got confused between me tuning my bottom E and A strings
Part of a package deAl.....all good quality
Does the job as specified
great little tuner but first one I received the clip broke at the pivot, but Stuart at guitar guitar replaced it with no hassle, first class service A+++
Very easy to understand, great way to,understand on how to tune. Though it can be little be inaccurate sometimes.
Guitar tuner does what it says it shows if your strings are in tune.
Very easy to use, simple instructions, was tuned in seconds
Great little tuner , easy to use
Awesome bit of kit. Bargain
Simple to use and pretty fool proof. It shows if you are flat or sharp and turns green when exactly in tune..
The last time I tried guitar these weren't available, what a difference they make with accuracy and speed of tuning. Well worth the money.
Not 100 per cent accurate, when check against piano!
Does what it should with clear indication of when I need to tune up or down with nice green indication when I'm spot on
KONSTANTINOS A. - 6/2/2021
Really useful electronic device for tuning your uke. Easy to use.
Works fine if a bit fiddly. I have found it easier to use a phone App. Both give exactly the same results.
Easy to use and accurate tuning.
nothing to say, I'm happy with it
This is a great tuner. It works quickly and is very effective not to mention user friendly. Having previously used an app I find this to be an excellent replacement for an excellent price
Works as its should. Good value.
Aleksandra A. - 28/8/2020
Amazingly easy product to use at a great price.
I thought the sounds of my microfreak were wonderful on my maudio speakers the sounds of my drum brute and cort guitar are fantastic
Item as described. Very fast shipping. I recommend
Does the job. A bit fiddly to set up but ok.
First time I have bought a musical instrument, hence nothing to compare it with.
Christopher P. - 25/7/2020
Easy to read and to use simple and cheap
Does what i wanted' nice size.
Works excellent every time to help provide the right tuned sound for my guitar, never fails to work an tie easy to Clip on
Does the job. Easy to use.
Easily set up and even easier to use
well made item that actually works,easy to use
It's a bit shoddy and it's made cheaply, but it was cheap, so there you go. It does what it says on the box, but sometimes it struggles to pick up the notes on guitars with thin gauges.
Not the best but ay the price I wasn't expecting it to be, only purchased as I had mislaid my better one.
Quick and easy to use. Cheap as well.
Great tuner at a great price
Neat and sleak. The tuner works perfectly well.
Small cheap and works perfectly, what more can you say or want nice one ?
Super cheap and pretty accurate. Feels solid enough for the price and clips to the guitar with confidence, without risking any damage.
Perfect. Does the job well.
This is a great product but feel if I?d spent the £5 on the better model it would be better. I find the chromatic tuner the best setting but can be difficult to get it pitch perfect
Really good value for money
Works fine for in the house. Nice and compact and good value
Easy to use tuner with a tiny price tag. Not completely sure about it`s accuracy though.
Very easy to use, nice and small
Works perfectly, great fun.
Very easy to attach and use
It's a tuner it tunes that's what I need it for
Super easy to use, even for a complete beginner.
Great wee tuner. Great value for money and works really well.
Excellent product next day delivery
Easy to use, excellent quality
Great tuner, so quick and easy to use.
Works well and I have used this on several guitars since purchase
does exactly what it supposed to do and easily
A nice "do it myself" kit as opposed to the pre-made ones consisting of things I don't need. Good value and good products.
For a ridiculously low price this tuner is accurate, easy to apply, and easy to see. It takes one of the most commonly used coin cell batteries around, so they are freely available just about anywhere, but they last for ages anyway.
fantastic wee tuner , makes tuning easy
Tunes very quickly and good for its price.
Show more reviews
You might also be interested in...
Keep up with our latest offers, news & events